Since 2003, Anita Campbell is perhaps best known as the Founder and Executive Editor of Small Business Trends, a website bringing over 1 Million readers annually a clear focus on small business news, trends, advice and everything small business. A multi-award-winning site (including a 2010 SEMMY Award), Small Business Trends has remained a dependable and provocative resource of relevant, small business-related content where expert opinions fuse into passionate, intelligent user discussions.
Anita's journey includes a variety of senior executive positions in the corporate world, as well as being an executive and associate counsel for a regional bank working on lending, credit cards, bankruptcy, real estate, large contracts and financial transactions. Her move into several successful years online could easily be seen in many ways as a model of entrepreneurial success. An outspoken, passionate advocate of all things small business, Anita Campbell has an opinion that has been widely recognized and celebrated by her peers, colleagues and the various pillars supporting the small business community.
We were recently lucky enough recently to get Anita's thoughts on a few things surrounding her success, the current state of small business, and what it takes to make a website meaningful and effective...a powerful force that commands attention.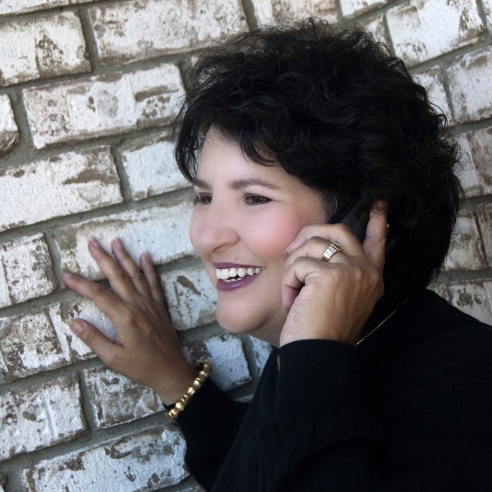 Daily, you are having one-to-one communications with business owners around the world. This allows you a uniquely intimate perspective. Kindly share your general thoughts regarding:
How do you see prime-time media's perspective differ from the way conversations trend on your web sites? On which topics do they tend to be more in-synch? The media tends to portray the economy and the condition of small businesses as more negative than they are. If you only watched TV news, you might get the sorry impression that the typical small business owner is some sort of loser who couldn't possibly succeed in business without government "help. " We portray business owners as being in control of their own destinies. The people who participate at Small Business Trends are for the most part optimistic (entrepreneurs are the world's biggest optimists!). They're much more self-sufficient and "can do" in attitude. We give them advice and tips they can use to solve their own problems.
How do you see the general confidence level of business owners today, compared to five years ago? What are the short-term factors that offer sway? It's hard to tell, because the media colors our perceptions so much. And the media tends to focus so much on the negative - they emphasize 7 out of 6 problems. How much is truth? How much perception? I would say that throughout this recession the small biz experience has been mixed. I've heard everything from "this is the worst we've seen it in 30 years" to "business is booming. " Why such vastly different confidence levels in this recession? In part it depends on how strong the business was before entering the recession - the strong were better equipped to ride it out and even grow...no surprise there. It also varies by industry. For instance, online businesses and service providers to online business are doing well, or have experienced only a small drop in results from 2008-2009 and are bouncing back already in 2010. That's largely due to the growth of the Web as a business channel. Example: online advertising and publishing are growing in 2010, even as their print counterparts are declining rapidly. So ask a print publisher how business is doing and you hear a tale of woe. Ask an online publisher and you hear a different story.
What, if any, is the common cry among business owners regarding:

Finance: There's a lot of lawmaker blather about the "credit crunch" being a huge problem for small businesses. Some give the impression that there's nothing ailing small businesses that a loan wouldn't cure (whether we need a loan or not!). Here's the reality: only a minority of small businesses need or want loans. Sure, for those who do need loans, conditions are tight and some businesses will fail if they don't get desperately-needed credit. But loans are hardly a silver bullet. Take, for instance, SBA loans. I'll be the first to say SBA loan programs have been good for the small business community. But remember that they touch a small percentage of businesses - last year there were fewer than 100,000 new SBA loans made (and 27 Million small businesses). What would help the majority of small businesses far more is for consumers and B2B customers to have the confidence in the economy to buy from small businesses and pay them promptly. But it's much harder for lawmakers to convey leadership and inspire confidence than to simply spend the people's money on another banking bill.
Opportunity: Capitalizing on opportunities has a lot to do with your attitude. Even in difficult economies enterprising entrepreneurs spot and seize opportunities. Some quick examples: recently we saw TechCrunch, a 5-year old blog-based business, being acquired by AOL for anywhere from $25 to $40 Million, depending on which report you believe. In other words, an entrepreneur created 8-figure value in 5 years, part of which was during a recession. It was during the recession that Zappos, a 10-year old company, cracked $1 Billion in sales. So far in 2010, Google has made 24 acquisitions of small companies - meaning 24 startups have created enough value to get a big payday at the tail-end of a recession. Success stories are all around us - especially in the online space.
Government relief programs: Being of a free-market capitalist bent, I am not a fan of most government programs, for 2 reasons: (1) Someone has to pay for them in the form of taxes, and the tax burden usually hits successful business owners hardest. (2) Government programs are contrary to the entrepreneurial mindset. Successful small business owners aren't looking for government help. They just want the government out of their way.
Small businesses generally tend to be the most limited in terms of resources. What made you decide to focus on helping that market?
I have always kept my ear to the ground, and could tell that large companies were increasingly interested in the small business market, so I took a risk that would be great advertiser support - and it has paid off. Plus, I myself am proud of being a self-sufficient, responsible business owner. We Americans dream of being entrepreneurs. It's a high calling - who better for me to serve?
You have had years of success with your business-related podcasts and audio downloads, but the market is continually changing as computers can handle larger bits of information, faster. There is now a veritable cornucopia of loosely related, potentially strategic media buys. What would be your general advice for someone looking to invest in broadcasting business information in 2010, and perhaps having it go beyond? What type of format has been the most cost-efficient, and/or scaled the best for you so far, when measured over time? Any new ones you are trying?
Text-based information forms the bulk of our published content, and in the future will constitute 80% of our content. I think that's true for most B2B sites. Text is easy to consume quickly. It's easy to quote and cull statistics or other biz info from, and is capable of getting readily indexed and ranked in the search engines.
We do podcasts but find that only about 10% of our audience who read information will listen. Not everybody has the time to listen - it's faster to read. And some people simply don't absorb information in an auditory fashion - they have to SEE it. However, people who listen to podcasts download them to their iPods and take them with them while working-out, on trains and planes, while driving in the car - in short, away from their computers. So you are reaching people well beyond their computers, and you get more of their mindshare during those times. For that reason, some of our most rabidly loyal audience are our podcast listeners. With podcasts you exchange breadth of audience for depth of attention.
We haven't done as much with video up to now. We plan to do more. It takes more technical know-how to create quality videos, than write an article. And there's a bit of a learning curve we haven't made time for, to figure out how to optimize online video for YouTube and search engines. But video certainly deserves attention by entrepreneurs in their content strategies.
You have a variety of guest authors, and it keeps the content on SmallBizTrends and your other sites fresh, unique, and diverse - and perhaps most importantly, relevant. How would a smaller player attract any level of talent or look to fill a website without resorting to a "content-mill" approach of adding semi-legible filler to try to compete? To avoid staffing, how have you found it effective to generate unique, user-generated content? Is it volume, depth of expertise, or unique style that seems to be the biggest and most consistent draw?
To attract contributors you have to first create a credible site people want to be seen on. If you fill it with "content-mill" type content, what person would risk their good reputation by guest posting on your site? Webmasters and site owners may not want to hear this, but it takes time and a bit of money to create a credible site. To jump start the guest posting, try recruiting paid authors who already are known in their fields - find some good ones, especially those who also amplify their own articles on social media - and make them an offer they can't refuse. Emphasize quality over quantity.
Also, make sure you have the infrastructure and staff to support guest authors - they need a lot of care asnd feeding. You won't notice this with just a couple of guest authors, but as your site scales up, it will eat up more and more time.
It's a misperception that guest posts are a free source of content for your site - nothing is truly free in business, and you pay one way or another. I am not blowing my own horn when I say we could have 50 times the number of guest authors as we do - after 7 years on the Web with a laser focus on the small business space, it's the truth. But we don't have the internal capacity to answer their questions, get them set up in the CMS system, review and copy-edit their submissions, find and add images to their posts, etc. All of that takes time, and you have to have staff to handle that. Some sites let almost anyone post - as in "if you have something to say, say it on HuffPo." But few sites have the wherewithal of a Huffington Post to pull that strategy off. For most sites, quality will inevitably slip and it becomes a race to the bottom. Your most loyal audience fades away, your best guest authors get disgruntled because quality is going down, and advertisers don't want to pay premium rates to be seen on a low quality site.
We deal with this issue via a multi-tier strategy to include as much of the community as possible to share their content, yet still maintaining quality control. We have different levels/types of sites. On Small Business Trends, we accept a (relatively) small number of guest authors - right now around 100. There, we focus on original articles of roughly 500 words. Then we have a smaller blog that takes guest posts from those who we don't know as well. If they get a good response, we invite them to post on the larger site. We also run a social bookmarking site, BizSugar.com, that anyone can share their small-business related blog posts on - that site is tightly moderated by a global team of moderators 24/7, but as long as your content is relevant and informational in nature, anyone can post there. Finally, we do a hand-curated (by our editors) recap of 10 small biz news articles and high-quality blog posts, daily M-F, from around the Web. This way, we keep control over quality, but highlight as many voices of the small business community as we can. Our motto is: be INclusive, rather than EXclusive - but still maintain quality.
How much is visibility worth? At some point, the traffic and credibility of your site increased, and likewise I assume, did your negotiating power with both content producers and advertisers. Was there a specific point when you recognized your traffic stream and potential as a meaningful bargaining chip and realigned your thinking and negotiations?
Visibility is priceless for marketing - you just have to remember that it's not a business model. Visibility (brand recognition, followers, traffic) is much more critical to actively go out and seek when you're first starting out. A lot of entrepreneurs barter services in exchange for visibility. But at some point you should start scaling back on the bartering as your visibility grows, and make sure you're not spending all your time trying to get visibility, but rather are making money. So think of your efforts in two stages:(1)early on, do guest posts, appear at events, etc. in exchange for visibility, without expecting to be paid. (2) Later, as your brand gets its legs, scale back on the barter activities, and start reaping the benefits. This is when you can command money for speaking engagements and require payment for your writing.
How much of the success you've measured fits into any original plan you had for it? What is the best thing that happened to you (in this regard only) that you never saw coming?
I knew the small business market was hot. What pleasantly surprised me was the level of advertiser interest, which has only grown during the recession. The single best thing that happened was getting recruited by Federated Media, which brings blue-chip advertisers and sponsors. It's been a strong partnership that I value. That partnership has funded the hiring of staff and numerous independent small businesses as service providers. Looking back it seems like a no-brainer to have signed with FM, but at the time FM was an untested startup and I agonized for two months before signing a contract.
According to Alexa.com regarding SmallBizTrends.com, "Search engines refer approximately 17% of visits to the site." Given your knowledge of SEO and the contextual depth of the site, this number seems rather small. Care to comment on its relevancy? How do most people find the site?
The Alexa number is off - the search traffic is higher than that. But I can tell you that search accounts for less than 50% of our traffic. Much of our traffic comes from:
RSS feed
direct referral (people typing in the URL or coming from bookmarks);
social media (Twitter is our single largest social media referrer, with Facebook, LinkedIn, OPENForum, Business.com Answers, BizSugar and BusinessExchange following);
third-party newsletters and syndication (we're in a traditional B2B space where a lot of information is distributed via email newsletters and private intranets);
and other sites including other business blogs.
While search traffic is important, having multiple sources of traffic de-risks your business - you won't be driven out of business if some Google change cuts your search traffic.
You are an outspoken advocate and user of social media, and were recently recognized for your Twitter influence. Which 4 tools do you now find essential for managing an active social media presence? Has this changed much over time?
I must be different from most, because I prefer the experience of actually visiting the Twitter site. Tools like TweetDeck to access Twitter have a lot going for them, but I find they immerse you too deeply into the stream of your tweets, and isolate you with tunnel vision. I tend to graze sporadically during the day, on Twitter - jump in, jump out. Plus, I like to click through links that people share on Twitter, so it brings me back to the Web anyway. That said, I do recommend some tools:
How much SEO infuses into your strategies today when compared to two or three years ago?

For one thing, I appreciate the power of SEO much more today - and it's all because I know more. I still use an outside SEO consultant and an SEO copywriter (both are members of the SEOBook Forums). But together we get more done as a team, because we speak the same language, without too wide a knowledge gap. And I just feel more confident with more knowledge. Confidence is such a huge part of success. Lack of confidence makes you slower to jump on opportunities and hesitant to take calculated risks. As far as our publishing business, we do some things differently today as a result of understanding SEO better:
create better titles for articles, with better use of keywords
target niche content so we can leverage long-tail searches
use more text along with individual podcast recordings to help them get found better by people searching in Google or Bing
Even writers and editors now need to know a little about keywords and how they affect traffic. Bloggers tend to be savvier about the how social media and search can bring a bigger audience for their writings. Professional journalists, on the other hand, tend to think their job is done when they submit their article for publishing, and tend not to think about how a publisher gets traffic (although they should).
In your experience, is content truly king, or can algorithm knowledge routinely trump quality?
There's a glut of content on the Web today. It's much much harder today to attract attention to good content than it was just 2 or 3 years ago. I've heard other small publishers say they are publishing more content than ever before, yet their traffic has barely increased. I just think the competition is greater - so you have to work harder just not to lose ground. What that means, I think, is that if you want to grow a website and keep competing strongly and attract more clients/customers, you can't just "create it and they will come. "
Bloggers especially got a little spoiled thinking SEO was easy. Many got used to thinking that if they just put up a routine blog post they'd attract traffic. That strategy worked better when there weren't as many blogs - but as the number of blogs and content sites exploded, more than content is necessary.
When competition is tough as it is today, you have to have more arrows in your quiver. What's the answer? Today it's 2 things. Search is one. I'd add social media as the other. If you don't at least know the basics of SEO and social media, you'll have a harder time growing your website and your business, especially if you have the itty-bitty marketing budget most startups have.
I see a lot of ads around the web where fortune 500 brands are paying to market you. How did you build into those types of relationships?
These are relationships built on mutual respect and benefit. The advertiser, quite honestly, is leveraging off of my name and site's recognition and our following in the small biz space, as much as we are leveraging off of their sponsor support (which is what pays our many talented service providers who do a great job keeping the sites going).
We (and in particular, I) had to first build-up visibility and a reputation in the small business space before we could even think of those kinds of relationships. That was not an overnight thing. First, I'm a bit older than some Web entrepreneurs and bring a lot of business experience to the table, having been a senior executive in a publicly-traded company. Second, I've also owned businesses with my husband, so I experienced business ownership before I started the site and could speak with authority. And third, Small Business Trends has been around for 7 years, with me working 12 hours a day on it most of that time (I admit to being a workaholic). The first few years I toiled in blissful obscurity. It wasn't until 2005 that things started to pick up, and then they ratcheted-up another notch in roughly 2008, and they are now ratcheting-up yet another notch, here in 2010. I am glad I stuck with it - persistence is vastly underestimated as a success driver!
Anita Campbell is the Founder of Small Business Trends which has been following trends in small businesses since 2003. She is host of the weekly Small Business Trends Radio Show, with over 300 interviews logged; and owner of BizSugar, a social media site for small businesses. Reach her over at Twitter: @smallbiztrends.
Marty Lamers is an SEO Copywriter with a Freelance SEO Copywriting company you can visit at Articulayers.Com. Since 2001, Articulayers has been fixing the world, one word at a time.