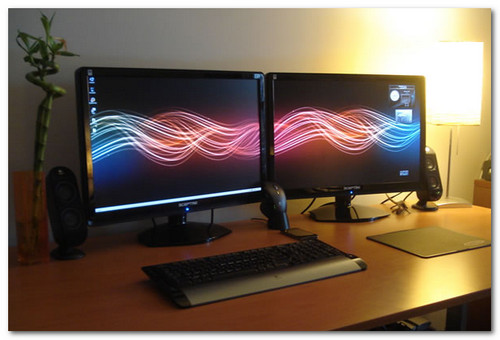 Credit: HardForums
Do you work in an office?
From home?
If you're thinking of starting SEO business, one of the key decisions you'll need to make is where to setup. One of the advantages of the internet is that distance doesn't become the obstacle it once was. An office can exist virtually, with the workforce spread out across the country, or around the globe, with employees working from home.
Let's take a look at the many advantages and disadvantages of the virtual business. It would be great if those who have already established their own SEO businesses could share their experiences in the comments :)
1. Financial Concerns
One of the biggest problems for any start-up is lack of finance. Keeping overheads low in order to maximize cashflow is therefore a good idea, and one of the biggest overheads a business faces in the early stages, besides wages, is setting up an office. The rent must be paid and equipment must be hired or purchased.
A virtual company uses existing premises i.e. the home and, in many cases, existing equipment.
2. Opportunity Cost
Small companies can out-maneuver bigger companies by being more efficient and more productive.
Say employees in a traditional company must commute an hour round trip each day. Then add the time they take to get ready for work. Perhaps that all adds up to an hour and half each day. In a year, this dead time adds up to months! Whilst employees can get work done on the commute if using public transport, it's not an ideal space for concentrating.
The lost time for the virtual office is essentially zero. No commute. No getting ready. Well, maybe putting some pants on might be a good idea :)
3. Less Meetings/Water Cooler Activity
How much meeting time is actually useful? How many hours of the day do we spend chatting with work mates?
Having worked both in traditional environments and virtual environments, I've found I get a lot more done in virtual environments. The social element of traditional workplaces, whilst beneficial in terms of morale, can result in less productivity. The virtual office, on the other hand, tends to be a lot more task focused. "Meetings" (Skype) are a lot shorter, organising them is a lot easier (no room bookings), and because you're not face-to-face with people all the time, there are fewer minute-by-minute distractions.
4. Virtual Office Employees Can Work Longer Hours
I don't know why this is, but I suspect it's because virtual office employees make less of distinction between working time and personal time. It was actually one of the "downsides" I found when I first worked from home - it was near impossible to leave work! Each time I passed the office, I was tempted to do a little more.
When you commute to an office, it's easier to walk out the door and leave it all behind.
5. Employees Really Like It
Some people will work for less wages for the privilege of working from home. They gain in other ways i.e. more flexible arrangements, time spent near family, reduced costs of lunch, enjoying their own surroundings, not having to communte, etc. A happy employee typically produces more work, and stays at the company longer, thus increasing productivity and reducing expenses.
Downsides?
Of course, the virtual office has downsides. One of the big downsides is the reduced social interaction. Some people thrive on the social interaction of the work place, and are not suited to the virtual office. The key is to screen employees carefully. Some virtual offices also setup in coffee shops to help counter the social isolation.
Home can also be a distracting place. Employees need an area away from other people.
Clients may perceive your company as less serious if it operates out of a home address. The way to get around this is to rent a mail forwarding address and the occasional meeting room in the center of town. There are companies that offer these facilities, and you can use meeting rooms and secretarial services on an hourly basis. I've also found that big clients don't go to small suppliers anyway. They demand you to come to them!
Some people need to be micro-managed. Again, careful selection is the key. Also try to make delivery task-based as opposed to based on hours worked.
What have been you experiences - positives and negatives - of your office setup?
Published: September 7, 2009 by
A Reader
in
business