Dec 31st
Recently SEOmoz posted about running a test that proved their thesis that nofollow PageRank sculpting still works (while actually only proving issues with sample size & methodology). But the issue of "proving" things with SEO publicly is typically a misguided one.
It is so hard to control variables in tests, and even if you could set up a control set many test types would be isolated to fictional words. But the issue with that is that the relevancy algorithms can change based on your location, the location where a particular keyword is commonly searched from, how many other competing results there are for that query (and what those other sites are changing while you test), and whatever algorithm shifts happen in Google while your test is going on (like promotion of certain vertical databases, baking in new pieces to the relevancy algorithms, improvements in related vocabularies, introduction of new penalties and filters), etc etc etc
But lets ignore all the above and pretend there is a way you can isolate variables or you notice something new and different and important. What happens when you mention it? Typically people tell you that you are full of crap, even when you are right.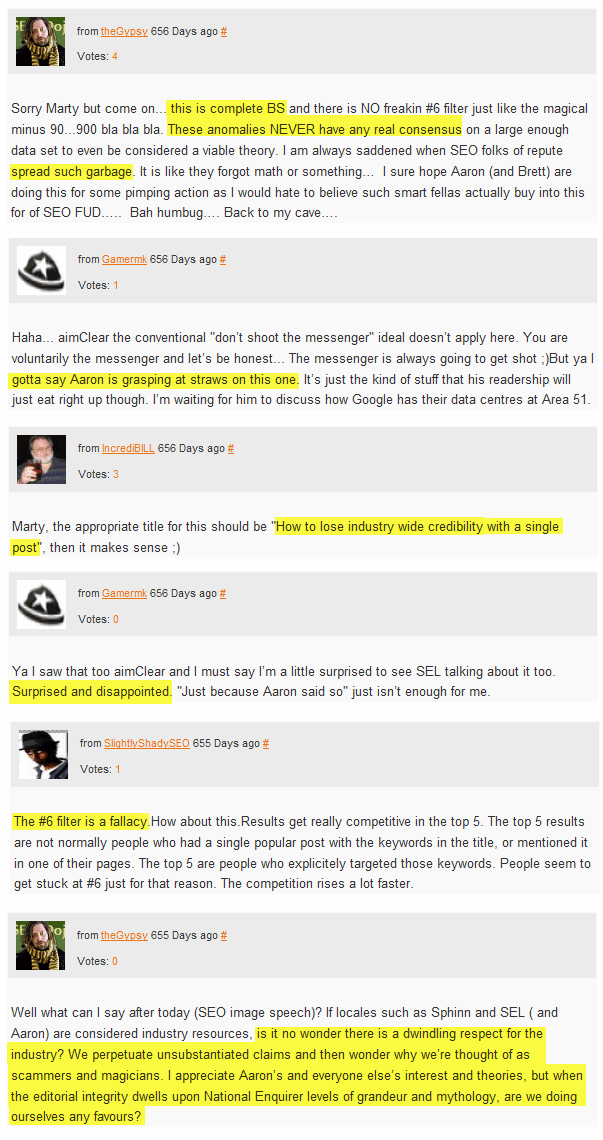 Even if the test they did was legitimately scientifically valid they still likely would have got mocked for their efforts, just like I did in the above image (when I was right).
And the more data you share to "prove" your case all you are doing is lessening your competitive advantage over other market competitors. Lets say I wrote a blog post about "5 surprisingly strong links you can use to spam Google with great results" ... well after I publish that the same day Google engineers will torch those link sources. The net effect of such efforts would be:
wasting my time and money and competitive advantage
harming a business model, business, and/or website that was helping me
making Google look stupid (and having them dislike me)
wasting your time (and a link source you could have used)
It is one of those rare lose/lose instance where literally nobody gains (unless it creates a self-serving controversy).
In what other "science" could reporting your results instantly alter/destroy them?
One conference I went to a while ago I only went for 1 day instead of 2. And then I saw on Twitter someone complained about me not showing up. Then I looked and saw that one of their sites competed with one of our sites. Was I really going to benefit by speaking on a panel where I give a direct competitor (with VC backing, decades of cumulative experience, more algorithmic leeway, etc.) any SEO tips? As an SEO that also does publishing you are only sacrificing your future revenues and your future net worth if/when you review competing sites and tell them how to compete better against you.
In the SEO industry it is hard to land 5 figure clients. But it is easy to build websites that make that recurring. You just have to put the time and effort in. But the only reason to share new and useful tips publicly is self-promotion. But even that is often a misguided effort because earning money servicing the SEO market is a bit like squeezing water out of a rock. People have free in their mindset and are irrationally stuck on free rather than the benefits of spending to save time and grow and earn more. Sorta self-defeating and certainly misguided if you take it too seriously, which is why I have been looking to build out other sites in other fields too. ;)
I used to dislike misinformation in the SEO industry, but I have since come to realize that the more misinformed the public is the more opportunity there is for me. If it wasn't abstract and full of misinformation then someone overseas would be doing it for $5 a day and I would lose most of my income. So I say lets see some more bogus scientific studies. Let there be published book authors telling you that the best backlinks to get are the ones which are shown in the Google link: search.
If the end value is $10's of Billions but the market sets a price of free, then misinformation is a big piece of the price...that is basic economics. ;)
The money doesn't care how it got into your bank account (as long as it was legal). And you don't have to spend a lot of time backsolving everyone else's success ... a lot of that time would be better spent building your own success. Truthfully most people who are successful can't even tell you why they themselves are successful. Worse yet, the "scientific" case study earns nothing while the non-scientific site with tons of traffic (built through small incremental daily improvements by an amateur) can earn a lot of money.
Years ago I gave away so many valuable tips that simply just created competition for myself. (And eventually I woke up to that when some of the people who would contact me begging me for discount SEO services while claiming they were broke also sent buy requests into other sites I ran that they didn't know I owned). There are lots of other issues like non-disclosure agreements that mean nothing when someone has access to your stats + owns competing sites, fake investors who try to scam you for your information, etc etc etc.
I still love this site as though it is a child...it was the first site that really helped build me into a position where I had more options and opportunity than time. And due to our current pricing point filtering out most of the SEO market the forums are still a great place for me to learn more :D
But, truth be told, in the SEO industry (as a service provider) almost everyone who comes to you likes to pretend that they are poor. They want to discount the price to nothing to help discount risk, but rarely (if ever) do they want to remove all risk and give you a piece of the upside for the millions of Dollars worth of extra profits you create for them.
But the cool thing with search is you can start off small and grow to compete. Sure it is always getting more competitive, but publishing tools are improving rapidly. If a person could read the archives of this blog for years and not be able to make money from search it simply means they lacked effort. Search offers so much opportunity that even without talent eventually anyone can stumble into something that works for them.
And that is the thing about SEO. Search offers so much opportunity that even without talent eventually anyone can stumble into something that works for them.
But they have to have the right mindset to succeed.
Dear sirs explain me all link buildings method are crucial to make me riches. Is very important Aaron Walls personally answers me this free and promptys ... well that is not the right mindset, is it?
Investing time and money and effort and blood and tears...that is the right mindset. If you got nothing then you got nothing to lose. Give it your all.
Lots of the most interesting bits that you learn are from accidents that happen with experience. Accidentally blocking a part of your site in robots.txt, doing something weird with a redirect, having your host go down and getting your site crawled in a weird state, etc etc etc. Screwing up is where you learn a lot because that is where a lot of the surprises are. And it is far easier to learn when you are working on a number of sites at various stages of development...it gives you lenses through which to view search.
What works for one site might not work for the next. What works for one person might not work for the next. But there are many models that work and paths to success. Some people succeed because they are simply the best, or they love what they do, or they show up every day for years and years and years. Others succeed due to their irrational bias and ignorance. And some people were just early to the market and sorta fell into success.
One company spreads hyped up misinformation to an audience of ignorant drones who spread the misinformation, the next buys old domains that are heavily linked to and then pours garbage content into them using an assembly line sort of production model, the next has a person who does black public relations and tries to take down other industries (while learning their business models and working to clone them).
And yet other people are popular just because they are popular. Or because they were born rich and launched a sex tape on the web (complete with bogus fake legal stuff just to suck in more press coverage and "build the brand").
Is SEO scientific? Yes, in the same way that sociology, psychology, and economics are scientific. But economics is referred to as the dismal science. ;)
Anything that involves understanding human behavior and trying to influence it is not just science. It is also an art.
Here is to hoping you have a healthy, happy, profitable, and ARTISTIC 2010 :D
Published: December 31, 2009
New to the site? Join for Free and get over $300 of free SEO software.



Once you set up your free account you can comment on our blog, and you are eligible to receive our search engine success SEO newsletter.
Already have an account? Login to share your opinions.
New to the site? Join for Free and get over $300 of free SEO software.



Once you set up your free account you can comment on our blog, and you are eligible to receive our search engine success SEO newsletter.
Already have an account? Login to share your opinions.
Over 100 training modules, covering topics like: keyword research, link building, site architecture, website monetization, pay per click ads, tracking results, and more.
An exclusive interactive community forum
Members only videos and tools
Additional bonuses - like data spreadsheets, and money saving tips