When the internal Google remote quality rater guidelines leaked online there was a core quote inside it that defined the essence of spam:
Final Notes on Spam When trying to decide if a page is Spam, it is helpful to ask yourself this question: if I remove the scraped (copied) content, the ads, and the links to other pages, is there anything of value left? if the answer is no, the page is probably Spam.
With the above quote in mind please review the typical Mahalo page

Adding a bit more context, the following 25 minute video from 2008 starts off with Matt Cutts talking about how he penalized a website for using deceptive marketing. Later into the video (~ 21 minutes in) the topic of search results within search results and then Mahalo come up.
Here is a transcription of relevant bits...
Matt Cutts: Would a user be annoyed if they land on this page, right. Because if users get annoyed, if users complain, then that is when we start to take action.

And so it is definitely the case where we have seen search results where a search engine didn't robots.txt something out, or somebody takes a cookie cutter affiliate feed, they just warm it up and slap it out, there is no value add, there is no original content there and they say search results or some comparison shopping sites don't put a lot of work into making it a useful site. They don't add value.

Though we mainly wanted to get on record and say that hey we are willing to take these out, because we try to document everything as much as we can, because if we came and said oh removed some stuff but it wasn't in our guidelines to do that then that would be sub-optimal.

So there are 2 parts to Google's guidelines. There are technical guidelines and quality guidelines. The quality guidelines are things where if you put hidden text we'll consider that spam and we can remove your page. The technical guidelines are more like just suggestions.

...

So we said don't have search results in search results. And if we find those then we may end up pruning those out.

We just want to make sure that searchers get good search results and that they don't just say oh well I clicked on this and I am supposed to find the answer, and now I have to click somewhere else and I am lost, and I didn't find what I wanted. Now I am angry and I am going to complain to Google.

Danny Sulivan: "Mahalo is nothing but search results. I mean that is explicitly what he says he is doing. I will let you qualify it, but if you ask him what it is still to this day he will say its a search engine. And then all the SEOs go 'well if it is a search engine, shouldn't you be blocking all your search results from Google' and his response is 'yeah well IF we ever see them do anything then we might do it'."

Matt Cutts: It's kinda interesting because I think Jason...he is a smart guy. He's a savvy guy, and he threaded the needle where whenever he talked to some people he called it a search service or search engine, and whenever he talked to other people he would say oh it is more of a content play.

And in my opinion, I talked to him, and so I said what software do you use to power your search engine? And he said we use Twika or MediaWiki. You know, wiki software, not C++ not Perl not Python. And at that point it really does move more into a content play. And so it is closer to an About.com than to a Powerset or a Microsoft or Yahoo! Search.

And if you think about it he has even moved more recently to say 'you know, you need to have this much content on the page.' So I think various people have stated how skilled he is at baiting people, but I don't think anybody is going to make a strong claim that it is pure search or that even he seems to be moving away from ok we are nothing but a search engine and moving more toward we have got a lot of people who are paid editors to add a lot of value.
One quick thing to note about the above video was how the site mentioned off the start got penalized for lying for links, and yet Jason Calacanis apologized for getting a reporter fired after lying about having early access to the iPad. Further notice how Matt considered that the first person was lying and deserved to be penalized for it, whereas when he spoke of Jason he used the words savvy, smart, and the line threaded the needle. To the layperson, what is the difference between being a savvy person threading the needle and a habitual liar?
Further lets look at some other surrounding facts in 2010, shall we?
Here Jason is creating a new auto-generated page about me! And if I want to opt out of being scraped I CAN'T. What other source automatically scrapes content, republishes it wrapped in ads and calls it fair use, and then does not allow you to opt out? What is worse in the below example, is that on that page Jason stole the meta description from my site and used it as his page's meta description (without my permission, and without a way for me to opt out of it).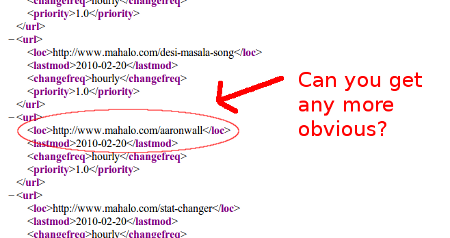 So basically Matt...until you do something, Jason is going to keep spamming the crap out of Google. Each day you ignore him another entreprenuer will follow suit trying to build another company that scrapes off the backs of original content creators. Should Google be paying people to *borrow* 3rd party content without permission (and with no option of opting out)?
I think Jason has pressed his luck and made Matt look naive and stupid. Matt Cutts has got to be pissed. But unfortunately for Matt, Mahalo is too powerful for him to do anything about it. In that spirit, David Naylor recently linked to this page on Twitter.
What is the moral of the story for Jason Calacanas & other SEOs?
If you are going to create a thin spam site you need to claim to be anti-spam to legitimize it. Never claim to be an SEO publicly, even if you are trying to sell corporate SEO services.
If you have venture capital and have media access and lie to the media for years it is fine. If you are branded as an SEO and you are caught lying once then no soup for you.
If you are going to steal third party content and use it as content on your site and try to claim it is fair use make sure you provide a way of opting out (doing otherwise is at best classless, but likely illegal as well).
If you have venture capital and are good at public relations then Google's quality guidelines simply do not apply to you. Follow Jason's lead as long as Google permits mass autogenerated spam wrapped in AdSense to rank well in their search results.
The Google Webmaster Guidelines are an arbitrary device used to oppress the small and weak, but do not apply to large Google ad partners.
Don't waste any of your time reporting search spam or link buying. The above FLAGRANT massive violation of Google's guidelines was reported on SearchEngineLand, and yet the issue continues without remedy - showing what a waste of time it is to highlight such issues to Google.