Google recently added search volume estimates to their keyword tool. They also recently launched Google Trends, Google Hot Trends, Google Trends for Websites, and the Google Ad Planner. And now Google hits the competitive research market with yet another product - Google Insights for Search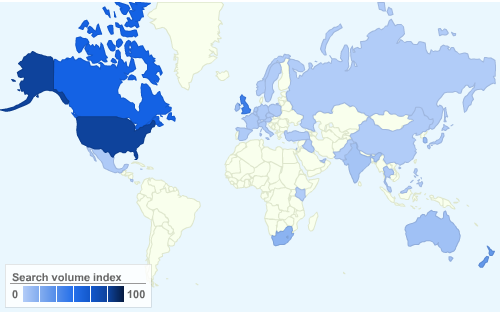 Insights for Search shows the following search data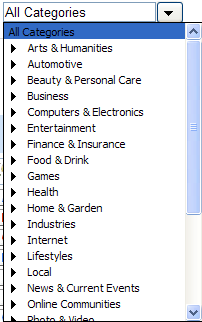 relative keyword search trends for keywords (and A/B comparisons between keywords)
top related keywords and hottest rising related keywords
category based top keywords and category based hottest rising searches (and overall top 10 rising searches)
category based keyword search volume trends, and the relative growth of a keyword compared to its category
countries, states, and cities where a keyword query is popular
you can also mash up many data points, like celebrity searches in New York in the last 30 days
Keywords are weighted such that their top volume day is anchored at 100, and other days are represented as a relative percentage of that search volume.
Just like their Google Trends tool, by default Google Insights for Search defaults to the broad matched version of a keyword, so a word like credit will show more volume than credit cards, even though credit cards gets more search volume (because terms like credit cards and credit reports count as search volume for the word credit). Credit vs credit cards pictured below: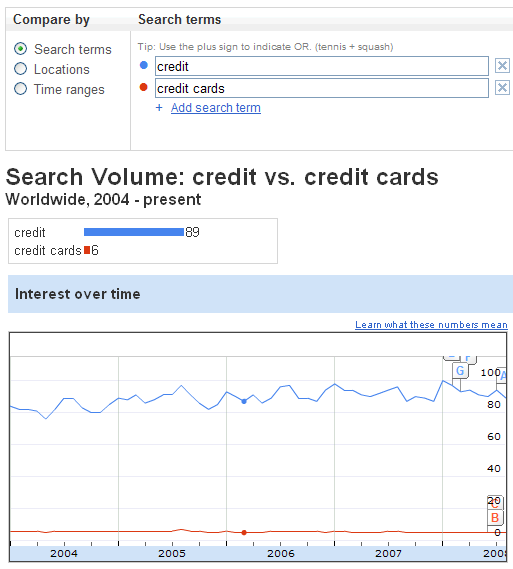 This type of tool can also be used to see how related some generic concepts are to more specific related concepts, and how much news coverage and marketplace changes move the relative importance of different keywords in a marketplace. Public relations experts will be able to use graphs like the following to say "hey our brand is catching up with the market leader."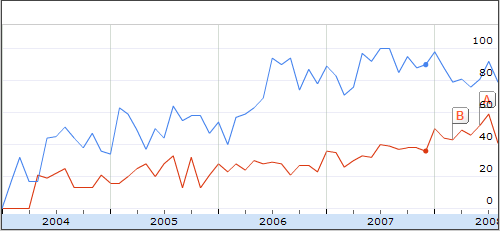 Rather than brand lift and PR lift being an abstract concept, we can compare brands in real time and see which markets resonate with our brands and marketing. When marketing is working *really* well you can consider boosting early success in the most receptive markets via offline advertising, social interaction, and live events. If I wanted to hold an offline seminar guess what state is most receptive to my brand? The one I live in. That's pretty cool. :)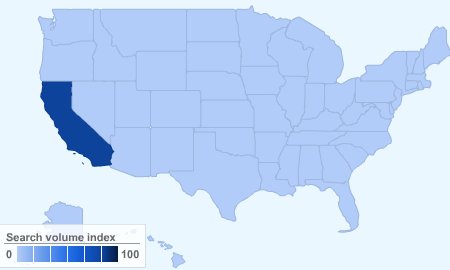 And the problem with such tools? It is easy for me to lose days or weeks playing with them. What are your favorite search data tools? What creative ways do you use them?