Is DIY SEO any good? Does it work?
When I got to look at DIY SEO my first thought was: good structure & layout, lets see what is under the hood. But then after opening up the hood I found a car with no engine.
On a score of usability I would give the site a 9 or a 10, but in terms of utility it would be lucky to score as high as a 2 or a 3.
Google AdWords: The Cheapest SEM Strategy for Small & Local Businesses
Maybe there are some small businesses out there who are content being obscure, or who only want to rank for their own business name plus maybe 1 or 2 longtail keywords. But for those businesses I suggest bypassing SEO and buying a few Google AdWords ads.
Low traffic keywords are typically cheap to buy search ads on - because you only pay by the click. If few people are searching for something then there will be few clicks to buy.
Not only are such markets small, but due to their small size they are also heavily fragmented, making the AdWords traffic even cheaper.
If few people are searching for your brand then you can likely spend $25 a month on AdWords and ignore learning SEO.
A Legitimate SEO Strategy Requires Investment
With a paid search campaign, you can use Google AdWords to instantly buy search traffic and gain new customers. SEO is a drawn out strategy & typically requires a much deeper initial investment.
There is little value in investing in SEO unless your goal is to dominate your market, and there is sufficient market scale to justify investing thousands of Dollars (and far more when you consider the value of your time). After all, a single link from Business.com or the Yahoo! Directory will run you $299, and 2 links hardly makes for an effective SEO strategy - but they will set you back $600 a year.
And you don't get those links any cheaper just because your business is small. ;)
Why Does DIY SEO Offer Such a Weak SEO Solution?
When looking at DIY SEO it took me a while to think it through, because I kept thinking "something is missing." Why did they raise funding to build THAT? But then I thought it through. DIY SEO was designed by marketers looking to sell something that would be easy to sell at scale - it was not created out of passion to solve a real problem with the desire to help make a difference in people's lives.
The difference is not subtle.
After all, Andy is the guy who had time to build out hundreds of thin affiliate sites, while being too lazy (and lacking the concern needed) to fix his SEO blog for months while it installed malware on anyone who visited his site. That blog had the tagline Livin' the dream, but that is for him though...you can live with malware. He doesn't care.

Could you imagine a reputable SEO site like Search Engine Land, SEO Book, SEOmoz, or Search Engine Journal delivering malware for months without any care or concern? I can't.
SEO Consulting is Expensive
SEO is both time consuming and expensive. Neither Andy or Patrick offer consulting services because they value their time too much to actually dig into client websites and provide useful, relevant, honest, and effective feedback. Patrick states this on his blog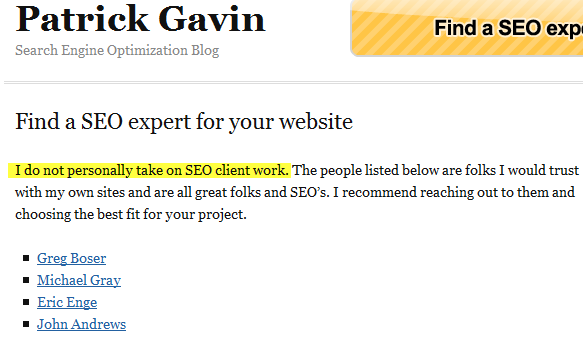 And as Andy's site states: he no longer sells consulting, and he does not want you to email him


DIY SEO was designed as a high margin automated solution which is so automated that it wouldn't require much feedback or interaction with customers.
But there is one big problem with that strategy...
SEO is *NOT* a Mechanical Process
For anyone looking to seriously compete on the web the DIY SEO tool/system is inadequate, and potentially even harmful. Why?
In SEO, a lot of the potential profit comes from knowing your market well, leveraging new technologies & distribution channels to gain market share, and putting a new spin on old marketing ideas. But they tried to make SEO too black and white...far too mechanical. Anywhere where critical thought & analysis can add value to your SEO strategy, you can count on none of it being done with DIY SEO, just some predetermined path which doesn't really account for everything that makes your business and your market unique.
In an age where the algorithms keep advancing faster and subjective things like branding start playing a role in the search results, mechanical doesn't cut it.
DIY SEO is too prescriptive and limited in nature, and it is a backward looking product. What the phrase "for the rest of us" actually means is "good enough to rank on page 5 of the search results, where you will get virtually no search traffic and make no money."
Paint by Number SEO: An SEO Failure Case Study
Google doesn't always respond to marketing efforts in a predictable way. Consider what happened when Patrick purchased SearchEngineOptimization.net for over $60,000.
At the end of last year he tried to do a 301 redirect to get it to rank, but when it didn't work he asked Matt Cutts about it: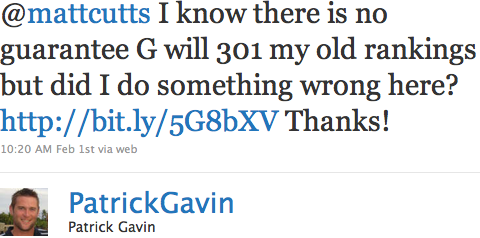 Google's spam czar Matt Cutts never responded (of course), but Patrick ended up having to remove that redirect. Months later that $60,000+ domain name was a "coming soon" page.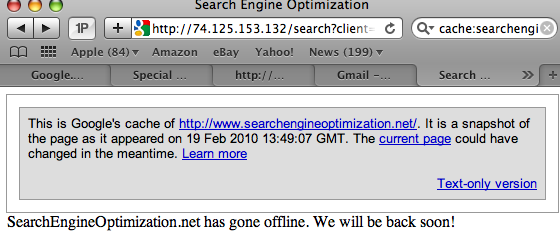 And now that the redirect has been removed the original redirected site does not rank as well as it did in the past. So that was certainly a lose / lose scenario.
And the worst part is, when he mentioned the strategy people warned him about what would happen right up front: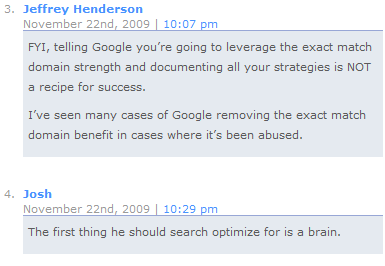 He would have been better off donating that money to charity!
Advanced SEO? Or Simpleton SEO?
I don't want to share too many examples of how/why/where their program falls short, but to pick a rather glaring one...
Links are the backbone of an effective SEO strategy. Patrick Gavin built from scratch the #1 link broker on the web - Text Link Ads. A few years back he sold that company for over $30 million. Since then links have only increased in importance while becoming harder to get, but if you check out the advice on links in DIY SEO (or at least when I recently checked it out), one of the "advanced" SEO tips was to ensure that you are not engaging in any link buying or selling.
The advanced tips were not sharing safe & effective link buying techniques. Nope.
The advice was to ensure you were not engaging in link buying or selling.
And, of course, on their own websites they don't follow their own advice.
What Do Effective SEO Campaigns Consist of?
I have no desire to out any of their specific websites (hey I have some crappy ones too), but when you look at the EFFECTIVE strategies that you see Andy and Patrick use in their own publishing efforts, at a minimum they contain strategies like:
buying old websites
buying strong domain names
selectively buying links
providing a bit of grease to certain About.com guides for coverage of new 1 page sites
nepotistically cross linking sites
launching top 100 linkbait lists about trending popular topics
building social media accounts to promote those lists
buying out some blogs to further seed giving legitimate looking coverage to those lists
launching egobait lists of topics like the top 100 ambidextrous hermaphrodite bloggers (complete with running an automated email script to alert people of the "award" they have won, with some people winning multiple awards in the same day - congrats again Nancy P. from Texas on your multiple meaningless awards + thanks for the links...your email address is now in the database, and you will win many more awards as they build out their portfolio of websites!!!!)
... all the clever bits of marketing that go into REAL SEO campaigns that compete on the competitive commercial web ... well that stuff is NOT part of the DIY SEO program.
And it likely won't EVER be, because it isn't paint by number.
Better Small Business SEO Solutions
Want an effective guide to small business SEO? Check out Matt McGee's small business SEO guide. It will give you more than the above program while only setting you back $25.
There are numerous free guides worth recommending as well. Both Bing and Google offer SEO starter guides. We created this one for non-profits, this one for bloggers, and this one for general business websites. SeoMoz offers a pretty good one too.