Jim Boykin recently claimed to have kicked the paid links habit:
So, the best thing for my company to do, if we want to stay out of the fire, is to make sure that We Build Pages adheres to the Google Guidelines, and that means we won't be getting any more paid links for manipulating search engines.
When I first got on the SEO scene and quickly started buying links, one of the sites I kept running into was WeBuildPages. One of my friends jokingly called me "the original link spammer" but Jim Boykin started buying links before I did and was doing it with more scale than I did. To see Jim dismiss link buying outright seems like it is either over-reaction or link buying is nearing its death.
Is Link Buying Nearing its Death?
When search click distributions may end up similar to the below graph how can one not want to push the limits?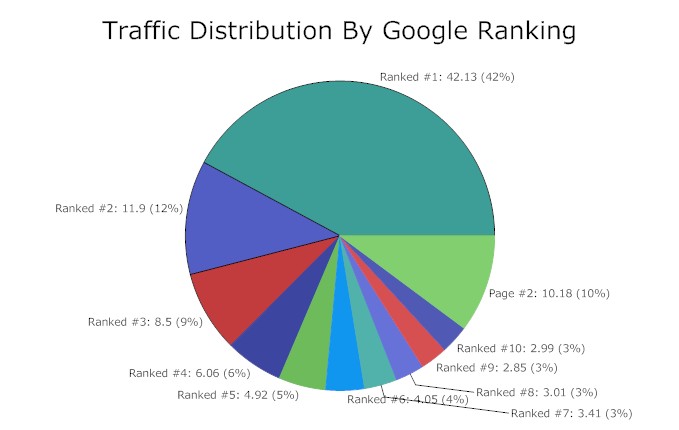 For some keywords (and some entire business models) one or two rankings difference can be the difference between a profitable business model and a money loser. Yes real businesses should not be so reliant on Google that Google can chose to kill them, but there are a lot more people doing business with me too offers than there are creative and original people offering significant value added services from a unique approach.
Most business models are arbitrage, and Google wants to claw away as much of the easy value as they can, forcing you to spend on brand building.
The Cost of Branding
Most traditional businesses are lucky to have a 10% or 20% profit margin. When one company controls 70% of the search market (closer to 90% in some niches and some geographic regions) it is easy for them to exert enough influence on a business (through quality scores, hand edits, threats) to move it from having 10% profit margins to losing money.
Many regional offline brands are dying because their cost structure does not work on a network of infinite competition.
Many online brands are money losers or break even at best, with some losing hundreds of millions of dollars before coming profitable. Some of the more savvy online companies (like Monster.com, Expedia, and BankRate) may break even on the brand and leverage the brand to build out profitable networks of thin websites that allow them to double or triple dip in the organic search results.
Death Grip Growing Stronger
Google's death grip on the web is only growing stronger. While the web and search are making some bulky business models (like that of the NYT) irrelevant, in response the New York Times publishes articles about how Google Seduces With Utility:
"The most powerful form of advertising is to be exceptional," said Ranjit Mathoda, an investor and technologist who blogs at Mathoda.com. "Google has created an ecosystem that perpetuates itself by being useful."
...
"We do have a philosophy that our products should speak for themselves. We tend not to make a lot of noise," said Jeff Huber, senior vice president for engineering at Google.
Google is the front door to the web. And while Google is getting credited for "not making noise" and "being exceptional" they use their ad platform to give themselves free distribution in any vertical they want to compete.
Part of Google rising to such dominance was their aggressive bundling of their toolbar on computers through deals with OEMs and other software companies. Now that Google has a browser they want to take it one step further by doing Chrome distribution deals:
Sundar Pichai, Google Vice President, Product Management, revealed that Chrome will be ready to come out of "beta" testing by January, and that the search giant was looking at ways to make Chrome the browser of choice for the everyday user.

"We will probably do distribution deals," he said, adding, "we could work with an OEM (Original Equipment Manufacturer) and have them ship computers with Chrome pre-installed."
Chrome replaces the address bar with a search box. More search volume for Google.
Do You Still Buy Links? Do Your Friends?
Knowing how good Google is at marketing and that they are still gaining marketshare, do you still buy links? How has your link building and link buying strategy changed over the past year or two?