SEOmoz Recommends Black Hat SEO Techniques
Remember back when Rand was saying that he thought it was a good idea for SEOs to police the action of other SEOs?
"Outing manipulative practices (or ANY practices for that matter) that put a page at the top of the rankings is part of our job"
It looks like he finally gave up on that bogus (anti-SEO) mindset, as SEOmoz just recommended buying and 301 redirecting expired domains for their links to boost your Google rankings.
They certainly can't justify blogging about cleaning up manipulative spam anymore if they are going to offer that up as a friendly SEO tip.
Google considers redirecting expired domains for links to be a black hat SEO practice. Danny Sullivan recently quoted Matt Cutts on buying domain names:
"The sort of stuff our systems would be designed to detect would be things like someone trying to buy expired domains or buying domains just for links." - Matt Cutts
What Matt reveals is how Google would work in an ideal world, however some domains slip through. If Google ever finds them then they may ignore it or they may burn everything to the ground based on some small percentage of the site's link profile relying on expired links. Matt Cutts got started building the webspam team at Google when he found an expired domain (with a link from the W3C) that was converted to a porn website.
Screw Buying Links, Buy Rankings
If Matt Cutts claims that he does not like the buying of sites for links, what about buying sites for their rankings? (Isn't that what the links are for?) Could buying rankings possibly be any better? Bankrate's CEO admited to buying CreditCardGuide.com for Google rankings in the media (and in a press release published at investor.bankrate.com/releasedetail.cfm?ReleaseID=334008 )
"As an affiliate of Nationwide Card Services, which we acquired this past December, we have worked with CreditCardGuide and have been able to watch their growth and momentum firsthand," stated Thomas R. Evans, President and CEO of Bankrate. "CCG has done a great job of developing its organic traffic and ranks highly in a number of important credit card search terms. Adding more direct, high-quality traffic to our credit card business will grow our revenue and improve the margins in this important category," Mr. Evans added.
If I issued a press release about buying a site for its strong links or strong rankings the Google engineering team would probably burn it to the ground on principal. It would not last a day. But it is ok if BankRate does it.
Many Businesses Are Built Off Search
Lots of sites are bought for their links. Business models are built off of extending out a shell of a site with links. Look at the (low) quality of content published on sites like eHow. Would such incentivized user generated content like that have any chance at ranking if it were not built on an old trusted domain purchased for the project?
If Google wants to corrupt many new links with nofollow and put excessive weight on old websites then people will buy old sites. It is simply a game of economics. Every algorithm move causes an obvious reaction. There is already a market in selling Facebook profiles. What is so bad about buying and selling domain names and websites?
Search Engines Aid Illegal Businesses
Content is bought and sold. And sometimes it is stolen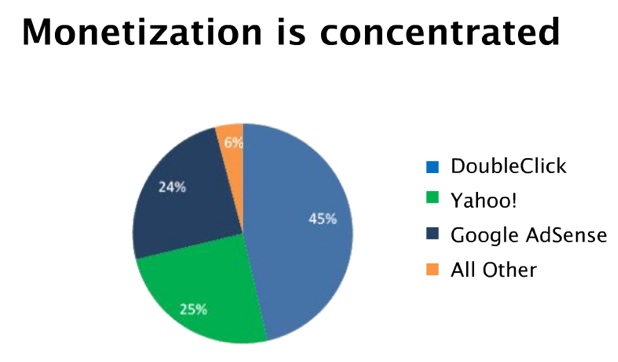 If Google was concerned with what was "fair" they wouldn't wrap nearly 70% of the stolen content on the web in their ads. Google knows about that stat, but since it makes them money they look the other way.
It is no secret that Google is being called the next pirate bay. And with good reason, for anyone selling content online. If you sell desirable content, Google will recommend the torrent, a practice which likely makes them liable for contributory infringement and/or vicarious infringement.


Have cash and want some editorial links? There is probably a good court case to be had suing Google for that infringement.

It hurts the mainstream media's credibility when they steal a bit of content, but most of those millions of pages of stolen content wrapped in AdSense have no brand or legitimate business to protect.
Just like the scammers offering "free" government grants (complete with reverse billing fraud) through AdWords. Google's public relations team lied to ClickZ and the FTC when they said they cleaned up those grant ads over a month ago, as those scam ads are still running.
Google's Lack of Morals
Which is worse
buying a link or site that may have a commercial offer on it
claiming to be the moral police of the web, while knowingly selling ads to advertisers that are defrauding consumers, and lying about cleaning it up once questioned by authorities?
Google added a feature to search for similar images and has a claim your content feature for video, but what is taking Google so long to create a similar system for textual content? It won't appear until they get enough blowback that it makes financial sense for it to appear.
Search is Not About Relevancy (or User Experience)
If search engines were concerned with user experience they wouldn't sell ads to scammers (and lie about cleaning it up).
If search was about relevancy go compare would at least rank for their brand name. But they don't. And so would John Chow and Text Link Ads. But they do not.
Search is not about relevancy or the user. It is about ensuring profits and maintaining the perception of control. It's simple as that, really.