Is Google just a large ad broker with a search service they can target ads against? Or how might they commoditize many markets? The current trend at Google is that software and storage want to be free. As technology gets cheaper so will Internet access and other forms of communication. Google offers free VoIP and ties it into Gmail, they mentioned making cell phones free via mobile ads, iPods holding all the world's TV in 12 years, and are offering media companies packets of cash to keep it on the web.
Google's main point of profit at the moment is ad sales, which is both highly inefficient and a fraction of what they could do.
Google Checkout:
Google leveraged search as a wedge against which they can sell targeted ads. Right now they are leveraging those ads to try to become a big online payment processor, by including Google Checkout buttons and $10 off coupons in the ads.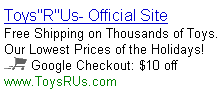 They think they can make payment processing faster and more efficient. Ads which have less slippage have greater value. But I seriously doubt that Google would want to stop at just making their ad network more efficient. Why would they?
Google has already launched a coupon program to tie together online and offline marketing, but what if they also attacked the online and offline divide via payment processing? The reason they started online is because that is where they already have leverage. Google talked about not competing with Paypal, but they offered a free month of service to try out Google Checkout for the holidays, and have already extended that holiday promotion another year.
Going Offline:
After they get enough lock-in, don't be surprised if they create a way to track offline transactions.
Most people in the US (and probably around the world) are in debt. Imagine if Google offered a coupon card or credit card. How many people would be willing to use a Google credit card if they offered the lowest interest rates or had other ways they could add value?
How Could Google Add Value?
After a period of charging an initial low interest rate (say 0%) Google could add value by providing health related precautions, related product recommendations, price comparisons, and reviews.
Health Information:
When Google created their Co-op they got many health authorities to participate. What if at the consumer level I could also input data, or I could sign into it when I signed my medical paperwork?
Related Product Recommendations:
Some of Amazon.com's recommendations are spot on. Imagine if Amazon had all their current customer purchase information, recent customer transactions, and were able to add your search history and add media consumption history to that.
Your purchase history, media consumption history, and search history paint a vivid personality profile which must be easy to target ads and product recommendations to.
Price Comparisons:
What if cell phones had product scanners on them? Read John Battelle's the transparent (shopping) society.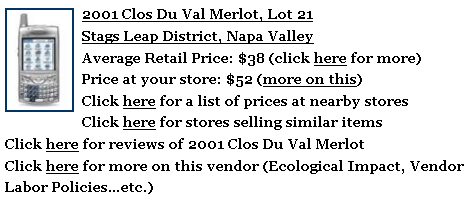 Reviews:
Google
already offers a web comments plugin
structures data via Google Base, Google co-op, inline suggestions, and Google OneBox
pulls reviews from other sites for vertical search sites like Google local and Google movies, and
could probably just gather reviews directly if they wanted to.
Lock In:
If Google gets enough vendors to lock in they will also have the most complete database of where to find things, which will only grow with time due to network effects.
RFID & Inventory Management:
In the video Epic 2014 they sell the case of a Google Amazon tie up, but I think Google will prevent themselves from carrying physical goods (as noted in August 2009: How Google beat Amazon and Ebay to the Semantic Web.), because they do not need to have them to influence the markets, and actually having physical goods may limit their ability to collect market data.
Before locking in consumers with all those features they will try to get many merchants to commit as well. Imagine if Google offered virtually free RFID tracking and inventory management software which helped automate restocking. And, imagine how well they could recommend competing suppliers and offer ads which looked like discounts.
A True Market Maker:
Google could influence what information we are able to find, what ads we see, what publishers are paid for creating content, and grab a cut from any and every point in the supply chain, charging whatever rates they felt comfortable charging. If they could gain that much information they could even use it to trade commodities and derivatives. Who better to trade commodities than the business which is able to turn so many things into commodities?