Overall Rating

Exciting offer...
Bonus Earnings Offer
We partnered with Media.net to offer you a 10% earning bonus for your first 3 months in their program. When you click this link and sign up today, Media.net will add an extra 10%.
On to the review...
General Review
We have reviewed a number of contextual ad networks & Media.net scored as the best network outside of Google AdSense. Many smaller ad networks have a huge fall off, to where if you earned 50 cents or a dollar a click with Google AdSense, you'd see nickle and penny clicks. Thankfully Media.net is nothing like that & they are perhaps the best network at competing with AdSense on a CPM basis. Their interface is quite easy to use, both in terms of creating & customizing new ad units and in tracking performance reports.
Applying
Application only takes a couple minutes. Account approval may take 4 or 5 business days to about a week. Once your account is approved, each additional site you submit must also be approved, but your account representative can help with that and getting additional sites approved should take a day or less.
They have high traffic quality standards and manually review all sites to help maintain network quality. They require English as your primary language & that your site receives the majority of its traffic from the United States, Canada, and the United Kingdom. Other publisher requirements are posted online. Their terms of service are published at media.net/legal/tos and their program guidelines are published at media.net/legal/programguidelines.
You can apply online here.
Earnings Payout
Media.net pays on a Net-30 basis and has a $100 minimum earning threshold.
You can select Paypal or bank wire transfer as your payment method.
RPM / CPM Rate
The earnings potential for any ad network is driven by
the depth of the ad network
the relevancy of the ads
how tightly ads can be integrated to fit the theme of the site
the commercial appeal of the publisher's topic
Ad Network Depth
Since Media.net leverages the Yahoo Bing Network, it has significant ad depth inside the United States. Shortly after its launch in 2012, Media.net CEO Divyank Turkhia stated: "Media.net has contextually optimized over $200 million worth of internet traffic." 6 months later their ad network already had over 2.5 billion pageviews.
While the earnings from Media.net are typically not vastly better than AdSense, they may be quite close to par and tend to outperform networks like Chitika, particularly when the published content is tied to a high value topic where pay per click (ppc) prices are significant. The cost per click (cpc) will vary across networks and topics, but in my experience the gap between AdSense and Media.net is far less than the gap between Media.net and networks like Chitika or the in-text ad networks like Infolinks, Kontera & Vibrant Media IntelliTXT. I've even seen some cases where Media.net outperformed AdSense on some topics. You don't have to chose one or the other though, as Media.net ads can be used in conjunction with AdSense ads on the same site.
Ad Relevancy
Publishers who have had experience with the (now defunct) Yahoo! Publisher Network may recall the ads in Yahoo!'s old network were not particularly relevant. Ads in the Yahoo! Publisher Network lacked relevancy in part because Yahoo! placed excessive weight on the CPC which the advertiser was willing to pay. That in turn led to substantially lower ad clickthrough rates (CTR). And when some of the top paying advertisers like Vonage lowered their bids, ultimately that led to drastically lower RPM.
The good news with Media.net is it puts ad relevancy front and center. This leads to a high level of user engagement with the ads, which in turn drives a much better yield for publishers at a better RPM rate. Their ads have a 100% fill rate and use page level precision targeting.
Media.net is primarily a contextual ad network. Select publishers may be invited to sign up for the premium display advertising partnership Media.net has with Google, to complement the contextual ad performance with display ads. By leveraging ad retargeting features, display ads can help put a floor under the earning potential of pages covering topics of limited commercial appeal. Media.net also has mobile-specific ad units.
Ad Integration
When a person sets up AdSense ads or other contextual ads on their site, there's a bit of a sense of "you're on your own." Worse yet, there is often a bit of a conflict between the recommendations from the AdSense team and the search quality team at Google.
One of Media.net's big points of differentiation is they have a team of over 450 employees who work on the product and help publishers better integrate the ads into their websites, including making the ad units really match the look and feel of the site. On some higher revenue sites Media.net will help create custom ad units. For instance, on TheStreet.com here's an example of an ad unit.

Even smaller sites will see a significant amount of effort spent on testing optimizing ad colors & ensuring the ads match the look and feel of the site. The customer service is really one of the areas where Media.net shines best.
ad sizes
Media.net offers a variety of ad unit sizes.
most popular sizes: 336x280, 300x250, 728x90, 600x250, 160x600
horizontal sizes: 728x20, 600x120, 468x60
vertical sizes: 120x600, 120x300, 300x600, 160x90
square: 200x200, 250x250
rectangle: 180x150
Media.net offers a variety of pre-set ad unit templates to choose from and the ability to customize the colors further.
Usage samples / examples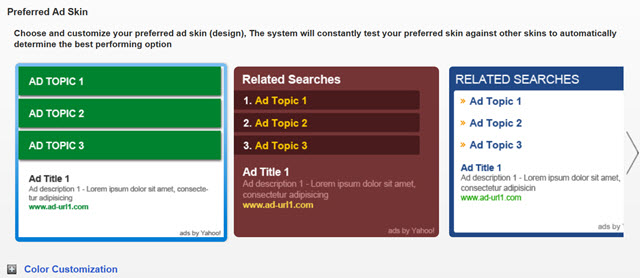 The colors can be adjusted on a per-unit basis, so you can test having some ad units blend in to the design & use higher contrasting colors on other ad units. If your site has enough scale the Media.net team can also help you split test different colors. Another useful ad integration strategy Media.net allows & recommends is the creation of jQuery sticky ads which help keep ads in view as a person scrolls around a page, helping the ad units stand out.
responsive ad units
In addition to the above standard ad unit sizes, Media.net also has options to enable mobile anchor ads & even interstitial ads on mobile devices.
Publisher Interface & Reporting
Media.net has put a lot of thought into usability and detailed reporting. Creating new ad units only takes a minute or two and posting the ad code into your site is just as quick.
Publishers can login to their accounts at the Media.net homepage and view stats 24 hours a day. Currently the dashboard does not offer CPC or click reporting, but report impressions, RPM and estimated revenue. They report live impression traffic stats in real-time on the welcome screen, but earnings stats are typically updated early on the next morning. In addition to account-wide reporting, their interface allows you to drill down into reporting on a per-site or per-unit basis.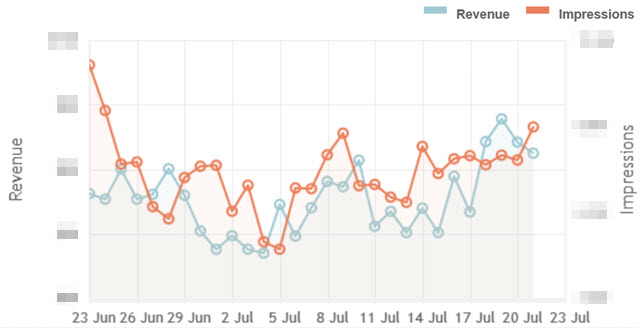 Other FAQs
minimum traffic: none, but they tend to be more likely to approve sites which are already approved in other tier 1 networks and/or obviously have a strong traffic footprint
prohibited topics: illegal drugs, pornography, violence, other illegal activities
support: you may contact them via email pubsupport@media.net or phone 415-358-0886
Summary
Overall Rating

Great Features
Competitive eCPM when compared against AdSense in many categories.
Can be used in conjunction with AdSense.
Has some standard ad unit sizes & some that are custom, which gives you flexibility in terms of integrating them in typical ad spots and in terms of having units which look different than common ones and thus have greater eye appeal than a standard 468x60 or 728x90 banner.
Leverages the Yahoo! Bing Network, which gives it a fairly decent advertiser base & network scale to tap into to ensure there are relevant ads for most topics. I believe one thing that has helped them do so well is Microsoft has done a much better job on pricing click quality than many ad networks did in years past.
Since they are a smaller company than Google, their partner communications are much clearer. You don't have to pull down millions of dollars a year to be considered a valued partner.
Their customer support team not only communicates clearly with publishers, but also works to help improve ad integration.
Once your account has been established and they see strong traffic quality they are generally quite quick at approving any additional sites you add to your account.
In addition to offering contextual ads, Media.net has a partnership to serve Google display ads on their network (though publishers have to sign up with Google).
While earning statistics are not real-time, they provide them the following day.
Fast Net-30 payouts.
Drawbacks
The main drawbacks would be:
They require English as your primary language & that your site receives the majority of its traffic from the United States, Canada, and the United Kingdom. If you operate outside those markets, then they wouldn't be a great fit at the moment (though who knows where they may be in a couple years as Bing gets more aggressive with international expansion of their ad network).
It can take a while to get a new account approved, so it is worth applying early to have some experience with their network and to have a backup in place in case anything should happen to your AdSense account.
Inability to split test units. While you can use a PHP rotation script to compare 2 ad units against each other, there isn't a core split test feature baked into the ad platform by default - though if you are doing enough volume your customer support person will help set up and implement a split test for you.
While they do offer statistics on a per-site, per-day & per-ad unit basis (along with impression stats), they currently do not offer data down to the individual page or keyword level. They provide data on earnings, pageviews & eCPM; but they currently do not provide click or CPC data. (I believe they will be adding more granular metrics fairly soon).
Apply Today
>>> Sign up to activate your Media.net publisher account today.