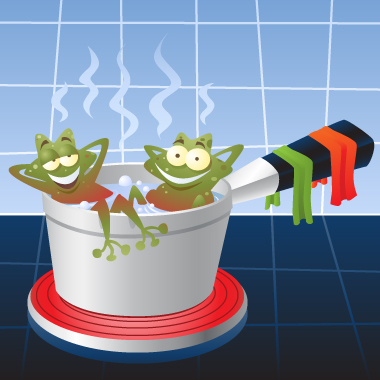 There's an in-depth discussion going on in the members area about how to sell an SEO business. There will surely be readers of the blog interested in the topic, too, so I thought I'd look at the more general issues of selling a business - SEO, or otherwise. Specifically, how to structure a business so it can be sold.
Service-Based Businesses
Service based businesses are attractive because they're easy to establish.
Who can sell a service? The answer is simple--anyone and everyone. Everyone is qualified because each of us has skills, knowledge or experience that other people are willing to pay for in the form of a service; or they're willing to pay you to teach them your specific skill or knowledge. Selling services knows no boundaries--anyone with a need or desire to earn extra money, work from home, or start and operate a full-time business can sell a service, regardless of age, business experience, education or current financial resources
The downside of a service based business is that they're easy to establish, so any service area that's worth any money soon gets flooded with competition. The ease with which competitors can enter service-based markets is one of the reasons why service-based business can be more difficult to sell for a reasonable price.
Selling A Consultancy
Some businesses are more difficult to sell than others. Agency business, such as SEO consulting, can be especially problematic if they're oriented around highly customized services.
In Built To Sell: Creating Business That Can Thrive Without You, John Warrillow outlines the reasons why, and what can be done about it. The book is an allegory about the troubles the founder of a design agency experiences when, after eight years, he is fed up with the demands of the business and decides to sell, only to find it's essentially worthless. His business creates logos, does SEO, web design, and brochures, so many of his trials and tribulations will sound familiar to readers of SEOBook.com
Smart businesspeople believe that you should build a company to be sold even if you have no intention of cashing out or stepping back anytime soon
There are 23 million businesses in the US, yet only a few hundred thousand sell each year. Is this simply because the owners want to hold onto them? Yes, in some cases. But mainly it's because a lot of them can't be sold due to structural issues. They might be worth something to the seller, but they're not worth much to to anyone else.
If You Were To Buy A Business, Would You Buy Yours?
If you put yourself in the shoes of a buyer, what would you be looking for in an SEO-related business? What are the traps?
We might start by looking at turnover. Let's say turnover looks good. We may look at the customer list. Let's say the customer list looks good, too. There are forward contracts. Typically, owners of businesses place a lot of value on goodwill - their established reputation of a business regarded as a quantifiable asset.
Frequently, goodwill is overvalued and here's why:
It is fleeting.
A company may have happy customers, happy staff, and people may say good things about them, but that might all change next week. Let's say Update Zebra, or whatever black n white exotic animal is heading our way next, is rolled out next month and trashes all the good SEO work built up over years. Is everyone still happy? Clients still happy? Staff still happy? Were there performance guarantees in place that will no longer be met? The most difficult thing about the SEO business is that critical delivery aspects are beyond the SEOs control.
Goodwill is so subjective and ephemeral that many investors deduct it completely when valuing a company. This is not to say a good name and reputation has no tangible value, but the ephemeral nature perhaps illustrates why buyers may place less value on goodwill than sellers. If you think most of your business value lies in goodwill, then you may have trouble selling for the price you desire.
....the only aspect of goodwill that can unequivocally offer comfort to an investor is the going-concern value of a company. This represents things such as the value of assets in place, institutional knowledge, reputational value not already captured by trade names, and superior location. All these attributes can lead to sources of competitive advantage and sustainable results; and/or they can give an entity the ability to develop hot products, as well as to achieve above-average earnings.
If a buyer discounts most or all of the goodwill, then what is left? There is staff. But staff can leave. There are forward contracts. How long do these contracts last? What are they worth? Will they roll over? Can they be cancelled or exited? A lot of the value of an agency businesses will lay in those forward contracts. What if the customers really like the founder on a personal level, and that is why they do business with him or her? A service business that is dependent on a small group of clients, who demand personal attention of the founder, and where the business competes with a lot of other players offering similar services is, in the words of John Warrillow "virtually worthless".
But there are changes that can be made to make it valuable.
Thinking Of Service Provision In Terms Of Product
Warrillow argues that a business can be made more valuable if they create a standard service offering. Package services into a consistent, repeatable process that staff can follow without depending on you. The service should be something that clients need on a regular basis, so revenue is recurring.
His key point is to think like a product company, rather than a service company.
Good service companies have some unique approaches and talented people. But as long as they customize their approach to solving client problems, there is no scale to the business and it's operations are contingent on people. When people are the main assets of the business - and they can come and go every night - the business is not worth very much
That's not to say a service business can't be sold for good money. However, Warrillow points out that they're typically purchased on less than ideal terms, often involving earn-outs. An earn-out is when the owner gets some money up front, but to get the full price, they need to hit earnings targets, and that may involve staying on for years. In that time, anything can happen, and the people buying the company may make those targets difficult or impossible to achieve. This doesn't necessarily happen through malice - although sometimes it does - but can arise out of conflicting incentives.
There are other stories of entrepreneurs going through the change from service to products, although the process may not be quite as straightforward as the character in the book experiences:
So I'm sure there's a lot of entrepreneurs out there that want to make the switch from consultancy to selling products. Belgian entrepreneur Inge Geerdens did exactly that: she pivoted successfully from providing services to selling a product.......A product is entirely different. You have costs that you can't cut. In a service company, you can downsize everyone if you want, and run it at basically zero cost. It's impossible to do that with a product. There's hosting, development, upgrades, bug fixes, support: those are costs that you can't flatten in any way. Your developers need new PC's a lot sooner than consultants!
Nonetheless, the book offers seventeen tips on how to adjust a service based business to make it more saleable, and there are a lot more great ideas in it. Hopefully, outlining these tips will encourage you to buy the book - I'm not on commission, honest, but it's a great read for anyone starting or running a business with the intention to sell it one day.
Let's look at these tips in the context of SEO-related businesses.
1. Specialize
It's difficult for small firms to be generalists.
Large firms can offer many services simply by having many specialists on the payroll. If a small business tries to do likewise, small business end up with staff wearing many hats. Someone who is a generalist is unlikely to be as proficient as a specialist, and this makes it more difficult to establish a point of difference and outperform the competition.
In terms of SEO, it's already a pretty specialized area. The businesses that might be more difficult to sell in this market sector are the businesses offering multiple service lines including SEO, web design, brochures, etc, unless they have some local advantage that can't easily be replicated.
However, positioning as a generalist can have it's advantages, especially if the ecosystem changes:
Despite the corporate world's insistence on specialization, the workers most likely to come out on top are generalists—but not just because of their innate ability to adapt to new workplaces, job descriptions or cultural shifts. Instead, according to writer Carter Phipps, author of 2012'sEvolutionaries generalists will thrive in a culture where it's becoming increasingly valuable to know "a little bit about a lot." Meaning that where you fall on the spectrum of specialist to generalist could be one of the most important aspects of your personality—
This is perhaps more true of individual workers than entities.
2. Make Sure No One Client Makes Up More Than 15% Of Your Revenue
If a business is too reliant on one client, then risk is increased. If the business loses the client, then a big chunk of the business value walks out the door.
Even though we usually land an annual contract, once that runs out, the client can cut us loose without any of the messiness involved in firing employees — that is, no severance pay, no paying unemployment benefits, no risk of being sued for discrimination or harassment or any of the other three million reasons why an ex-employee sues an ex-employer
3. Owning A Process Makes It Easier To Pitch And Puts You In Control
It is more difficult and time consuming to sell highly configured solutions than it is to sell packaged services. Highly configured services are also harder to scale, as this usually involves adding highly skilled and therefore expensive staff.
In SEO, it can be difficult to implement packaged, repeatable processes. Another way of looking at it might be to focus on adaptive processes, as used in Agile:
Reliable processes focus on outputs, not inputs. Using a reliable process, team members figure out ways to consistently achieve a given goal even though the inputs vary dramatically. Because of the input variations, the team may not use the same processes or practices from one project, or even one iteration, to the next. Reliability is results driven. Repeatability is input driven.
4. Don't Become Synonymous With Your Company
Yahoo lived on without its founders. As will Google and Microsoft. The founders created "machines" that will "go" whether the founders are there or not.
Often, small consulting businesses are built around the founder, and this can make selling the company more difficult than need be. If customers want the founder handling or overseeing their account, then a buyer is going to wonder how much of the customer list will be left after the founder exits. It can even happen to big companies, like Apple, although their worry is perhaps more about the ability of successors to lead innovation.
If you never returned to your business, could it keep running?
Test yourself simply by asking yourself these questions and if you can respond yes to all of them you are well prepared:

Do you have a strategy in place should you, or a key staff member, be unable to return to work for a long period, or never?
Is this strategy documented and has it been communicated effectively to the business?
Do you have a process in place that ensures qualified and appropriately trained people are able to take over competently when the current generation of managers and key people retire or move on?
Has this strategy been documented and communicated to the key people involved?
Do you have a 'vision' for your business? Does it link easily to the 'values' of the business and the behaviours of the people within the business?
Has your 'vision' been well articulated and communicated with the people in the business?
Are you able to demonstrate your business plans for a clearly-defined viable future?
Have these plans been clearly articulated, documented and communicated to the key people within your organisation?
5. Avoid The Cash Suck
Essentially, try to get payment up-front. This is a lot easier to do for products than services. Alternatively, use progress billing. Either way, you need to be cash-flow positive.
Poor cashflow is the silent killer of many businesses, and poor, lumpy cashflow looks especially bad when a business is being packaged up for sale. It's difficult to make accurate forward revenue predictions when looking at sporadic cashflow.
6. Don't Be Afraid To Say No To Projects
It can be difficult to turn down work, but if the work doesn't fit into your existing processes, then you need to find extra resources to do it. Above all else, it's a distraction from your core function, which will also likely be your competitive advantage.
This point is also highlighted well in The Pumpkin Plan:
Never, ever let distractions - often labelled as new opportunities - take hold. Weed them out fast
7. Take Time To Figure Out How Many Pipeline Prospects Will Likely Lead To Sales
What's your conversion rate? This helps a buyer determine the market potential. They want to know if they can expect the same rate of sales when they take it over.
8. Two Sales Reps Are Always Better Than One
The reasoning for this is that sales people are naturally competitive, so will compete against each other, which benefits the business.
Most of us would agree that salespeople are competitive by nature. This is obvious and necessary. After all, these are the people we put on the front lines to win the day and bring back revenue-producing opportunities for the company. They are assessed on their sales performance via metrics and measurements, and they're incentivized with compensation and perks. Many organizations even have annual sales drives or competitions to quantify the level of performance and measure who is the best.
9. Hire People Who Are Good At Selling Products, Not Services
If you've gone to the trouble of systematizing your services to turn it into a product, then you don't want salespeople agreeing to meet a customers demands by bending the product to those demands. Either the product meets their demands, or it doesn't. I have known some service-oriented salespeople sell solutions that the company doesn't even offer, reasoning the sale is the important thing, and the "back office" will work it out somehow!
Part of the rationale is that product based salespeople will filter out clients who want something else, and focus on those who are best served by the product, and likely to want more of it in future.
10. Ignore Your Profit And Loss Statement In The Year You Make A Switch To The Standardized Offering
It will likely show losses due to restructuring around a repeatable process or product. In any case, the future buyer is not buying the previous service business, they're buying the new product business, and it is on these figures alone, going forward, the business will be judged.
11. You Need At Least Two Years Financial Statements Reflecting Your Standardized Model
See above.
12. Build A Management Team And Offer A Long Term Incentive Plan That Rewards Their Loyalty
Just like a buyer doesn't want to see a business dependent on the founder, a buyer doesn't want a management team abandoning ship after they've bought a company, either, unless the buyer is happy putting their own management in place.
13. Find An Adviser For Whom You Will Be Neither Their Largest Nor Smallest Client. Ensure They Know The Industry
Warrillow advises using a boutique mergers and acquisitions firm, unless you business is worth well under $5 million, in which case a broker is likely to handle the sale.
Between 1995 and 2006 about a quarter of merging firms hired boutique banks as their advisors on mergers and acquisitions (M&A). Boutique advisors, often specialized by industry, are generally smaller and more independent than full-service banks. This paper investigates firms' choice between boutique and full-service advisors and the impact of advisor choice on deal outcomes. We find that both acquirers and targets are more likely to choose boutique advisors in complex deals, suggesting that boutique advisors are chosen for their skill and expertise.
14. Avoid An Advisor Who Offers To Broker A Discussion With A Single Client. You Need To Ensure (Buyer) Competition
Sometimes, advisors are scouts for favoured clients. This can create a conflict of interest as the advisor may be trying to limit the bidding competition as a favor to the buyer, or because they're earning higher margins from that one client for introducing deals.
15. Think Big. Write A Three-Year Business Plan That Paints A Picture Of What Is Possible For Your Business
Think in terms of what the business could be, not necessarily what it is within your capabilities. For example, if the business is regional, what are the possibilities if it was scaled to every state? Or the world?
The buyer may have resources to leverage that you do not, such as established agencies in different markets. What happens if they sell your product to all their existing customers? Suddenly the scope of the business is increased, and the possible value is highlighted. Imagine what it would be like if you had the networks that were possible, as opposed to those you have at present.
16. If You Want A Sellable, Product Oriented Business, You Need To Use The Language Of One
"Clients" become "customers", "firm" becomes "business". It's not just a change of positioning, it's also a change of mindset and rhetoric, which in turn helps frame the company in the right light for the buyer.
17. Don't Issue Stock Options To Retain Key Employees After Acquisition. Instead, Use A Simple Bonus.
Stock options can be complicated, although pretty common in the tech world. Warrillow's argument against stock options is that they can complicate the sales process, as it's reasonable all stockholders should get some say in the terms of the sale. This probably isn't such an issue for larger businesses, as buyers would expect it.
Instead, Warrillow recommends a stay bonus, which is a cash reward for key staff if you sell the company. There should also be bonuses beyond the transition in order to inceentivise them to stay.
Conclusion
There are a lot of good tips and ideas in Warrillow's book, and I've really only scratched the surface with this summary. These tips require context to get the most out of them, but hopefully they've provided a good starting point.
Have you bought or sold an SEO business? It would be great to hear your experience of doing so. Do you agree with some of these tips, or disagree? Please feel free to add to the comments!