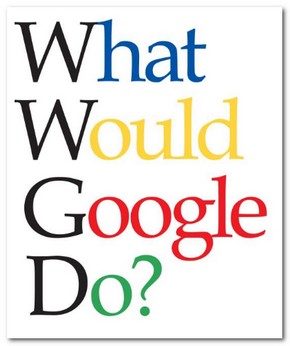 If Google is so successful, shouldn't you be doing what they do? If you follow their philosophy, then you can be successful, too.
This book, by blogger Jeff Jarvis, is a collection of Google fanboy thoughts on how to do business in the internet age, using Google, and other high tech companies, as a model. The rules have changed. The old way of doing things no longer applies. We're entering a brave new world where the internet will bring about a tech-led utopia.
Haven't we heard all this before?
Indeed, we have. We heard this before the last 2.0 tech crash. And the tech crash before that. When you look at the burn rate of internet start-ups, it doesn't look like a tech utopia, so much as a train wreck. The landscape is littered with bodies, wasted venture capital, and broken dreams. Many of these companies followed the "new rules of engagement", demonstrating that following new models, like the Google model, is far from a guarantee of success.
I'm not quite sure where to start with this book. Someone who is new to internet culture should find it illuminating, as Jarvis pontificates on state of the internet, circa 2009. Unfortunately, the book is a rambling, curricular collection of thoughts, some of which I find highly dubious. For example, Jarvis pontificates that "Free is a business model".
Huh?
Perhaps it's a case of semantics, but "Free" is not a business model. Free is a loss leader tactic. Free gets people hooked in so the ticket can be clicked somewhere else, just like Google does with Adwords. The obvious irony is that Jarvis isn't giving his book away for free. He's not publishing it online. He defaults to a traditional, old world, fee-based business model facilitated by middlemen - the book.
Funny, that.
Jarvis outlines the "Google Rules" you should follow in this brave new world, which include:
The customer is always right
Be a platform others can build upon
Middlemen Are Doomed
Be Transparent (Google are transparent?!?)
Small is the new big
The middleman is dead
Don't sell things, stuff sucks (Kinda hard to drive a non-car, though)
You get the idea. I doubt the audience of this blog will find anything particularly new in this book as it is a mishmash of various ideas that have been floating around for years. I found myself skipping through it. Whilst yawning.
Curiously, SEO is discussed. I'm pleased to note Jarvis doesn't pour scorn SEO, rather he shows how newspapers, and About.com, used SEO to make themselves more useful. He even outlines a basic SEO strategy. So pat yourselves on the back, SEOs. It looks like after all these years, commentators outside the SEO industry are starting to appreciate the value you provide.
It doesn't look like Google had anything whatsoever to do with this book. In fact, this book isn't really about Google. It's more about Jarvis and his personal observations of the state of the internet. The book's major downfall, besides being unnecessarily pompous and condescending, is that it misses the mark. The Google model can't be applied elsewhere and get the same results. It is a model that suits Google, but Google is a product of its own unique environment.
I also disagree with some of his predictions. He thinks the salesperson's days are numbered. Uh-huh. So we're all going to order from the internet, just like we didn't order our stuff from mail order catalogs? Salespeople will persist while people like to do business with people.
He also thinks middlemen won't last. Middlemen often create efficiency, aggregation and add value. Isn't Google a massive middleman, getting in between users and content, and adding value by making finding content a more efficient process?
Really, the rules of business online are very similar to the rules of business 100 years ago. We still need to give people what they want, at a price they can afford, and we need to deliver it at a lower cost than we sell it for. Free is an ideology, it's not a business.
I'm guessing the next big thing on the internet won't model itself after Google. It will do things quite differently, and few people will see it coming, based on their experience of the existing "rules". Did anyone see Google coming? Facebook? Yahoo? EBay? By the time people saw those companies coming, those companies were already entrenched.
They did so by doing things differently than what had been done before. The question isn't so much "What would Google do?". The question is "What Is Everyone Else - including Javis - Missing"?