Yahoo! Renting Links
Yahoo! was recently renting / leasing / buying / otherwise acquiring some high PageRank keyword rich links from gasbuddy.com. Normally when large companies buy these types of ads they use tracking codes, but these ads were straight links which are analyzed by search engines. Was Yahoo! Buying PageRank? Was Yahoo! Trying to Manipulate Search Results
Only Yahoo! knows what their true intentions were with the links, but within 4 days of people mentioning the links in the SEW forums the links were dropped. If they were not buying the links to manipulate the search results then one would wonder why they were not using a tracking code.
The Yahoo! ad unit used keyword rich links. They pointed links at
http://autos.yahoo.com/ with "cars" as the anchor text
http://used-cars.autos.yahoo.com/used_cars.html with "used cars" as the anchor text
http://autos.yahoo.com/new_cars.html with "new cars" as the anchor text &
http://used-cars.autos.yahoo.com/kbb/ with "Kelley Blue Book" as the anchor text
What Did Yahoo!'s Ad Look Like
Their Gas Buddy ad unit looked like this: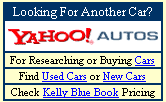 Yahoo!'s Other Ads
Yahoo! Shopping is still renting other high PageRank links through the Internet.com network to boost their rankings for high margin consumer electronic items.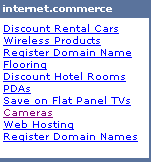 anchor text "cameras" pointing at
http://shopping.yahoo.com/b:Digital%20Cameras:20148412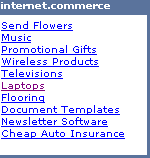 anchor text "laptops" pointing at
http://shopping.yahoo.com/b:Laptops:20148417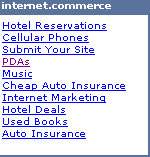 anchor text "PDAs" pointing at
http://shopping.yahoo.com/b:PDAs:20148420
Yahoo!'s Problem with Link Renting
Yahoo! runs their own search engine which powers a ton of search worldwide. Not only are they renting links that manipulate Google's search results, but the links also manipulate the Yahoo! Search search results.
These links are essentially used to build keyword rich link popularity from powerful websites, which may fall under the following unacceptible practices:
Pages using methods to artificially inflate search engine ranking
Excessively cross-linking sites to inflate a site's apparent popularity
as set by the Yahoo! Search quality guidelines.
Recently someone at the SEW forums stated that Yahoo! told them the problem with their site is that they have too many links pointing at their site.
The Problem with Yahoo! Renting Links
Yahoo! manually edits their search results. If other people have too many links pointing at their sites it is a problem, but if Yahoo! does it then it is ok? why?
Yahoo! owns a valuable network. What they do with that network is up to them. When people search for information Yahoo! can throw whatever ads they want around the results, but the results themselves should not be internally tainted.
As an oracle of information an ethical question is raised when Yahoo! is paying people to edit their results and paying other people to manipulate those same results.
What Next?
If Yahoo! decided what they want to place in their search results how can I trust them? What happens when they personalize my search? Will that mean that I get biased crap promoting more Yahoo! stuff? Will I not be able to find the information I need?
There is a level of trust associated with search. If Yahoo! wants to manipulate Google search results that is fine. If they are going to do that then they should prevent those same pages from being indexed in their own search results.
Yahoo!'s pages rank in the top 5 of Yahoo! Search for "cars," "new cars," & "used cars." Interesting how those search terms match up with the links they were renting.
Yahoo! just shot themselves in the foot if they were hoping to catch Google in search anytime soon.
Another Link Renting Problem
If you look at the Internet.com commerce partner network
http://www.jupitermedia.com/partners/
you will notice that it is a random collection of websites. The only thing preventing these links from being considered a "link farm" is that:
they are expensive
they are attached to a huge powerful network
and Jupiter Media is making a ton of money from them.

Also, how can a company claim it

provides unbiased research, analysis and advice, backed by proprietary data, to help companies profit from the impact of the Internet and emerging technologies on their business. source

and yet sell keyword rich ad space:

to random sites
throughout its own parent company network
which manipulates search results?