We recently reviewed a bunch of competitive research tools, and in that spirit I thought it would be a good idea to review Alexa. It is not that Alexa is the #1 service available, but they do provide one of the better services while being free. Every few years it seems they fall behind and become a bit of a relic, and then every few years they catch up.
Recently when using Alexa I saw they added a good number of features, so I thought it would be worth doing a run down.
Traffic


What Alexa is most popular for - their traffic rank, is popular because it has been around for a long time and is well referenced. I don't consider it to be a high value tool in terms of accuracy though. I think all these traffic estimation tools have a big margin for error, and its easy to read too much into the base/core number. Having mentioned that, you can try to use traffic data from Alexa, Google Website Trends / DoubleClick Ad Planner, Compete.com, and Quantcast to try to see how well they agree in terms of the traffic volume of a site or the relative volume between multiple sites in the same vertical.
In spite of my lack of faith in the Alexa rank numbers some people do put weight on it. Some investors use it. And when Markus Friend was launching PlentyOfFish he redirected Alexa users away from his site to stay below radar until his site was strong.
Pageviews Per Visit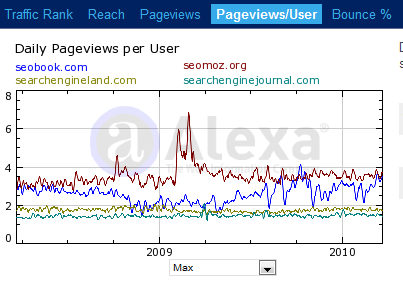 This is a good hint at how compelling people find a particular website. Sites which are driven by arbitrage efforts typically are not very engaging, hoping to either sell something right away or get people off the site. They also offer a time on site feature which you can use to compare how sticky sites are.
Bounce Rate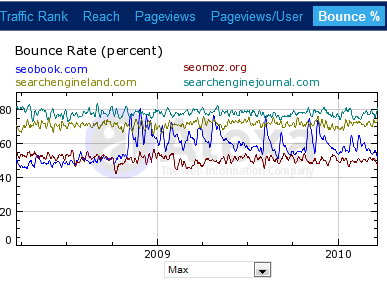 This is basically a flip of the above...people who see 1 page and then are gone. You can see in the yellow area where we tested using a pop up. While the pop up did get more people to register on our site, we dropped the pop up because it was somewhat inconsistent with the rest of our marketing (our core audience of customers tends to tilt torward the expert end) and the types of people who were receptive to pop ups were not as good of a longterm fit for our site as customers.
Downstream Traffic Sources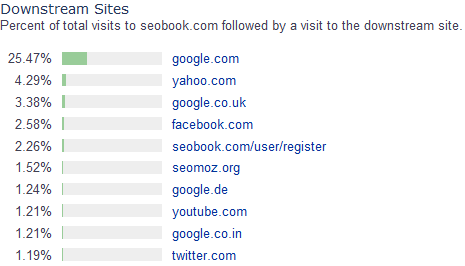 Who are they sending traffic to? Where do their visitors go after leaving the site?
Upstream Traffic Sources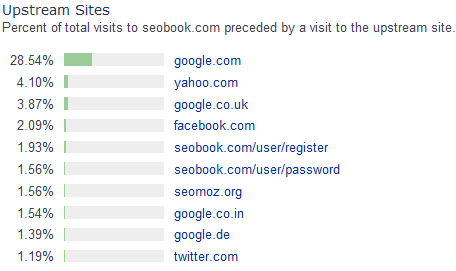 Who is sending them traffic? In many ways this can be unsurprising, but certain sites end up being more or less dependent on social media due to certain things like if they appeal to younger or older customers, what they are doing offline, if they are producing linkbait relevant to a specific audience which is heavily integrated into social media.
This can also help you locate some advertising locations, figure out how reliant they are on search, and help you see which sites in the vertical they are closely aligned with. DoubleClick Ad Planner also has a pretty awesome traffic affinity feature.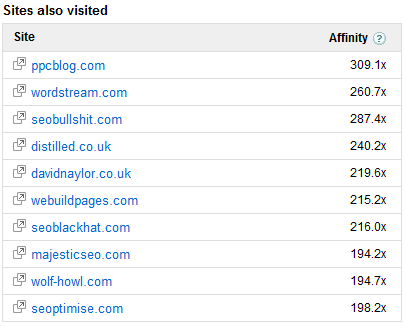 Search Traffic Percent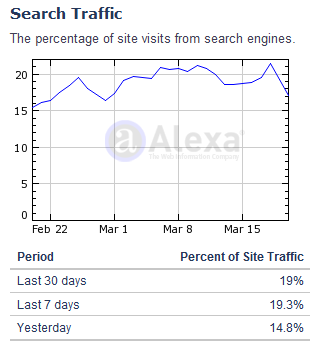 This shows the percentage of their traffic which comes from search engines. If it is abnormally high, that might mean the site has a search-heavy focus and needs some thickening out in terms of community participation and developing other traffic streams. If it is abnormally low, and you have similar link profiles to other sites that are higher, then it might mean that you are missing some important keywords that you should target. This is where digging in for more data with a tool like SEM Rush or Compete.com shines.
Subdomains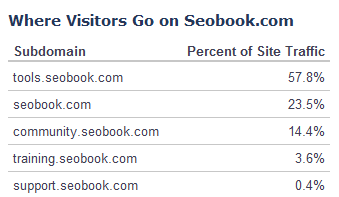 Do they have a membership area to their site? If they host it on a subdomain you can see how active they are. Having anywhere near 5% or 10% of your traffic in the private member's area is quite good if you have a well connected high traffic website. You can also see that our tools subdomain is a quite popular section of our site.
Top Search Queries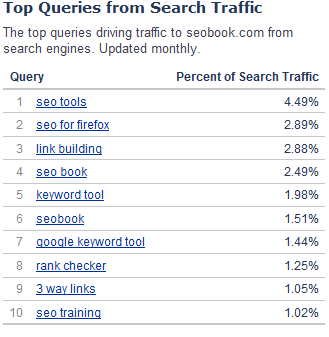 You can use this to find some of the most important keywords for a competing site. If some of your best keywords are being revealed it might make sense to publish some filler content on a popular topic that is hard to monetize so that it better shields some of your best keywords from free public viewing.
If you install the Alexa toolbar they will also show you a bit more query data and list some opportunities for that site on the paid search front.
Demographics
You can see what countries a particular site is popular in.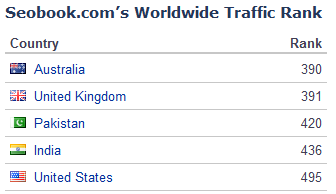 And you can get more detailed demographic data on a per site basis.

Many sites within the same field will have fairly similar demographic targets, but even things like at work vs at home can indicate if the site is primarily targeting independent types or corporate types. When compared against the above, notice how (generally) SeoMoz has a fairly similar audience composition: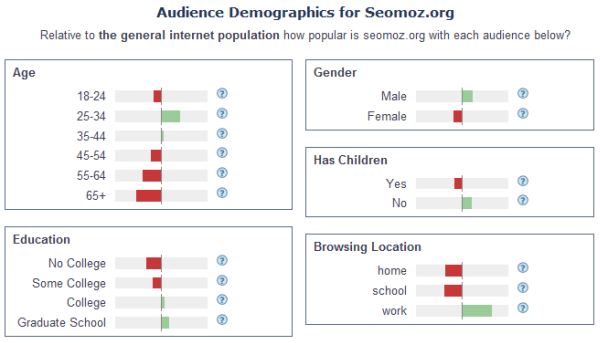 They skew a bit younger (I think sometimes my cynical nature turns off some young pople), a bit more college educated (they go to like 10x as many SEO conferences as I do), and we are perhaps a bit more popular with self employed people. And then for Search Engine Land you can see that they have a similar profile to SEO Moz, but with even more people at work and more college educated people.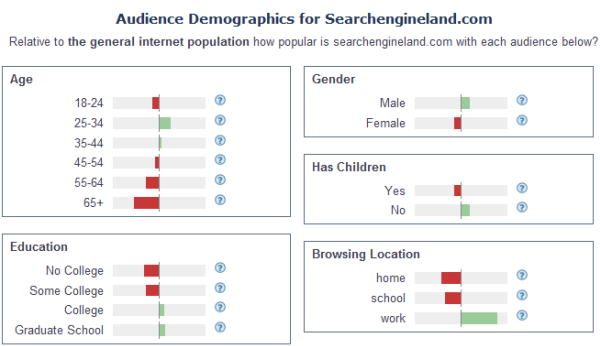 And then you have sites which are extreme demographic outliers. Ever wonder who the customers are for those websites primarily marketed through hyped up email launch sequences by affiliates?
Well throw some of those sites into Alexa, and you will find that for many of those sites it appears the target market is: old desperate and gullible men from the US who failed at life, still don't have a good b/s meter, and want to believe there is a silver bullet they can use now to automatically generate wealth. They can't, of course, but there is a crew that will sell them that story and get rich by working over the remaining crumbs in their retirement accounts.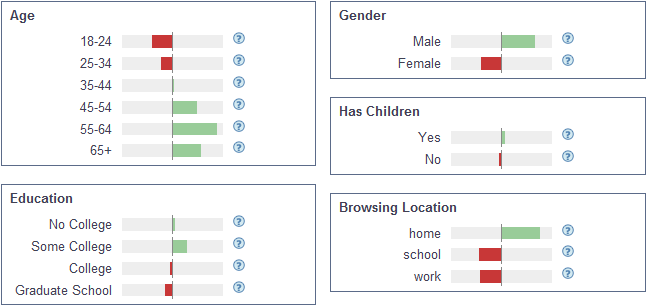 I am betting that part of why our age distribution is a bit more flat than most other SEO sites is because we offer free tools which are recommended to some of the audiences that buy the launch product stuff (or, that is my theory, based on some of them left their member's areas not password protected and sent a bunch of traffic at our site).
How do your demographic profiles compare to other sites in your space? Have you checked out all the features Alexa has added? What do you think of them?