Are the big networks trying to lock up their data?
It would appear that some big players are trying to muscle in between the user and the webmaster by limiting the webmasters access is to valuable statistical data.
The excellent SmackDown blog has a post about Google reportedly testing Ajax results in the main SERPs.
Sounds innocuous enough, right?
Trouble is, what happens to existing tools? Plugins? Rank checkers? Stats and other referral tracking packages? All tools that rely on Google passing data in order to work.
Many tool vendors would likely adapt, but as Michael points out, what happens if all the referral data shows as coming from Google.com i.e. no keyword data is passed?
Browsers do not include that data in the referrer string, and it is never sent to the server. Therefore, all referrals from a Google AJAX driven search currently make it look as if you are getting traffic from Google's homepage itself. Now, while this kind of information showing up in your tracking programs might be quite a boost to the ego if you don't know any better, and will work wonders for picking up women in bars ("guess who links to me from their homepage, baby!"), for actual keyword tracking it is of course utterly useless.
Perhaps the only place you'll be able to get this data is Google Analytics? Is this the next step - a lock-in?
It has happened before.
Remember the changes to Adsense? Google introduced a new form of tracking code that can't be tracked by third party tools. However, that data is available within Google Analytics.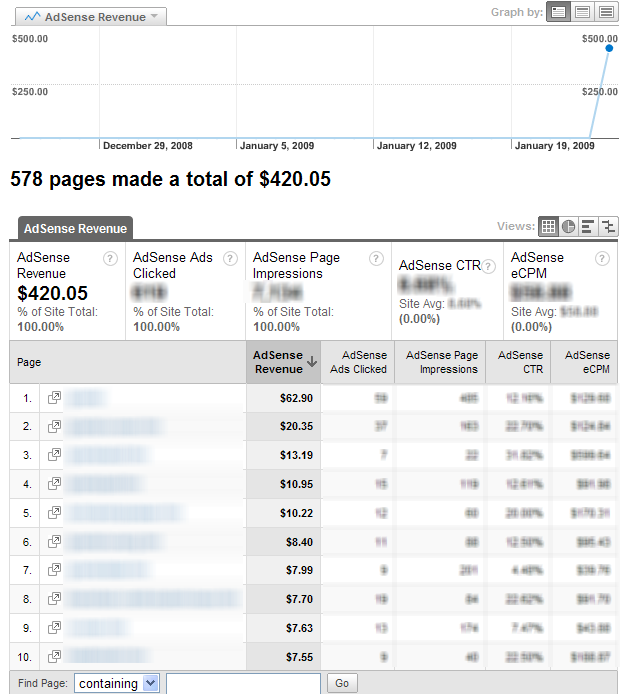 This obviously puts other tracking vendors at a competitive disadvantage, and signals to the webmaster community just where the ownership of that data lies.
Data Lock In
There appears to be an emerging trend, of late, whereby networks are leveraging their power against the interests of individual webmasters in terms of data ownership. Having been locked out themselves for a few years, the middle men are trying to squeeze their way back in again.
Take a look at the new contracts of GroupM, the worlds largest buyer of online media, as detailed in GroupM Revises Terms For All Online Ad Buys, Claims Data Is 'Confidential' on MediaPost:
The wording in GroupM's new T&Cs, which are attached to all the insertion orders and contracts it submits to online publishers beginning this year, amends the current industry standard by adding, the following: "Notwithstanding the foregoing or any other provision herein to the contrary, it is expressly agreed that all data generated or collected by Media Company in performing under this Agreement shall be deemed 'Confidential Information' of Agency/Advertiser......Experts familiar with online advertising contracts say the term is a smoking gun, because it raises a broader industry debate over who actually owns the data generated when an advertiser serves an ad on a publisher's page. Is it the advertiser's data? Is it the agency's data? Is it the publisher's data? Under the current industry standard, the data is considered "co-owned" by all sides of the process, but some believe the new GroupM wording seeks to shift the rights over data ownership exclusively to the advertiser and the agency.
The article also suggests that other ad providers may follow suit. What this may mean is that your can't leverage data in other ways. You might not even be able to collect it.
Whilst this issue has popped up again of late, it is nothing new. There has long been a battle for consumer data because it is so valuable. The ad networks can create a lot of valuable data as a by-product of their advertising placement, because they can leverage network effects and scale in the way the individual webmaster cannot. Naturally the next step is to lock it up and protect it.
The cost of protecting that data may come at the webmasters expense. As the MediaPost article says, who does the data belong to? The publisher or the ad network? Both?
Traditionally, it's been both. But that might be about to change, if the above contract is anything to go by.
Forced Partnerships
Incidentally, other contracts really push the boat out when it comes depriving webmasters of control. Techcrunch reported that the Glam Network, a large ad provider made up of advertising affiliates, includes this little clause in their contract:
10. Right of First Refusal
a. Notice. If at any time Affiliate proposes to sell, license, lease or otherwise transfer all or any portion of its interest in any of the Affiliate Websites, then Affiliate shall promptly give Glam written notice of Affiliate's intention to sell....
Essentially, if you want to sell your website, and you've agreed to these terms, then Glam have first right of refusal on the sale! Nice.
What this all might lead to is less ownership, less control, and less flexibility for the individual webmaster when dealing with big networks.
Or perhaps, in the case of Google, they're going to find other ways to pass data and just haven't outlined how yet.
One to keep a close eye on, methinks...
Published: February 3, 2009 by
A Reader
in
google