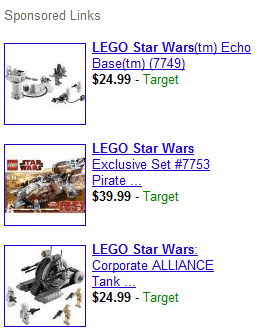 Google announced product listing ads today, a cost-per-action ad program that shows images in the search results:
Product Listing Ads is part of our effort to simplify the advertising process for merchants with large product inventories. Some of the key features of Product Listing Ads include:

Pay only for results: Product Listing Ads are charged on a cost-per-action (CPA) basis, which means that you only pay when a user clicks on your ad and completes a purchase on your site. Because Product Listing Ads is charged on a CPA basis, it offers a risk-free way for you to reach a larger audience on Google.com.
List your entire inventory: Product Listing Ads requires no keywords or additional ad text. Whenever a user enters a search query relevant to an item in your Google Merchant Center account, Google will automatically show the most relevant products along with the associated image, price and product name. Product Listing Ads makes it easy for you to promote your entire product inventory on Google.com.

At this time, Product Listing Ads is still a beta feature and is only available to a limited number of retail advertisers. Over time, we'll increase the number of users who see Product Listing Ads as well as the number of advertisers able to participate.
Along with this launch, Google is also pushing product search harder in the organic search results. If you look back at our last post, it is not beyond the realm of possibilities that those product listing ads and product search could eventually blend (to some degree) and appear as part of the AdWords ads above the organic search results.
Given that only launched today, the current impact on the search results of the new product ads is quite noticeable.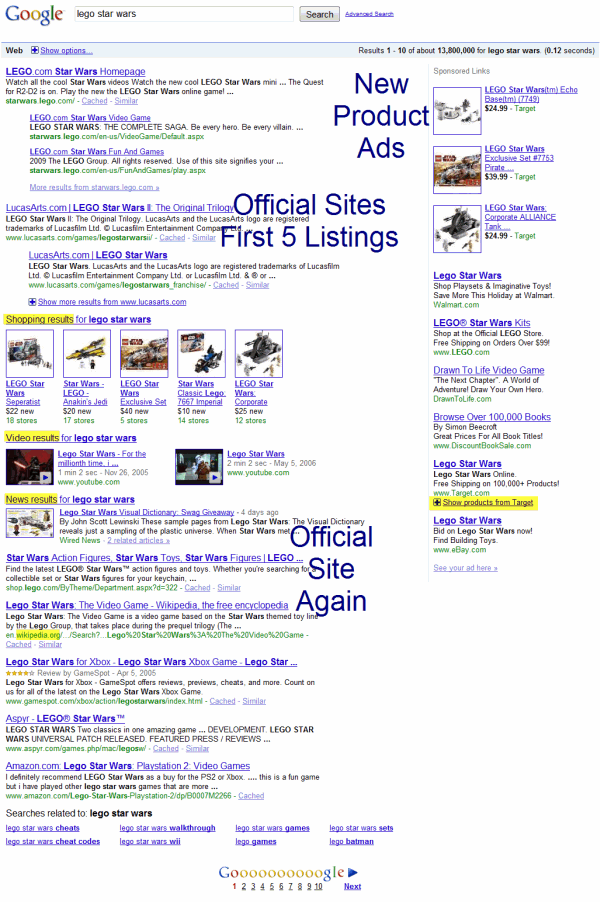 The big problem with this vertical data is that it is not as fuzzy as general search is...so none of the above products are the popular video game. But in time Google will collect lots of click data and use it to help determine if they should broaden or narrow the exposure for a particular product, product class, or vendor. And if they are collecting conversion data on the back end it makes it that much easier to measure customer satisfaction - just look at what adds the most money to Google's bank account.
In a recent interview Marissa Mayer stated that universal search results appear on about 25% of search results pages, and they would like to keep increasing that number:
When we launched [universal search], it was showing in about one in 25 queries. Today, it shows in about 25 percent of queries. And we think there are probably times when those auxiliary [file] formats could actually help, and we aren't triggering them on our results page. That's something we need to continue to strive to do.
As Google collects that data they can expand this stuff at will. It becomes a simple game of math. And even while charging CPA Google will still be able to increase yields because there will always be some new funded project, ambitious brand manager, or CEO looking to increase stock volatility to drive up share price to where "the company" wants to buy customers without profit to increase marketshare. Some non-sense metrics beyond lifetime customer value will be used to justify the expenses, because it is so easy to do nothing and let Google do all the work - even though that strategy yields no long-term competitive advantage.
Matt Cutts said that Google will wait on caffeine (though pieces of it might already be implemented), but I seriously doubt that any short-term changes to the search results under caffeine would present anywhere near as big of a concern to webmasters as Google becoming (roughly the equivalent of) an affiliate in ecommerce, local, and lead generation - while using their search results to aggressively push into market leadership roles in those new markets.
Question: Who cares where they rank algorithmically if the algorithmic #1 result is below the fold?
Answer: Nobody!
And yet for certain search types that is the world we are increasingly living in.
I am not sure how sloppy and aggressive searchers (and competitors) will let Google get with pushing verticals...but I am betting that the limit is probably even worse than the above. And remember that it can get far more aggressive while not appearing so to the end user. As Google collects data they will make the vertical insertions more relevant. And each time searchers see search results with more banner-like junk in them, they are being conditioned to expect more of it in the future.
Google realizes that if they want to keep increasing profits from search they have to drive down the organic search results with either
more ad units in different formats
other filler (like Youtube)
Increasingly these types of shifts in the search results will drive affiliate SEOs (or at least the ones that care about product quality and customer satisfaction and long-term profit margins) to create their own products & services rather than marketing someone else's. If you own the product you have the fattest margins and can partner directly with Google for distribution, rather than fighting for scraps of scraps as the organic search results keep disappearing.
The upside for searchers (and publishers) is that as Google aggressively pushes to become a back-door algorithmically driven portal it leaves a market opening for Blekko and other search players which would be happy to make just a few billion here or there...the same hole AltaVista and Yahoo! left for Google. :D