When launching a brand new website in a competitive marketplace you have a lot of network effects working against you. Your competition has years of conversion data, an older trusted site, tons of content, and thousands of organic inbound links. Try to beat them right from the start for the most potent high-value keywords and you will likely fail.
Any new website has opportunity cost. One of my first goals with a new site is to get it to self-sustaining while it is still growing rapidly. In doing that, I can afford to lock up that capital with no returns because I know I am buying market-share in a fairly organic manner, and few competitors will operate at that strategic level or see me coming. Whenever the site has enough exposure then advertising (and other promotional spending) can be cut as needed.
If I target the most competitive keywords first (without a strong competitive advantage - like a network of sites to build off, an old trusted website, a huge brand, or a strong domain name) then I might never get to self-sustaining. There is no award, little traffic, and virtually no value for ranking on page 2 or page 3, even if it is for an exceptionally competitive and high traffic keyword like credit cards.
Longtail keywords are easier to rank for. If you can pick off mid-tier phrases and rank at the top of the search results then you can build a revenue stream from them, which can be reinvested to further buy marketshare and distribution.
There is more value in...
using your core pages (and link anchor text) to target lower competition variations of your core keywords (like best credit cards or compare credit cards) rather than targeting just the core competitive keyword credit cards
ensuring that each particular deep page is well optimized and can pull in relevant traffic
than there is *almost* ranking for credit cards.
Core keywords require domain age, good anchor text, trusted links from a variety of sources, and perhaps links from within your topical community. It takes time to build all those external signals of quality. You can rank for longtail keywords much faster, because you control your on page optimization.
Longtail keywords have less competition, and are thus far easier to rank for, as illustrated below.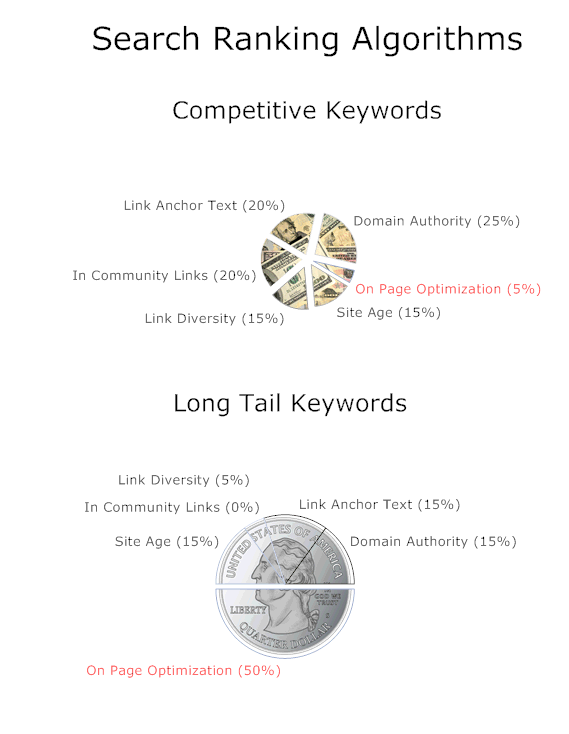 And the good news is that if you target best credit cards or compare credit cards that will help you rank for credit cards as your site gains link authority and trust in Google.
Eventually you want to rank your site for many of the most valuable phrases, but you need to build a revenue stream to support those efforts. By focusing on the second tier and third tier keywords first, you enable yourself an opportunity to earn (and buy) the exposure needed to rank for the core keywords.
This site does not rank well for SEO just because I decided to target that keyword, but because we helped create many paths into this site...which helped to build the authority of the site...which helps it rank better for the core keywords.