Years ago (well before I was an SEO, or knew what SEO was) search engine submission was a huge phrase. Only recently has search engine marketing replaced search engine submission in popularity.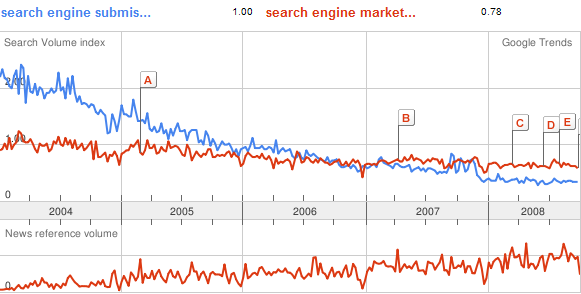 Search engine submission was big part of the optimization game when search relevancy algorithms were heavily reliant on meta tags and on the page content. As search got polluted with on the page spam you needed to more than submit to compete for coveted valuable phrases, you had to build signals of trust from other sites. Link building was a requirement.
Many of the links that you could easily "build" have effectively disappeared from the web, through the use of nofollow and Google editing the PageRank of many (perhaps most) web directories. Recently Google removed their recommendations for directory submission and link building when these 2 points disappeared from their guidelines
Have other relevant sites link to yours.
Submit your site to relevant directories such as the Open Directory Project and Yahoo!, as well as to other industry-specific expert sites.
Might their reliance on directories be waning?
Absolutely.
Each additional link created and each additional web page published make Google smarter.
The web is a social network and search engines follow people. Once you think of the web from that perspective you have a HUGE advantage over competitors who are "building" one link at a time.
Google wants those who are well connected (and those who can afford to advertise) to succeed. Thus the evolution of SEO looks like...
search engine submission
on page optimization
link "building"
advertising, branding, viral marketing, public relations, & social interaction
Getting the basics right (keyword research, site structure, on page optimization) help make everything else you do more effective. But each day that passes you need a bit more (economic and/or social) capital to compete. What social interactions are built into your site? Why should bloggers write about your business?