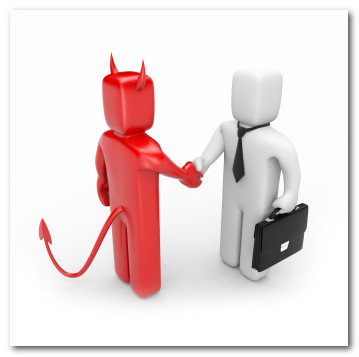 SEO came about soon after the advent of the web crawler. The commercial imperative was obvious - where there was web traffic, there was money to be made. Positioning a page first in the engines was pretty much a licence to print money.
Still is, of course.
Throughout the history of search and SEO, the predominant metaphor of the web has been one borrowed partly from publishing - the page - and partly from computer science - the domain. A domain contains pages. A domain is a silo. A domain has clear borders.
The Search Metaphor
Search forces quite a different metaphor on the web.
Search is a connector between a person and a page. Search subverts the domain structure because the visitor can dive in at the page level. In this respect, all pages become a part of the much bigger silo. In 2009, that silo is Google.
Search also strives to be the ultimate answer engine - the mind of God. Got a question? Google it. Google will provide the answers.
But search is not quite there yet. Search still returns pages - the user still digs through the page to find the answer.
But for how long?
The Slow Unraveling Of The Page Unit
Consider social media. Is a page the basic unit of Twitter? No, it's the sentence. How about Youtube? The video. Social networks? The person. All can be extracted, re-purposed and dis-intermediated without losing meaning.
Consider the semantic web:
Humans are capable of using the Web to carry out tasks such as finding the Finnish word for "monkey", reserving a library book, and searching for a low price for a DVD. However, acomputer cannot accomplish the same tasks without human direction because web pages are designed to be read by people, not machines. The semantic web is a vision of information that is understandable by computers, so that they can perform more of the tedious work involved in finding, sharing, and combining information on the web
What happens when the machine "understands" the query enough to provide a direct answer to a question, as opposed to returning a list of pages?
Black Clouds On The Content Producer Horizon, Or Opportunity?
In a recent Techcrunch interview, Eric Schmidt said something rather telling:
So I don't know how to characterize the next 10 years except to say that we'll get to the point - the long-term goal is to be able to give you one answer, which is exactly the right answer over time.
Perhaps he was quoted out of context, but that strikes me as an absurd thing to say. As if there is ever one "right" answer. Well, I guess there is if you live in some Orwellian nightmare.
More importantly, if this is where Google intend to be in ten years time, then where does this leave content producers? If Google provides "the answer", why would anyone click-thru and visit a page? Conversely, why would anyone let Google crawl their content if Google's aim is to disintermediate the producer from their content? Johnon had an excellent post on this topic.
Recently, Google released rich snippets, a feature whereby you markup you data to suit Google's display criteria.
Rich Snippets give users convenient summary information about their search results at a glance.
If the answer is "rich" enough, I guess the user doesn't even need to visit your page. Perhaps the user will get distracted by the Adwords listings, instead ;)
If Google aims to extract information and keep the visitor on Google, rather than just acting as a conduit between visitor and page, then this does not bode well for content producers.
This brings up the burning "Newspaper vs Google" argument. "How", the newspapers argue, "can we make money if Google undermines our revenue model? Ultimately, this is a question all content producers must face. Just ask those in the music industry.
Seemingly in response, Google is planning to roll out micropayments in the next year:
Google is planning to roll out a system of micropayments within the next year and hopes that newspapers will use it as they look for new ways to charge users for their content.
The question is, will micropayments and web advertising be enough to pay the bills, especially when it comes to expensive, high-risk media production, such as television and movies:
Grade's criticisms were echoed in October by C4 chief executive Andy Duncan, who said Google had failed to invest in UK content creation. "Google takes more ad revenue out of the UK than ITV makes and it isn't regulated. It isn't fair [that] it's not reinvesting that back into content and independent film production companies in the UK," said Duncan.
Content producers are posting losses, whilst Google continues to post massive profits. What happens if content isn't worth producing anymore? What happens when revenue falls below the cost of production? Or perhaps content will still be economic, but only if production quality is sacrificed? Is it really just a case of fat media producers cutting bloated production costs?
What is Google's long term strategy as far as content producers are concerned? Besides PR fluffery, they never really say.
It's Not All Bleak
Of course, if content producers really did get disintermediated to the point where content production wasn't worth doing, Google may well collapse soon after. What would there be left to search? Wikipedia?
Where would the "answers" come from? Who would fund "answer provision"? Sufficient income must flow to the content producers, but the question still remains "how"?
And I don't really think the page is going away. The page has served humans well for thousands of years as a container of information. But if the information on pages can be aggregated in such a way that users don't need to visit the source page, where does this leave content producers? Where does this leave SEOs?
In 2009, SEO plays fall into three distinct categories.
Agency model: people offer services to others for a fee.
Affiliate model: people gather traffic and funnel it somewhere else for a performance fee.
Content model: people generate content and make money off advertising.
The last model is, I'm guessing, is one a lot of SEOs will pursue. Many do so now.
Check this out:
Demand Media operates based on a simple formula for success on the Web: create a ton of niche, mostly uninspired content targeted to search engines, then make it viral through social software. Demand Media has been heavily funded to carry out that mission, to the tune of $355 million. So yes, brute force - quantity of content + money/power - works more often than we'd like to think on the Web.
The aggregator wields most of the power in this relationship, unless the publisher can lock in an audience who will by-pass the aggregator.
Is Dis-intermediation Over-Rated?
On the flip-side, John Battelle argued a few years back that search dis-intermediation is overrated.
Those who fear disintermediation should in fact be afraid of irrelevance -- disintermediation is just another way of saying that you've become irrelevant to your customers. It doesn't mean there isn't a customer, or middlemen of some sort who service that customer, or that the core proposition of your business has disappeared. It just means you're in a bit of a rut, and as much as you might pine for the past, it's probably time to rethink things before it's too late.
He reasons that writers can go outside the traditional silos:
And what of the role of publisher or content creator? Increasingly, those who have the ability to create great media can get pretty far without attaching themselves to the traditional indentured servitude of a publisher, label or network. Writers, for example, are finding their own voices outside the strictures of magazines and newspaper publishers. Blogs like Boing Boing, Daily Kos and Cool Tools are drawing millions of readers each month, and their overhead is the cost of a high-speed Internet line.
However, what they're actually doing is jumping out of one silo and into another. Google is the master silo in this scenario.
So, what do you think? what is the role of SEO in the future? Will it be more about making connections, and a less about making pages? Will the page itself be subverted? Have Google gone moved beyond the idea of "organizing the world's information"?
Published: September 27, 2009 by
A Reader
in
seo tips