Link Assistant's Rank Tracker Reviewed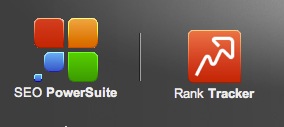 Link Assistant offers SEO's a suite of tools, under an umbrella aptly named SEO Power Suite, which covers many aspects of an SEO campaign.
Link Assistant provides the following tools inside of their Power Suite:
Rank Tracker - rank tracking software
WebSite Auditor - on-page optimization tool
SEO Spy Glass - competitive link research tool
Link Assistant - their flagship link prospecting, management, and tracking tool
We'll be reviewing their popular Rank Tracking tool in this post. I've used their tools for awhile now and have no issue in recommending them. They also claim to have the following companies as clients:
Rank Tracker is one of the more robust, fast, and reliable rank checking tools out there.
Update: Please note that in spite of us doing free non-affiliate reviews of their software, someone spammed the crap out of our blog promoting this company's tools, which is at best uninspiring.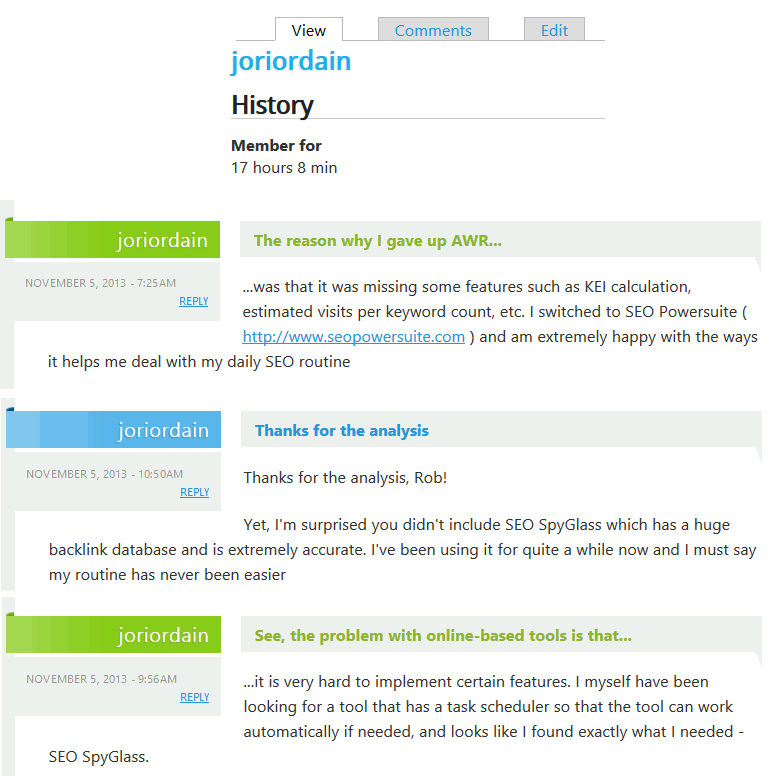 Is Rank Tracker a Worthy Investment?
Rank Tracker offers a few different pricing options:
All of the editions have the following features:
Unlimited sites
Unlimited keywords
Customizable reports (you can only save and print with Enterprise level however, kind of a drawback in my opinion. Pro accounts should have this functionality)
API key's
Human search emulation built in
User agent rotation
Proxy support
Proxy rotation
Google analytics integration
Multiple language support (English, German, Russian, French, Dutch, Spanish, Slovak)
Runs on Windows, Mac, Linux
All editions offer access to their keyword research features, with all the features included, the only difference here is the free edition doesn't allow KEI updates.
Rank Tracker Feature Set
Rank Tracker offers a keyword research tool and a rank checking component within the application. A more thorough breakdown of the feature set is as follows:
Keyword Research
I prefer to do my keyword research outside of tools like this. Generally specific tools seem to excel at their chosen discipline, in this case rank checking, but fall kind of short in areas they try to add-on. I like to use a variety of tools when doing keyword research and it's easier for me, personally, to create and merge various spreadsheets and various data points rather than doing research inside of an application.
However, Rank Tracker does offer a one-stop shop for cumbersome research options like various search suggest methods and unique offerings like estimated traffic based on ranking #1 for that specified term.
Overall, a nice set of keyword research features if you want to add on to the research you've already done.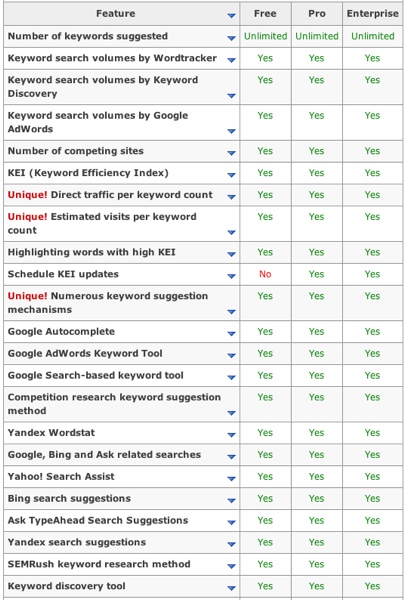 Rank Tracker also gives you the option to factor in data from Google Trends as well as through Google Analytics (see current ranking for each keyword and actual traffic).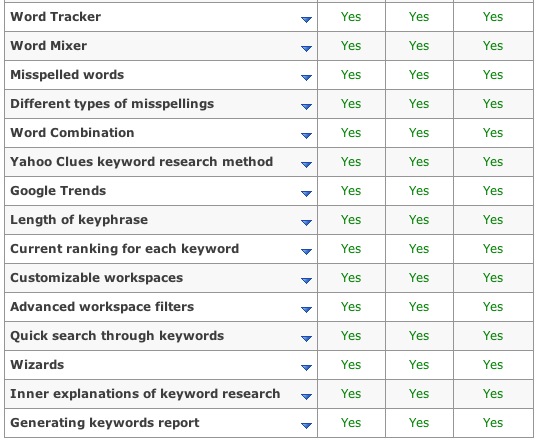 Rank Checking
As this is the core piece tool it's really no surprise that this part of Rank Tracker shines. Some of the interesting options here are in the ability to track multiple Google search areas like images, videos, and places.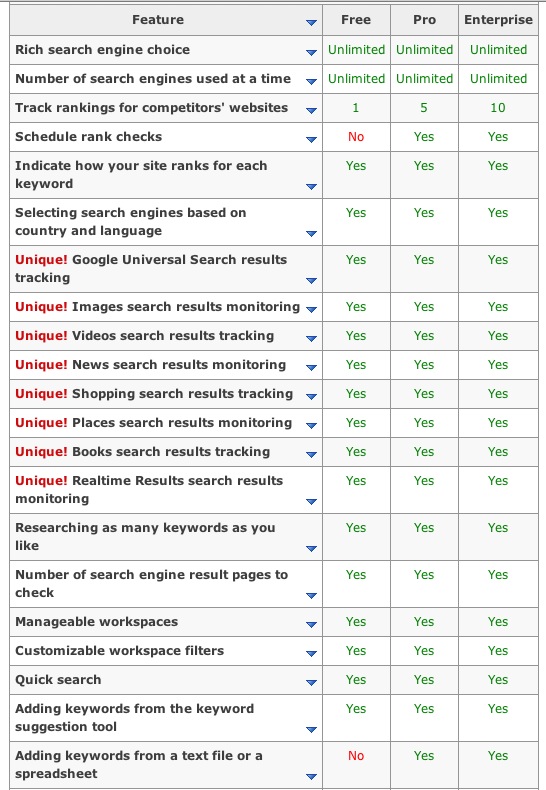 In addition to the interesting features I mentioned above, Rank Tracker also includes a wide array of charting and design options to help you work with your data more directly and in a clearer way: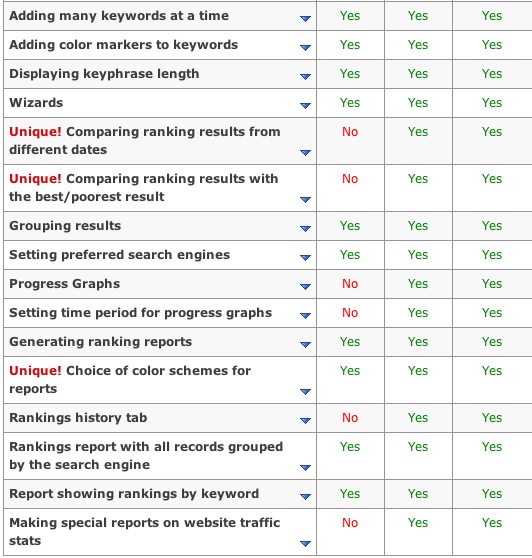 Usability is Top Notch
While the interfaces aren't the prettiest, this is one of one most user-friendly rank tracking tools that I've come across.
First you simply enter the URL you wish to track. Rank Tracker will automatically find the page AND sub-domain on the domain ranking for the keywords chosen, so you don't have to enter these separately.
You enter the site you want to check (remember, subpages and subdomains are automatically included)
Choose from a whole host of engines and select universal search if you wish to factor in places taken up by Google insertions into the SERPS: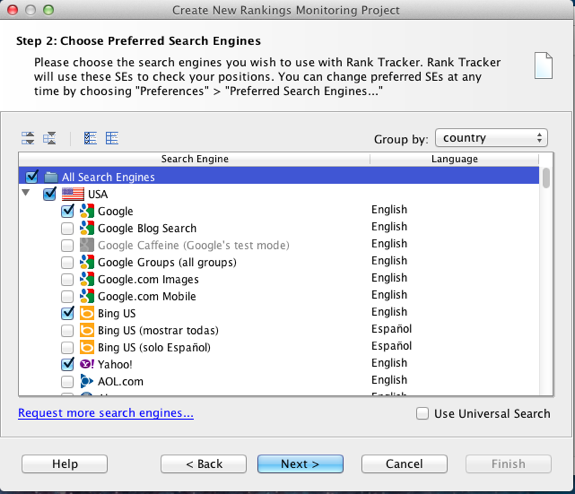 Enter your keywords: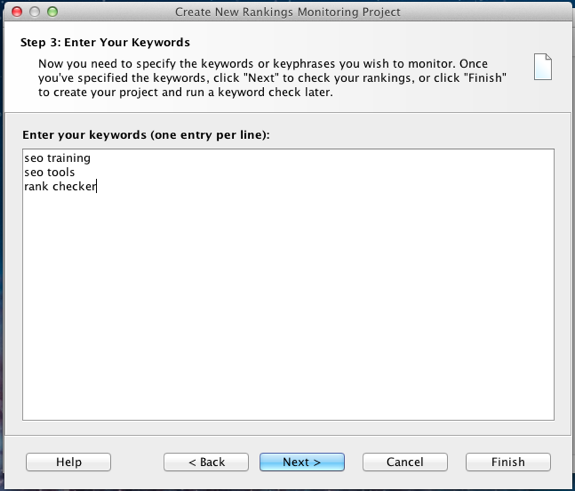 Let Rank Tracker go to work: (you can choose to display the running tasks as line views or tree views, a minor visual preference)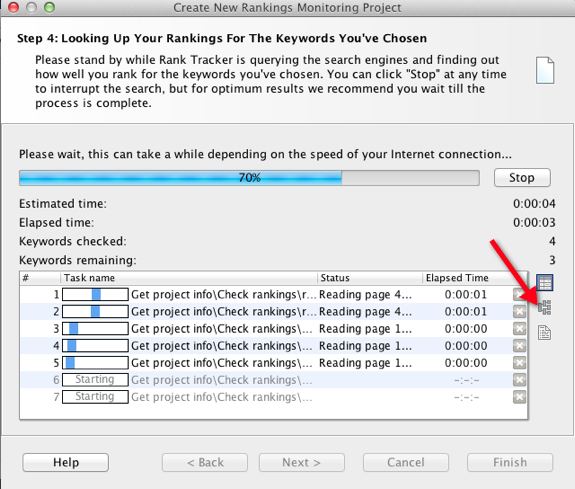 That's all there is to it. It is extremely easy to get a project up and running inside of this tool.
Working with Rank Tracker
Inside of Rank Tracker the data is displayed clearly, in an easy to understand format: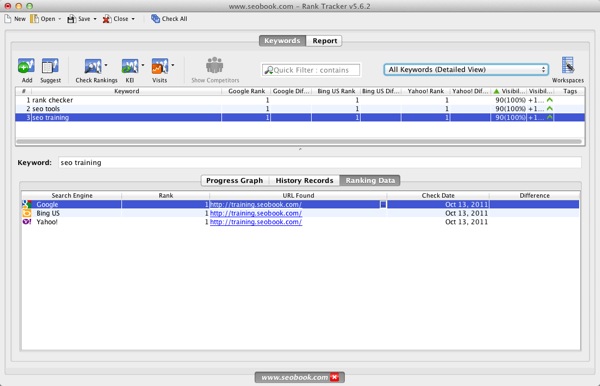 In the top part you'll get to see:
the keywords you selected
current rank compared to last rank
overall visibility (top rankings) in each search engine selected
custom tags you might decide to choose to tag your keywords with for tracking purposes or something
On the bottom chart you'll see three options for the selected search engine (bottom) and keyword (top):
ranking information for each search engine for the selected keyword
historical records (last check date and position)
progress graph (visual representation of rankings, customizable with sliders as shown in the picture)
The ranking chart shows the chart for the chosen keyword and search engine: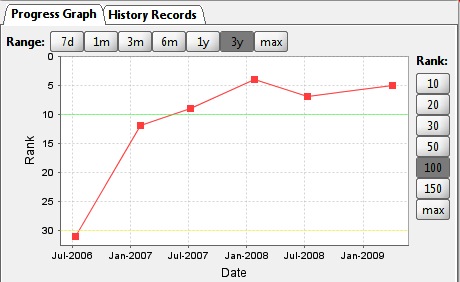 Within the ranking results page, you can select from these options to get a broader view of how your site is performing on the whole: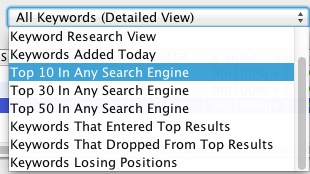 Customizing Rank Tracker
Inside of Rank Tracker's preferences you'll see the following options, most of which are self-explanatory:

This is where you can take advantage of some of their cooler features like:
adding competitors to track
adding in your Google Analytics account
customizing your reporting templates
changing up human emulation settings
adding in a captcha service
scheduling reports
adding in multiple proxies to help with the speed of the tool as well as to prevent blocks
You can track up to 5 competitors per Rank Tracker profile (meaning, 5 competitors per one of your sites).
Key Configuration Options
Rank Tracker has a ton of options as you can see from the screenshot above. Some of the more important ones you'll want to pay attention to begin with their reporting options.
You'll want to set up your company information as shown here: (this is what will show on your reports)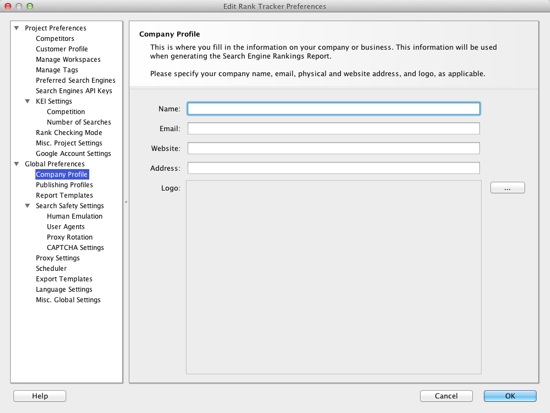 On a per profile basis you can customize client-specific details likeso: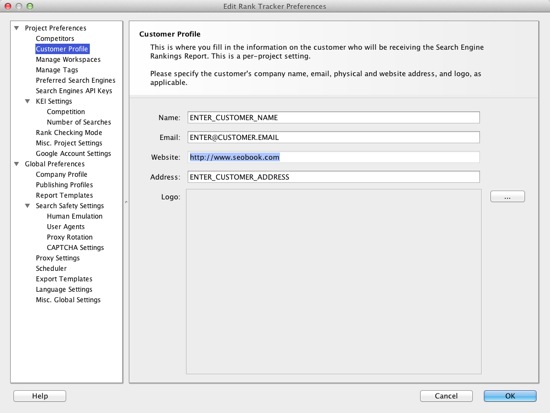 You can create new and modify existing templates for multiple report types here as well: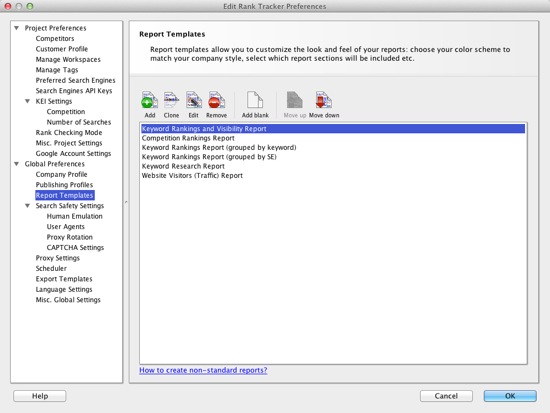 Emulation settings are important, you want to make sure you are set up so your requests look as normal and human as possible. It makes sense to check off the "visit search engine home page" option to help it appear more natural in addition to having delays between queries (again, to promote a natural approach to checking rankings/searching).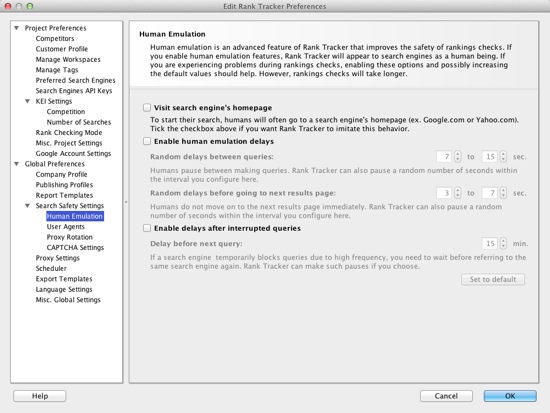 One thing that irks me about Rank Tracker is that they have emulation turned off by default. If you don't adjust your settings and you try and run a moderately sized report you'll get a Google automated ban in short order, so be careful!
In addition to emulation, search approach is also worthy of a bit of tinkering as well. Given how often Google inserts things like images, products, and videos into search results you might want to consider using universal search when checking rankings.
Also, the result depth is important. Going deep here can help identifying sites that have been torched rather than sites that simply fell outside the top 20 or 50. 100 is a good baseline as a default.
Successive search gives you a more accurate view as it manually goes page by page rather than grabbing 100 results at a time (double listings, as an example, can throw off the count when not using successive search)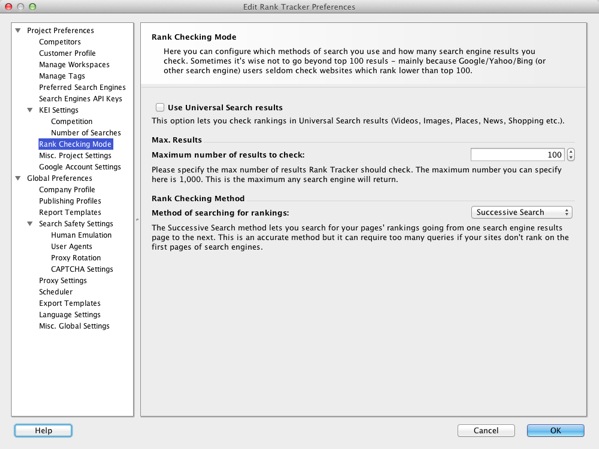 Finally, another important option is scheduling. You can schedule emails, FTP uploads, and so on (as well as rank checks) from this options panel. Your machine does have to be on for this to work (not in sleep mode for instance). In my experience Rank Tracker has been pretty solid on this front, with respect to executing the tasks you tell it to execute (consistently).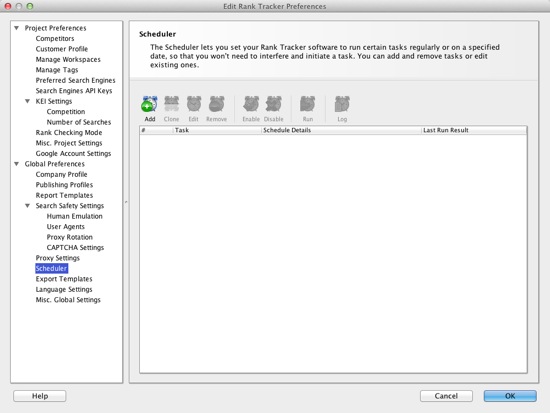 Software versus Cloud
There are some strong, cloud based competitors to Rank Tracker. Our Rank Checker is a great solution for quick checks and for ongoing tracking if you do not need graphical charts and such (though, you can easily make those in excel if you need to).
Competitors and Options
Raven offers rank tracking as a part of their package and there are other cloud based services like Authority Labs (who actually power Raven's tools) you can look into if you want to avoid using software tools for rank checking.
There are some drawbacks to cloud-based rank tracking though. Some of them do not have granular date-based comparisons as they typically run on the provider's schedule rather than yours.
Also, most cloud rank checking solutions offer limits on how many keywords you can track. So if you are doing enterprise level rank checking it makes sense to use a software tool + a proxy service like Trusted Proxies
Pricing and Final Thoughts
Rank Tracker offers a generous discount if you grab all their tools in one bundle. If you want to customize, schedule, and print reports you'll need the enterprise edition.
I think requiring the purchase of your top tier for the basic functionality of printing reports is a mistake. I can see having that limitation on the free edition, but if you pay you should get access to reports.
You can find their bundle prices here and Rank Tracker's specific pricing here. Also, similar to competitors, they have an ongoing service plan which is required if you plan to continue to receive updates after the initial 6 months.
Despite my pricing concern regarding the reporting options, I think this is one of the top rank checkers out there. It has a ton of features and is very simple to use. I would recommend that you give this tool a shot if you are in the market for a robust rank checking solution. Oh I almost forgot, rank checking is still useful :)
One More Note of Caution
Be sure to read the below complaints about how unclear & sneaky the maintenance plan pricing is. This is something they should fix ASAP.