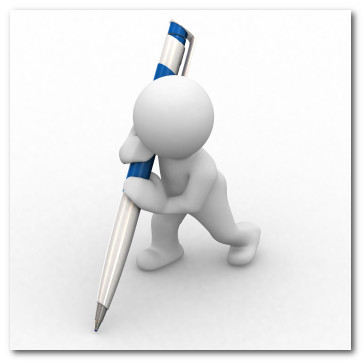 Yes, deliberate mistake :)
It grates when people write poorly, huh. When writers write well, the words almost become invisible. The focus shifts away from technical details, and onto the message.
Is there an easy way to write better blog posts? E-mails? Web copy?
Let's take a look at three guidelines for web writing.
1. If You Can Say It, You Can Write It
The Dilbert Mission Statement Generator - sadly now offline - comes up with convoluted gems this:
"Our challenge is to assertively network economically sound methods of empowerment so that we may continually negotiate performance based infrastructures"
Satire, one would hope.
However, the US Air Force uses the following mission statement:
"The mission of the United States Air Force is to deliver sovereign options for the defense of the United States of America and its global interests - to fly and fight in Air, Space, and Cyberspace"
"Deliver sovereign options"?
Who talks like this? Well, apart from the US military.
Nobody.
Good web writing is the same as good spoken language. Use short sentences, short words, simple structures and a natural, predictable flow of ideas. Avoid waffle, hyperbole and words that hide meaning. Whenever you finish a piece of writing, read it aloud. Cut or rephrase phrases that sound clunky, because they'll read clunky, too.
Your writing will sound warm and human.
The human voice is especially important online. Communicating at a distance, particularly two-way communication, is relatively new to humans. To help people connect with one another more easily, it pays to write in a warm, conversational style that mimics personal conversation when conducted in close, physical proximity.
When you think about how you would say something, especially to a specific person, you choose words, expressions and structures based on that personal context. Try to imagine that person in front of you as your write.
This approach works well for all applications - from formal legal sites, to personal sites.
2. Planning
Planning what you're going to say helps you to complete any writing task more quickly and easily.
1. Identify and list your goals. What is the message? What is the desired action you want your reader to take? What is the key thought you want your reader to take away?


For example, a goal list might look like this:



*inform people the last project went well, even though there were problems
*highlight the good aspects about the project
*highlight the problems
*present ideas on how these problems can be overcome in the next project
*get everyone revved up and excited about the next project

2. Think about the audience. Who is your audience? What do you know about the person or group?
3. Determine the right tone and format based on answers 1& 2
4. Write quickly. Don't edit, even if your writing is a mess. Separate out your writing and editing functions.
5. Draw a solid conclusion. Calls to action work well.
6. Read aloud what you've written. Cut, fix and tighten. Writing comes alive in the rewrite.
Solid blog posts sound spontaneous, but they're not. They're often structured, worked and reworked.
3. Hyperbole Doesn't Work On The Web
Hyperbole means extreme exaggeration. i.e. "All the perfumes of Arabia could not sweeten this little hand". Web readers tend to gloss over the flowery and the convoluted.
On the web, people scan, so the shape of your writing - how it appears on the page - can be just as important as what you say. So think about the shape and form of your writing. Can you use bullets, headings and images to break up large blocks of text? Sometimes, the best thing to do is not write at all. Can an image convey your message? If so, use it.
Also consider context. When visitors arrive on a page, a page deep within your site, do they know what your site is about from glancing at that one page? If not, consider using chunks of content to provide context. These chunks of information can be repeated on every page of your site, and should be self explanatory. Think directory entry. Your repeat visitors will become blind to it, but your first time readers will appreciate it.
We could go on all day about web writing. However, we'd like to hear your tips. How do you approach writing on your site? Do you plan? Do you wing it? What style of writing gets the best results?