Professional SEO Blogger
If a person is a public SEO and their only gig is writing a blog about SEO (and selling client services to newbies) then it can be quite easy to share and not care. If they destroy a technique or someone else's business to earn a bit of attention who cares? They got the attention, and that can be converted into currency as herds of newbies flock to where the crowd and controversy are.
Which is why some of the sleaziest SEOs publicly promote SEO outing.
They understand that justifying their own business actions helps to legitimize them, even if they are hypocritical scumbags who use their blog to threaten and bully around people with a smaller platform. If you are doing effective SEO but are not paying them on retainer look for them to go out of their way to try to out you and harm your business.
Real SEO Professionals
But if a significant portion of your revenues comes from affiliate and/or ad driven sites which just happen to be ran by SEOs (which Google generally hate, in spite of some claims to the contrary) the care with which you give out information increases. And competition is not always above board.
Business Can Be Dirty
About a month ago a person contacting me about how they were an honest Joe wanted more tips from me, and about a week earlier I noticed that the same person stole something from one of my sites and was trying to compete directly against me using my own content!!!
About a year ago a "friend" claimed he wanted to invest in some of our businesses. He came up with an offer, got most of our information about some of our business ideas, grabbed a hold of some of our business relationships, and is now creating a similar business model competing head on. He claims that his capital was illiquid as for why he did not complete the deal, but he does not realize I know how much he spent on some other assets at the time. And a case of inadequate resources is never an adequate excuse when the person who approaches you names their offer price. They burned 100% of the trust I had in them to the ground. How could I ever trust them again?
A couple years ago one of my sites got dinged with a penalty. While that penalty was in play, another "friend" working on building other businesses told a friend of mine "clone Aaron's site," not expecting that sleazy advice would come back to me.
I think about a week ago someone asked me a blog comment along the lines of "what affiliate offers should I promote right now."
At that level the person...
is not a paying customer
is valuing my time at nothing
is trying to take away time I could spend servicing our paying customers (or attention I could spend promoting our other money making sites)
AND they want me to give them advice which would increase the competition we faced in our other publishing projects, sacrificing our future revenues
When I wanted to be well known there was value to popularity, but the people who are paying you $0 for your time AND who are asking specific specialized questions about what you are doing are only going to harm your business interests. And so you must say no thanks to answering those types of questions.
Real SEOs Become Guarded - or go Bankrupt!
After a few years of being constantly screwed over by a bunch of snakes and liars you simply decide to share less. Either you do that, or you are simply commoditizing the value of your own time (past/present/future) with each advanced tip you share publicly. Who wants to work harder to lower their current (and future) wages?
The internet marketing field is branded in part as being sleazy largely because a huge segment of the marketplace is. Even if 90% of PPC affiliate marketers were honest, the sleaziest 10% of the market will get 90%+ of the ad impressions because they are willing to go the extra mile to promote scams, bundle reverse billing fraud, use fake celebrity endorsements, create fake brands, etc. Given that search engines are willing to compete against their top advertisers and ad networks are how many internet marketers make their money, it is quite hard to build a sustainable business model unless you create and sell your own products.
And in the SEO market, if you are open and honest you set yourself up for Google penalties, competitors outing you, getting hate from envious competitors, and former "friends" trying to marginalize your business. Let alone contemplating how other third parties might use your public information against you. Not only is Google going out of their way to promote brands, but many of the big brands are further compounding that effect by heavily investing into SEO...and Google typically won't penalize the brand for doing the same thing that a smaller publisher would get penalized for doing.
Free Specific SEO Advice Worth Thousands of Dollars
Here is a ranking chart...let me tell you how to boost rankings for a site from nowhere to in the game on a bunch of keywords for only a few hundred bucks.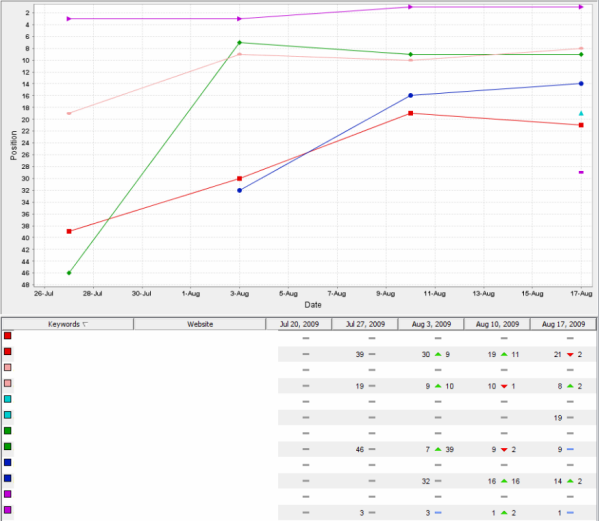 Well if I actually did that, it would just get burned to the ground.
Real SEO Goes Underground
Lots of other smart people have came to the same conclusions, which is why SEO has gone back underground. Yes some of the public information is decent, but more and more misinformation and hype are polluting the industry.
It is just like people writing about social media, but giving you a half-truth about how it organically spreads rather than mentioning what they really do to seed it...and where one rats out the next while selling himself to the highest bidder. As the market matures and SEO returns go from x hundred/thousand percent to y percent you can only expect competitors to act sleazier to gain any competitive advantage they can. After all, who wants to go back to having a regular old job?