Recently a well known SEO blogger mentioned that they didn't understand why real professional SEOs advocate variation between page titles and on-page headings. This blog post is a free SEO consult for that person :)
Hopefully it clears the public SEO space of some misinformation.
Are You Missing Keywords?
People search for literally billions of unique search queries each month. You either target those searchers, or you miss them. Think about how many people query Google every day, and then look at this graphic:
Keyword tools are driven off of a sample of keyword data, and are thus top heavy. In some cases a keyword tool will only show you 5 or 10 related keywords for a core keyword that has driven traffic to a page via hundreds of unique search keywords.
What is Duplication?
Each piece of duplication in your on-page SEO strategy is ***at best*** wasted opportunity. Worse yet, if you are aggressive with aligning your on page heading, your page title, and your internal + external link anchor text the page becomes more likely to get filtered out of the search results (which is quite common in some aggressive spaces).
Even if you build a site (and a particular page) that are authoritative enough to capture a #1 keyword ranking, if your on-page SEO is strong you still get far more traffic from longtail keywords.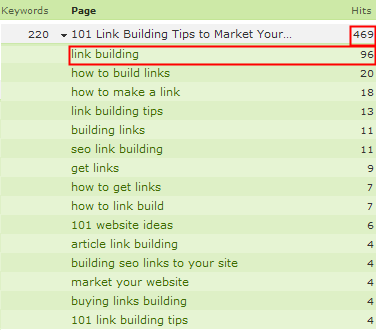 How to Include Variation in Your SEO Strategy
So how can you balance your on-page SEO strategy to capture more of the highly valuable search traffic? You can...
use singular vs plural
use synonyms
use various keyword modifiers
change word order
The bottom line is using more relevant keyword variations = more traffic.
Apples to Apples
Thinking about this site...we have competitors who have similar site age, way more inbound links, ~10x the number of employees, 5 times as many pages of content indexed by Google, more comments on each page, and yet we still get more search traffic.
Meanwhile I have made over 15,000 forum posts + build out a bunch of other websites (ie: doing a lot of work other than SEO for this site)...so our relative out-performance on much more limited resources comes from using a smarter and more comprehensive SEO strategy.
We don't get as much Twitter traffic, but then we don't target the hype and misinformation game as well as others do. ;) (Everyone has their own niche target market!)
Bonus Tip
Some people understand SEO on a mechanical level. Others understand it on a holistic level. This is one of those tips that separates the men from the boys. ;)
Some content management systems force the page title and the heading to be the same by default. But both Drupal (Page title) and Wordpress (SEO title tag) have plugins that allow you to make the on-page heading different from the page title. This allows you to optimize for different things. You can...
create a headline for RSS readers that is designed around piquing curiosity and/or targeting emotional reactions to pull in clicks
create a keyword laden page title that is designed to pull in latent search traffic
Not only does variation allow you to target those 2 different audiences (and pull in more search traffic), but readers often link to content using the official title in the anchor text. So if you make the page title and on-page heading different that can help you get more keyword variation in your inbound link anchor text as well.