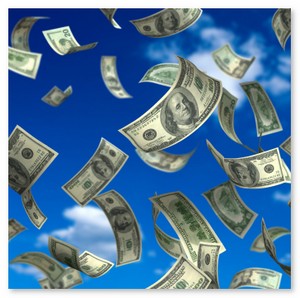 They are a world-leading enterprise, employing over 22,000 people. Fortune named them "America's Most Innovative Company". They also run various online marketplace services, through which a vast amount of money flows. They are a trusted name in households across the country. It is the year 2000, and that company is Enron.
Less than a year later, Enron would collapse under the weight of institutionalized fraud. And hubris.
The lessons learned from the Enron collapse were the dangers of monopolistic power and lack of transparency.
Google In 2008
Google is the darling of the tech world. In fact, they're pretty much the darling of every world, given their massive market reach and the usefulness of their services. Google occupy a position of enormous power. It is fair to say Google has nothing in common with Enron, other than the fact they are a big company, and for the most part, Google has done a good job in terms of gaining and maintaining trust with a wide range of stakeholders.
But for any company the size of Google, especially one that has grown in such a short period of time, questions of trust - and anti-trust - will eventually surface.
Should We Trust The Machine?
Take for example the recent case of United Airlines stock. An old story about the airline's bankruptcy was published online, resulting in $1B being wiped off the value off the value of the stocks within minutes. The finger pointing started soon after, with Google blaming the originator of the piece, The South Florida Sun-Sentinel, whilst the Tribune Company, who publishes The Sun-Sentinel, pointed the finger right back.
To be fair, the mistake was largely due to a chain of human errors, and most of the mistakes made were outside of the control of Google. Questions of blame aside, this issue comes down to a matter of trust. Clearly, people trusted the information they saw on an automated news service, and acted accordingly. The lesson learned is that we should not be so quick to place trust in the machine.
From Trust To Anti-Trust
There is another trust - actually, anti-trust - issue of late, and this issue goes to the heart of Google's business model - online advertising.
Google's proposed Yahoo partnership is raising fresh antitrust woes. Regulators are starting to look more closely at Google's role in the world of online advertising. Will this deal give Google too much control of the online advertising space? Yahoo claims this partnership will create more market access, and provide better ROI, to advertisers. Advertisers fear that Google could use market dominance to set higher prices for search ads.
Forward-thinking SEOs may be licking their lips at that prospect, but I doubt many small website owners who rely on PPC will be too happy.
Smoke & Mirrors
In a related example, Aaron reported on a feature in The New York Times about how Google refused to tell the owner of a directory why his bid prices had skyrocketed.
"When I pressed Mr. Fox about Sourcetool, he refused to tell me why the algorithm had problems with the site. When I asked him why the business.com site was in the algorithm's good graces but Sourcetool's wasn't, he wouldn't tell me that, either. All I got were platitudes about the user experience. It wasn't long before I was almost as exasperated as Mr. Savage. How can you adapt your business model to Google's specs if Google won't tell you what the specs are?"
A similar dual-tier system appears in to be in operation in the organic search results. Greg Boser has a great post about this entitled "Why Big Brands Should Spam Search Engines".
"I wouldn't hesitate because I understand that if a search engine happens to stumble upon what it considers improper SEO techniques all on their own, they will more than likely contact us directly to discuss the matter. Getting kicked out of the database won't even be a consideration. If our improper SEO tactics happens to get outed publicly by some gung-ho blogger, or one of the many competitors competing for our terms, I know that all we'll get is a tiny slap on the wrist to show the world that the particular search engine is serious about web spam. And once our public scolding is completed, we will instantly be allowed to cut to the front of the confessional line".
We all remember the BMW incident.
Google may well enjoy a significant trust level, but they couldn't exactly be described as transparent, or consistent. The Adwords and Adsense systems have become a hall of smoke and mirrors, where some players get a free ride, whilst others get hammered. There is often little or no explanation given as to why. With transparency comes trust, and the often secretive Google could do a lot more to provide clarity.
Cases of this nature are always complicated and it is unlikely much will change in the short term. Many of us simply wish that Google would be a lot more transparent about how webmasters can use, and build upon, their platform.
I suspect that, going forward, saying "Trust Us!" won't be good enough.
Published: September 16, 2008 by
A Reader
in
google