Recently Miva announced that they were dumping a partnership with Yahoo! in favor of distributing Google ads.
MIVA said in its papers that it will adopt Google advertisements on applications and sites managed by its subsidiary, MIVA Direct, which produces white-label toolbar and Web search. The deal, which will run for two years and has "broad termination rights," will begin within 30 days.
The market responded by bidding Miva's stock from $3.40 up to $4 a share. What does that mean to marketers?
If a small ad network makes more profit redistributing the ads of a large player than selling ads directly they probably don't have much value in their advertising product. This is why increasing the efficiency of your AdWords account by 10% is worth far more than trying to find under-priced clicks from 50 pay per click search engines you never heard of.
The second interesting thing worth noting from the market reaction to the Miva / Google partnership is that if changing from Yahoo! to Google increases the value of the company by 15% that shows how efficient Google's ad platform is compared to Yahoo!'s or that the stock market just loves Google...either way, it is going to keep smaller public companies favoring partnerships with Google over Yahoo!. It also shows the strong consolidating trend amongst ad networks. If Google is worth 15% more than Yahoo! then they are probably 40% or 50% more than Microsoft, and as monetization rate drops off there is no reason for anyone syndicating search and contextual ads to look far beyond the top few players.
The search market is also going to parallel the ad market. Google's ad network is so strong because they own so much of the search market. If you can get a few more high quality editorial links that will boost your authority in Google that is worth far more long-term than picking at the edges gathering hundreds of low quality links which may hurt the stability of your rankings.
Lots of money is being spent on new ad network start ups which largely duplicate one another. Networks that are able to deliver real tangible value and get enough media exposure to become synonymous with their ad or media type will thrive while most will fall to the fate of a Miva or a Looksmart...a legacy network with random bits and pieces which makes more redistributing someone else's ads rather than by innovating and selling their own ads.
Google is already getting a foothold in print, audio, and video ads. I just saw a Fat Joe Cadillac Escalade AdSense video ad on this page, pointing to a site called MyCadillacStory.com. That is pretty slick and streamlined for how new Google's video product is.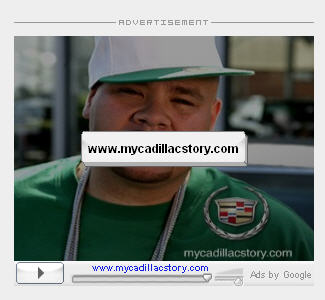 The race to create an ad network and buy distribution has changed to a race to create toolbars, applications, software, communities, and plugins that allow people to redistribute ads. Even some password applications (such as Roboform) have search built into them, and Google Custom Search Engine makes it easy for anyone to get paid syndicating Google results (or a biased subset of them).