I get asked to review a wide array of sites being asked "what is wrong" and "why isn't this working".
Many times I think that the underlying problem is something I call cart before the horse syndrome. While you can view many data points in the competitive landscape when you view a site what you see now is not the way it has always been. Many of the most authoritative sites were created without any commercial intent, and then the site owner later fell into a business model, and as they saw profit started to maximize their profit potential.
If you start off with a lead generation form as your website and are unwilling to give anything away until people give you money or an email address then you should be looking more toward the pay per click market than at organic SEO.
There is nothing wrong with maximizing your potential profit, but if you create a site geared around converting 10% of the site visitors into paying customers right off the start you are probably going to limit your ability to gain any serious link authority and serious distribution unless your conversion rate and profits are so great that you can convince affiliates to push your product.
If you can afford heavy PPC spending by automating your sales process and maximizing your ROI that is fine, but if you want free traffic there are hidden costs to maximizing right out of the gate. It is like buying a 99 cent burger. Sure the upfront cost is next to nothing (and it seems like you are getting more for less), but as competing sites build traffic while you stagnate those invisible costs start to reveal themselves. You have to consider what search engines want and what your site visitors want. Try to create something that covers those wants and then roll commerce into it.
Seth Godin frequently stresses that getting people to PAY attention is a cost, and even if they give you no money PAYING attention is still a cost. Once you earn that it is worth a lot of money because it takes a long time to build trust. And trust is fragile. If I hadn't built up a lot of friendships and trust over the last couple years there is no way the SEO for Firefox launch would have went so well. The new links and new readers that tool brought in are probably worth far more than the tool cost to build, but it may not have spread so well (and it may not have covered its cost) if I had not worked so hard to build up my authority.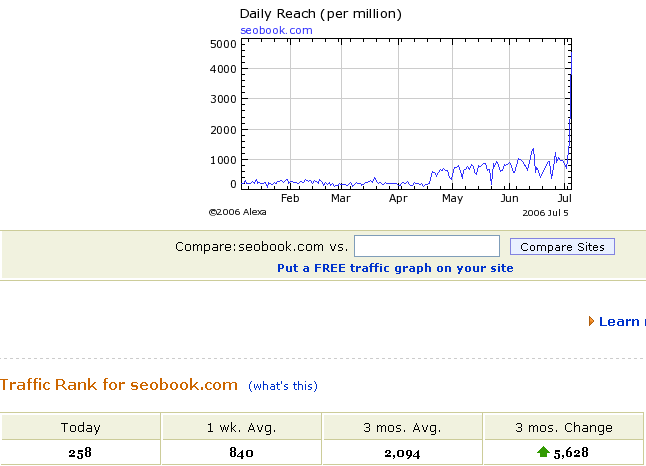 Hitting the traffic jackpot once does not make one a marketing expert, but in spite of being on the delicious popular list and Digg homepage yesterday this site only doubled its typical traffic. A friend of mine says that it is a marathon and not a sprint, and that is the way you have to look at getting traffic, especially if you have a new site.
Back to the new sites I get asked to review. What do they need to spread messages or compete in the SERPs?
Set reasonable goals. Do not expect to rank for mortgage or search in one month if you have a $0 marketing budget and a site that is so bland or conversion oriented that it would never merit a single legitimate organic citation.
Pick a path and run with it. Be a maximizer or an optimizer, but know your path and run with it. If you are stuck mixing up in the middle you will probably do worse than a person who is working hard at either of the edges. After you are well established on either front and are beyond self sustaining then you have money to invest and room to play and test, but you need to have a clear message off the start. You don't want your site to one day say you believe on taking the hard and steady and slow and... way to the top, and then have visitors come to your site the next day to see a picture of a check for $50,000 that you allegedly made while you were on vacation last week.
Come up with a clear unique branding angle that makes you stand out. Make sure it is obvious what you want people to do on your site and make sure it is obvious what message you want them to spread away from your site. When it doubt it is better to be niche and unique over broad and not unique.
Do not chose cheapest as your branding angle unless you are a masochist.
Create a clean site design which reinforces your brand image. For example, if your brand is supposed to be fun and hip POO BROWN is a bad color. If your service is supposed to convey a sense of trust to businesses or people seeking health advice go lean on red and orange. I typically favor clean over going too far with a design. If you can find a good priced logo designer and spend a day learning a bit of CSS you can create a reasonably decent looking site for around $100.
If you are unsure of what you want to do participate in topical communities to learn about the market and what the market wants. If all of your marketing is done on your site and it is not backed up by friendships away from your site it is going to be hard to convert potential prospects if they dig further into the SERPs and can't find anything about you other than a few cheesy syndicated articles and free directory listings. The web is cool, but also make sure you find your way to relevant off the web (ie: real world) events. That is where you really solidify your friendships and get to know the people you really should know.
If you have down time make sure you keep learning. You should be able to learn quicker than the market leaders because you know less, are more hungry, and have less busywork filling your day if you are seriously focused on success and are new to a market. Read and experiment widely. Especially if you aim to be a consultant review that which you consume (it helps buid relationships, and most personal brands are not too deeply developed, so it also provides a cheap and easy relevant traffic source). Don't wait around for a golden day for things just to fall in place. Don't be afraid to be wrong. I have had people take the time to email me and tell me what a piece of shit I was for having incorrect information on my site only later to have them buy my product, put huge ads for it on their site, and recommend it on various community sites.
If you want to rank for competitive terms you have to give to get. Look to create ways to make people want to revisit your site many times and/or link to your site for having a definitive topical resource. When you create a (hopefully) definitive article it may go nowhere, but if you do a half a dozen of them well eventually one of them will take off. You are over-investing hoping that eventually one of the investments will pay big dividends. When you have a great idea make sure you tell a few friends to see if they would be willing to help you market it.