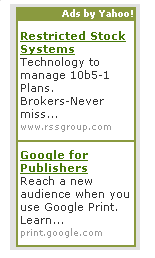 In the past I remember reading many comments about Yahoo! Shopping buying AdWords, but am unsure if anyone has ever really mentioned Google buying in on the Overture / Yahoo! Search Marketing network.
I recently saw an ad for Google Print on the Yahoo!s Publisher Network on SearchBlog.
New to the site? Join for Free and get over $300 of free SEO software.



Once you set up your free account you can comment on our blog, and you are eligible to receive our search engine success SEO newsletter.
Already have an account? Login to share your opinions.