Yahoo! & Associated Content @ Yahoo! Video
The backfill content business model has had a great run over the past 5 years, but with today's announcement of Yahoo! acquiring Associated Content, it certainly feels like it is getting toward the beginning of the end for that model for most folks.
Demand Media has grown eHow aggressively & struck partnerships with the likes of USA Today, and has recently been in the news about looking to do an ~ $1.5 billion IPO. If you look at Richard Rosenblatt's past sales you will see that he is quite good at selling right at the top.
Former Googler Tim Armstrong rebuilt Aol around their internal SEED platform which targets content at longtail arbitrage opportunities & leverages their premium Google ad feed.
Associated Content struck deals with companies like Thomson Reuters, Cox Newspapers, Hachette Filipacchi and USA Today. And they just landed a $90 million payday in the sale to Yahoo!
Yahoo! still has north of 10% search marketshare and can probe new & trending content ideas in real-time, while also using their huge distribution to market the new features. The fast data and instant distribution likely double the value of the business model for them. Take average content, tie it to a trusted brand, and immediately give it huge distribution and you have a winning formula. Assuming Yahoo! does a good job of integration this is probably one of their better acquisitions.
About a year ago a friend told me he bought some Yahoo! stock and I told him I thought he was nuts, but if I saw signs of decent integration of this content then I think they just increased their longevity of their company probably by a decade or more. And the part of this model which works great is that they view this content not as a replacement for their premium content, but as a backfill for the keywords they would like to target which don't have enough demand to pay for premium content creation. Some of the smarter independent webmasters have long understood that part of publishing profitably online means having featured content which loses money but builds awareness, and a second bucket of content which leverages that reputation to profit. That understanding is where the term "linkbait" came from, but now the big companies are playing the same game.
Here is a list of Aol properties, and as soon as they show strong profit growth you can bet they will use their stock to purchase more sites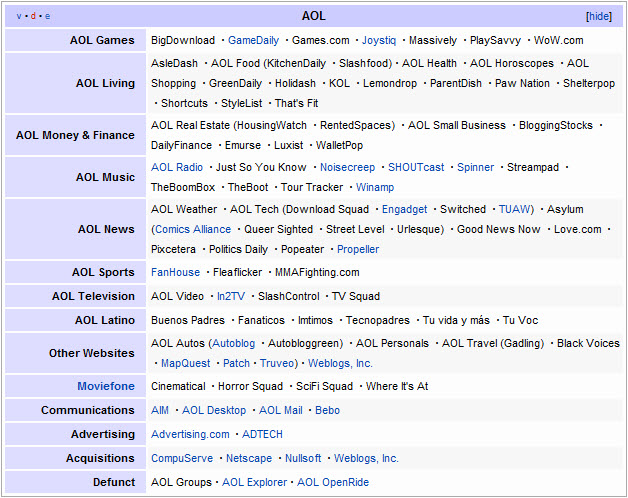 You could put up similar network maps for the likes of Expedia, BankRate, Yahoo! subdomains, Monster.com, etc. etc. etc.
If Google continues to keep the algorithm fairly similar over the next couple years (ie: overall domain authority = relevancy panacea) it is pretty obvious what is going to happen to a lot of online categories. They will get watered down search by search as these publishing companies reinvest profits into creating a second, third, or fifth site in profitable categories.
If many people are using the same approach that will often create opportunities for other approaches. The good news for the average webmaster is that as the bland one size fits all approach (based on domain authority) gains momentum is that it will likely force Google to adjust. And it will make people become more loyal to great sites when they find them. As such general purpose sites grow I almost think it adds value to sites which look a bit unpolished and look like they are created from am amateur hobbyist. Thoughts? What say you?