The following is a guest post from Tom Demers.
One of the most pivotal aspects of driving large volumes of search traffic in most verticals is effectively targeting long tail keywords. While ranking for competitive phrases and developing link authority are certainly crucial aspects of SEO, much of ranking on long tail keywords is properly targeting and optimizing for them. A while ago Aaron made the following image as a conceptual example of how the relevancy algorithms may differ for different types of keywords: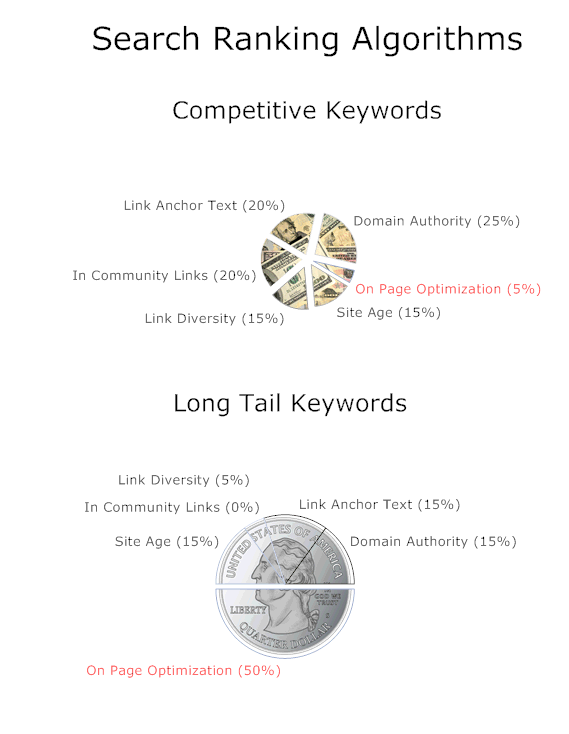 This article will outline a three step process for targeting long tail keywords.
Step 1: Build a Basket
The first (and possibly most important) consideration is determining which keywords to target. For this I think a three-step process is best:
Traditional Keyword Research
It's always a good idea to do some idea generation and to get a feel for the possible variations of your specific targeted keyword by utilizing a keyword research tool. For the sake of the article, we'll assume that we've selected our "head" or core keyword target, and that we're attempting to rank an article for the key phrase and related key phrases. Three tools that I find particularly useful for this purpose are Google's Search-Based Keyword Tool, the SEO Book Keyword Tool, and my company's Free Keyword Tool.
Using Your Own Analytics
Really the best source of keyword data for determining the long tail keywords you can target is your own data. This is powerful because it shows you a variety of keyword combinations, the data is proprietary (your competitors didn't pull the list from the same keyword tool you used, so they won't be targeting the same keywords), and you have actual data both that you can rank for a given keyword, and you have an indication of how that keyword performs on your site. In Google Analytics, there a couple of reports you can pull to get this information (most analytics packages will provide you with similar capabilities). Drill down to traffic sources > keywords > non-paid:


Then you can create a filter for the head term. For the sake of this example we'll say we're targeting the phrase "long tail" and variations:


By creating the filter, we can see a variety of modifiers that the page and/or other content on our site are already driving. And, if we are in fact attempting to optimize an existing page for multiple keywords, we can utilize a content report to see what that page is already driving traffic for:
You can then see all of the queries driving traffic to that page. By analyzing the traffic and conversion statistics for that page, you can then start to feature more effective variations more prominently. The beauty of analyzing your own data lies in the fact that you can de-emphasize variations that don't convert for your site.
Continually Iterate on Both Keyword Research and Keyword Analysis
Periodically, it's a good idea to return to traditional keyword research, and to dig back into your analytics. This is particularly true if a concept or product is seasonal, but regardless the queries driving traffic to your site are bound to shift, and analyzing both the segment of keywords you're targeting and the actual traffic to a given page can help to drive a tremendous amount of additional traffic to an individual page.
Step Two: Put It On The Page
Unless you coordinate an army of writers or build a venture-backed model around creating a piece of content for every phrase imaginable, you can't create a piece of content for every phrase you want to rank for. As such you'll have to effectively target long tail keywords by including the multiple phrases in your keyword bucket throughout the page:
Varying the Title Tag and Header - In varying title tags and headers for SEO you are ensuring that your pages aren't over-optimized and they include relevant long tail keywords you'll want to target (rather than redundantly featuring the same keyword twice).
Place Variations and Modifiers in Your Content - By researching the variations of a keyword you might want to include in your content, you can be aware of them as you craft content, and you can strategically place modifiers throughout your page's content. For instance, it might not be natural for you write out the phrase "affiliate long tail keywords for promoting products" but if you know this is a phrase that drives some traffic, you can be sure to include phrases like "whether you are a retailer or an affiliate promoting products". You'll be using phrases like long tail keywords frequently enough that if the longer phrase is lower competition, you might not even need to include the exact phrase to rank for it. Note below that none of the ranking pages use the exact phrase "affiliate long tail keywords for promoting products":

Pay Attention to All of Your On-Page Elements - Be sure to work into your page's headlines, bolded copy, alt attributes, title attributes, etc. the variations you're targeting. By mixing up the words and phrases you use in these elements, you're also ensuring your page isn't over-optimized
Step Three: Building Links For Your Keyword Basket
Finally, even though many of your long tail keyword variations will rank on their own, you'll want to develop some links with specific anchor text to these pages. You can do this in a few different ways:
Vary Your Internal Links to a Page– Again, this allows you to avoid being "over-optimized," and if you stick primarily to variations that contain the head keyword within the variation and append modifiers, rather than synonyms, you're consistently transferring relevance for your core term.
Use an Important Modifier in Your Headline – While your title tag is what's seen by searchers, many people linking to your article will use your headline as anchor text. Using a variation here helps attract links for important modifiers
External Links You Control- Things like company listings, directory listings, and nepotistic links often offer you the opportunity to control your own anchor text: while many times just leveraging internal links on an authoritative site is enough to rank, sometimes utilizing article submission Websites or other low-quality external linking sources with keyword-rich anchor text can help you to rank for mid to low-competition keywords.
Ultimately the best way to rank for long tail keywords is to build an authoritative Website and seed it with a lot of content, but on a page-by-page basis you can often leverage strategic keyword targeting and your own analytic data to help drive exponentially more traffic than you would focusing solely on the "head" keyword.
Tom Demers is the Director of Marketing with WordStream, a software company specializing in pay-per click software and keyword research and organization solutions for SEO. Tom is a frequent contributor at the WordStream Internet Marketing Blog.