Website Validation = Important SEO Tip?
In April a web designer who came across our site gave me the following feedback "I don't know how you can advertise your skills in SEO when such a vital part of a good quality site is valid markup. Your homepage has 40 errors when I just checked."
To which I replied "...and yet I rank page 1 in Google for SEO. Who cares about valid code? Not me. And not Google. Oh well."
Imagine the paradox in the mind of a self-important web designer seeing high ranking sites that did not have perfect HTML. All he can do is lash out like a confused injured animal...as though he knew SEO and both I and Google were wrong.
Validation = Who Cares?
But looking at things in practical terms...
Question: What is validation?
Answer: How web designers try to justify over-charging for their work + pat each other on the back.
If you are a web designer (and/or want links from pretentious web designers) then validation is a great idea...it is core to the group circle-jerk amongst cool web designers. But for everyone else, it generally doesn't matter.
Taking a Look at Reality
The lack of understanding of basic SEO principals by web designers & web developers is a big part of what keeps SEOs in business.
One of the best ways to improve search relevancy is to use more data. But a September 2006 test by a Google engineer named Ian Hickson across billions of web pages showed that 93% of the pages did not use valid code. If valid code was rewarded by the algorithms (or invalid code was heavily penalized) then spammers would just use valid code, while search engines returned inferior search results because most quality websites do not validate. Google's Matt Cutts wrote:
Fellow Googler Ian Hickson contacted me with more recent numbers from a September 2006 survey that he did of several billion pages. Ian found the number of pages to be 78% if you ignore the two least critical errors, and 93% if you include those two errors. There isn't a published report right now, but Ian has given those numbers out in public e-mail, so he said it was fine to mention the percentages.

These numbers pretty much put the nail in the coffin for the "Only return pages that are strictly correct" argument, because there wouldn't be that many pages to work with. :) That said, if you can design and write your HTML code so that it's well-formed and validates, it's always a good habit to do so.
If I am paying a designer to make a custom web design for my site then I will demand clean code (in part so I can use it to score links from designers who care about that), but the truth is most sites do not validate. And few need to. Google doesn't, and they seem to be doing just fine.
When Web Design Has No Value
If a beautiful design gets no exposure then it has no value.
Traffic = opportunity.
No traffic = no opportunity.
When Web Design Has Value
If you have a big public relations driven launch then of course it makes sense to start off with a beautiful design. But most entrepreneurs can start out ugly and invest once capital starts rolling in. It worked for Google. And it worked for me. ;)
Once you have decent exposure great design can be worth a lot of money because it helps build trust, and increases your visitor value...allowing you to pay more for traffic and sell your products + services at a higher price point. But most small business sites can succeed with an average design and still be functional enough to get market feedback, sell stuff, build a customer base, and build a real business from. Eventually it might make sense to get a strong design, but if budget is limited then there are a ton of affordable starter options to bypass the costs of custom web design work.
Bootstrapped Design on the Cheap
The logo at the top of this page cost $99 about 5 years ago. When I color-matched the design to it this site was only moderately ugly. And the original site design we used was unbelievably ugly. Today the market is much more sophisticated with DIY design options.
Web design is being increasingly commoditized by tools & services like Dreamweaver, Artisteer, the Thesis Theme, other Wordpress themes, Themespress, open source designs, ThemeForest, iStockPhoto, logo software, 99Designs, PSD2HTML, etc.
As your budget/cash flow/traffic/reach increases paying extra for a good design makes sense & is a natural part of balancing your growth investment strategy.
LIE: "The SEO is in the Code"
What ***really*** annoys me about the arrogance of the web designers like the one quoted above is how they can know absolutely nothing about SEO and then claim that valid code is the key to SEO. It is a bogus lie used to promote their own trade at the expense of their clients.
Sure websites can have major issues that prevent a site from ranking. BUT the SEO is not just in the code. The whole reason Google was able to gain marketshare so fast was because they did sophisticated link analysis. If you are in a competitive market you need links to compete. Simple as that.
In 2004 I remember a web design firm quoting a new launching auto insurance firm (which wanted to buy SEO services) a design for $10,000 and then claiming that "the SEO was in the code" ... as though somehow there was no need for a link building/buying budget. The equivalently dishonest marketing angle would be an SEO grabbing a set of free web templates to go along with their SEO services and claim that everyone gets a free original professional custom website design as part of their SEO package.
Sure that was 2004 & that web design company was not as well known as it is today. And the above guy was just 1 random guy, so who cares, right? Well what annoyed me enough to make me write this post was seeing a recent copy of Web Designer magazine that my wife bought.
2009 Web Designer Magazine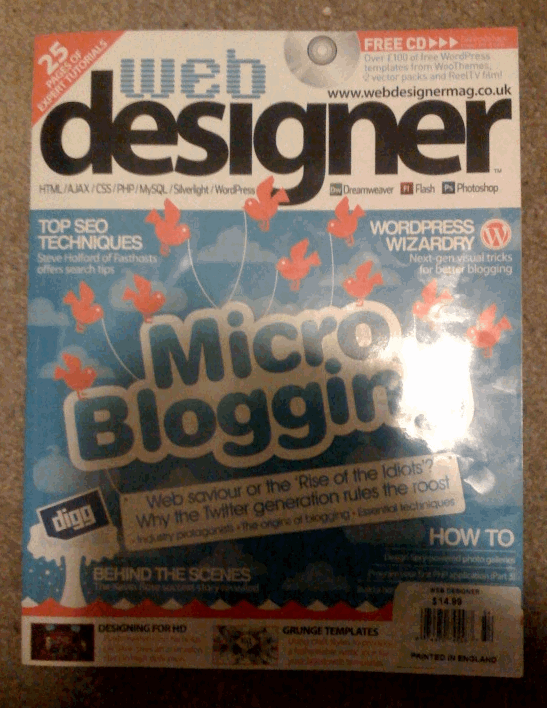 In the top left of the magazine they advertise "TOP SEO TECHNIQUES"
And The Magazine Advertises SEO Circa 1998!!!
Their "top five tips for tackling SEO" include
Choose one main keyword per page
Increase the Keyword Density for each page
HTML tags emphasis your keywords
Include meta tags in your website
Submit your website to major search engines
No mention of links. Why? The guy who wrote the article works for a company that has a business model built around offering cheap + useless services that scale - like keyword density analysis and search engine submission. I could do the same thing if I wanted to be a dishonest piece of trash, but I chose not to.
The article mentions some shoddy survey, that you can use their tools, and that "From only £100 a year, a company can implement a solution that will ensure much-improved rankings." They also flat out lied with this gem "Search engines expect the keyword or phrase on each webpage to make up six-to-ten percent of its content."
Equally Bad Website Design Tips
To apply the equivalent sort of advice to web design I would have to write truly useless design tips like
set a large web design budget upwards of £100 a year
spend ~ 100% of that budget by paying a designer to download an open source design they just got free
if the site design fits your business then perfect
if the site design looks ugly then it will stand out even more
customers expect 6 to 10 percent of your text to be in a red marquee with a speed setting of 5
Many Web Designers Kick Ass
A lot of our best customers in our community are former web designers who got started doing design, but care about the success of their customers and began moving themselves up the value chain by offering web designs that come with real SEO services.
And you can learn a ton about not only web design but also marketing and running a business by reading tons of great web design blogs like Web Designer Wall, Smashing Magazine, and 37Signals.
But Some Web Designers Just Provide Azz Services, Though
But the web designers who lie about the importance of code validation for SEO and those scamming their customers with fake "in the code" SEO packages can go to hell as far as I am concerned.
May the bright colors light up their imaginations & help them become better charlatans who are excellent at optimizing valid code.