A couple years ago I helped a friend set up a website, and tried to teach them SEO, but they never really took it to heart. Their page titles are not that descriptive, and their writing typically aims to be clever rather than direct. They have published just over 100 pages of content. I built a few links for them to help get them going, but their site has failed to achieve a critical mass. Over the last year their traffic has been precisely flat with about 20 unique visitors a day. It is hard to monetize a traffic stream that small.
About 2 months ago another friend set up a website in the exact same vertical. They published a small website and got it a few links to get the age clock going. About 2 weeks ago they expanded the site out to about 70 pages, which have since been indexed by Google. Rather than writing winding and non-descriptive content, each article on this site is on target and direct.
If anything the link profile for this site is inferior to the link profile for the older site, but this site is already getting 50 unique visitors per day. Many of these visitors come from page 2 of the search results, in international versions of Google, and/or for misspelled queries that this site ranks for (though the site does not have misspelled content on it). These rankings can be seen as signs of progress, and hint to future rankings the site will have for more competitive keywords.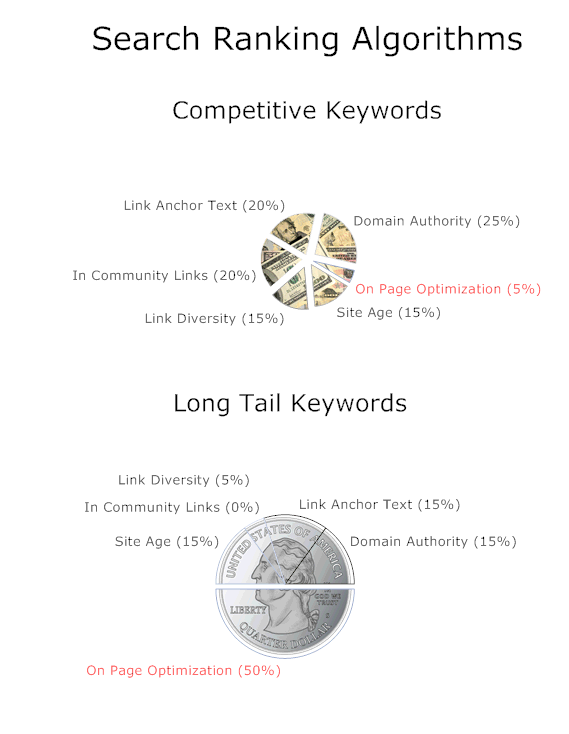 The audience is still too small to monetize, but as this site ages and gains search engine trust, it will likely develop into a site with ~2,000 unique visitors a day.
One site was mapped out against the search traffic, has targeted descriptive page titles, and uses well structured categories. The other does not. And inside of a year the site that employs SEO will out-perform the other site 100 to 1. With similar backlinks, similar quantity and quality of content, similar domain names, and similar site designs the sites have 2 different outcomes. One is at best a hobby, whereas the other can (and will) grow to become a flourishing business.
Give me an average market participant who has a passion for a topic and I can help them dominate the search results. Whereas the person that knows 10x as much but ignores SEO advice will get stuck in the mud, failing to build a critical mass, not getting the exposure their knowledge and content deserve.