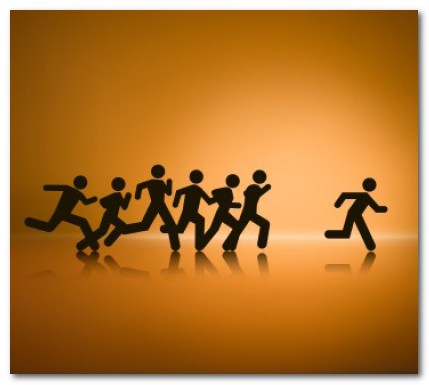 Google's Eric Schmidt identifies one of Google's core problems:
...you've got somebody who really is very trustworthy, but they're not as well-known and they compete against people who are better known, and they don't "in their view" get high enough ranking. We have not come up with a way to algorithmically handle that in a coherent way
The Google algorithm is essentially a popularity contest.
Google doesn't know what information is worthwhile and what isn't. It looks at the signals provided by others as to decide what is and isn't worthwhile. What people deem noteworthy may not be worthwhile, right or truthful, to you, of course.
We see this same problem in SEO punditry.
There is a wealth of SEO information published each and every day. How does anyone know if this information is right or wrong?
Typically, if someone who is well known to the SEO tribe writes an article, and the article sounds authoritative, it will be deemed by the SEO tribe to be "quality". If you're unknown, and write the exact same article, it is likely to get buried. SEO punditry has largely become a cult of personality.
Recently, news outlets have been arguing that because they are established news outlets, they provide "quality". This self-serving circular argument appears to be what Google also believes, because it favors established media in the form of Google News.
But just look at the atrocious journalistic standards that some established news outlets provide:
For April Fool's Day we posted a video of a fake mission where it appeared that we had lost our judgment and crashed a funeral. We fooled thousands of angry YouTube users into thinking it was real. The biggest fools of all were the CW 11 news team who reported on the funeral as if it actually happened. They didn't do one bit of research or fact checking, they simply broadcast a YouTube video and reported it as fact
Right now, it's not about quality. It's about entrenched power structures and popularity.
On SEOBook.com, we've been writing a lot about the intersection between SEO with related fields such as marketing, PR, advertising and business strategy.
This is the way SEO is going. SEO is being integrated into other forms of promotion. Without undertaking such promotion, ranking will be that much harder, especially in crowded niches.
Ranking signals have traditionally been about links, however code tweaking and link begging is fast becoming a marginal activity. Ranking signals in the future will be about attention.
Those who command the most attention, win.
So let tie the concepts we've been discussing together into a strategy.
1. Be Popular, Or Appear To Be Popular
Get in front of an established audience. Offer to write for someone who has authority already, and get a link from that site. Or offer to interview them. Speak at conferences. Post detailed, informative posts to forums. Post detailed, informative posts to other people's blogs. Find out where your audience hangs out, and get in front of them any way you can. The aim is to generate awareness.
Once you have signs of credibility and activity make them obvious. Encourage comments and actively respond to them. Have a lot of subscribers? Put a Feedburner widget with subscriber count in your sidebar. Get mentioned in the media? Add a "as seen in" section.
Build a personal network. Figure out what you can do for people, and give forward. In future, it will be easier to get your stuff noticed if you can call in favors from friends.
Establish a cult of personality. Have an opinion, and beat it to death. No one likes wishy-washy. Objective doesn't sell. Subjective views, stated boldy - sell. Make your name synonymous with your brand. It is very difficult to counter a brand build on personality. Ask Incisive Media if Danny Sullivan can ever be replaced.
2. Create A Viral Message So People Spread The Word For You
Have you given people something to talk about? Give people a message they feel compelled to repeat. If that doesn't happen, the message is wrong. Rework it until you find an angle worth repeating.
What incentive do people have to repeat your message? Does it make them look smart? Does it earn them money? Does it increase their status? Does it enable them to help a friend? Does it enrich them?
How should they talk about you? Should they link to you? Should they write about you? Should they tweet you? Have you made it obvious to people what you want them to do? (By the way, if this post has proved in any way valuable to you, we would be eternally grateful to you for a link. Or a mention. Or a comment ;)
3. Carve Out Your Niche, Focus On Quality And Building Critical Mass
It might not seem like it now, but providing quality information amidst the noise is the holy grail Google, and others, are working towards.
Ultimately, Google, or any knowledge management tool, must return sufficiently high quality information in order to survive as the aggregator of choice. "Sufficient" means "better than the other guy". Google also piles on the value by giving away quality mail tools, stats tools, and more. In a competitive niche, popularity won't be enough to sustain position. The popular aggegator that provides the most quality, and the most value, wins.
Quality will be the next layer of differentiation.
Do the same thing as Google. How can you add value? What can you do that other guy is not doing? What can you give away that the other guy is selling? How can you be better that other guy? Figure out what your audience wants - ask them directly, if need be - and give it to them.
Pick your niche and own it. Niche too competitive or too broad? Keep slicing it finer (go niche within a niche - e.g. rather than take on travel, become the biggest authority on Fiji) until you find space in which you can compete. If your aim is to make money, be careful to pick a niche that is worth slicing. How do you know if a niche is worth slicing? Look at the value of AdWords bids in that niche and the volume of searches. The Search-based keyword tool is your friend.
Make sure anyone searching that niche knows your name. Advertise on other sites in that niche. Appear on other sites in that niche. Figure out a way to lock people into what you're doing. It might be as simple as encouraging them comment on your blog. The aim is to get them to remember you, to interact with you, to internalize your message, then to pass it on.
4. Build Brand
Brand will be so important. What is yours?
If someone mentions your niche, do they mention your site or your name? You must be synonymous with your niche, so that if Google doesn't rank you number one, people would think Google was deficient for omitting you. This is how BMW can break Google's rules and get a free pass. To not find BMW would make Google look bad. To not find cool-bmw-owners-discussion-forum.com is of no concern. Can you imagine searching for the term "seo book" and not seeing this site top ten? You'd think Google was deficient.
That's where your brand needs to be.
Hope we've been giving you some food for thought :)
Published: April 16, 2009 by
A Reader
in
marketing