I recently read a story in Forbes about how Rupert Murdock thinks Google is undermining copyright
"Should we be allowing Google to steal all our copyrights?" asked the News Corp. chief at a cable industry confab in Washington, D.C., Thursday. The answer, said Murdoch, should be, " 'Thanks, but no thanks.' "
and came across a quote about how SEO is some dark art, which kinda annoyed me. In the past I have posted examples of how media is often corrupted, but I figured another round wouldn't hurt.
Google Manipulates the Media for Profit
Direct Manipulation
Have you been negative about some of Google's new products? They might blacklist your organization.
Google Inc. has blacklisted all CNET reporters for a year, after the popular technology news website published personal information of one of Google's founders in a story about growing privacy concerns for the Internet search engine, according to a CNET statement.
Have you generally been fairly positive in covering Google's new products? Google might accidentally land the mother of all linkbaits in your lap a day early. They were keen to promote early users of Google Checkout as well. After Google bought Youtube they heavily promoted the service directly in Google's organic search results via their "universal search" strategy. They also promote select news sites directly via "universal search" in spite of how many of those newspapers complaining about allegedly getting a raw deal.
Indirect Unofficial Partnerships With Thieves
Google strategically undermines copyright, but not just in the way that guys like Rupert Murdock think. The way they *really* do it is through ranking whoever stole your content if you chose not to be indexed. Simply put, Google has partnered with virtually every online content thief (as needed) to force premium content providers to make their stuff available. Either you get credit for your work, or someone else does.
To quote Google's leaked internal review documents:
Lyrics, poems, ringtones (that the user programs rather than downloads), quotes, and proverbs have no central authority. When you see pages with this content, you cannot judge it to have been copied, and the pages should not be assigned a Spam label.

Unfortunately, some content is written specifically for Spam pages and you will not find it on another source. Although you may be convinced that the intent is to deceive, if the content makes sense and appears original, you will not be able to label such pages Spam.
If you brand something and build up perceived value and demand for it Google will offer customers "solutions."


Google further harms intellectual property holders by recommending search suggestions, and not cleansing the suggestions of illegal activities. 70% of the population doesn't care that much that 30% of the population is involved with music or software piracy, but when they conduct a Google search for "Stylewriter" and see that the some of the most popular searches for that software program are torrents then that adds social proof of value to the concept of stealing (and distributing) that copyright software. That forces publishers to offer a free trial download, or lose out on the opportunity to engage with many potential customers intercepted and misdirected by Google.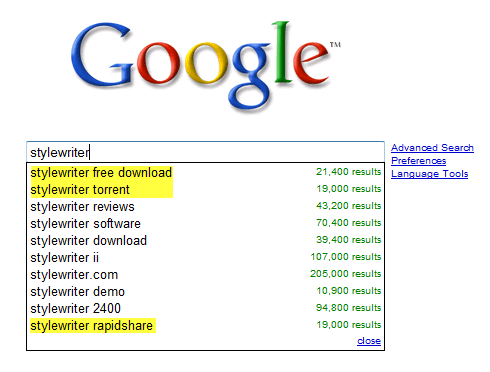 Offer Matching
Google's ad network is optimized to agnostically maximize earnings. Earnings are often optimized through the promotion of scams, fraud, and offers with hidden costs in them. Machines do an excellent job of maximizing earnings, in large part because machines have no morals.
A month ago the Google public relations team lied about cleaning up the scammy reverse billing fraud government grant ads that were polluting the web via AdWords and AdSense
"Our AdWords Content Policy does not permit ads for sites that make false claims, and we investigate and remove any ads that violate our policies," said Google in a statement e-mailed to ClickZ News. "We have discussed these issues with the Federal Trade Commission and reaffirmed our commitment to protecting users from scam ads."
In spite of allegedly being handled a month ago, those scam ads (Google's words, not mine) are still on Google today!
In spite of such scams in broad daylight, how often do you here of the dark arts of AdWords?
If you look at their video game patents they want to go so far as understanding personality flaws and character weaknesses such that they can target ads against them.
The dialogue could indicate that the player is aggressive, profane, polite, literate, illiterate, influenced by current culture or subculture, etc. Also decisions made by the players may provide more information such as whether the player is a risk taker, risk averse, aggressive, passive, intelligent, follower, leader, etc. This information may be used and analyzed in order to help select and deliver more relevant ads to users.
What might behavioral ads target at your flaws? How much could that cost you in your lifetime?
The Media Manipulates the Media for Profit
Shaping News to Generate Favorable Public Policy
In the following video Rupert Murdock mentions that he attempts to shape the news to promote some of his goal and promote things like the bogus war in Iraq.
Such "free" media campaigns had a hidden cost of about a trillion dollars and thousands of lives.
In spite of such scams in broad daylight, how often do you here of the dark arts of mainstream media?
Ads as Content
About a year ago I remember seeing a local Fox News affiliate site in Google News, and when I clicked into the "news" article, the page was actually nothing but a lead generation form. :)
Have you looked at WebMD recently? Look at how the line between ads and content has vanished with custom "sponsored content" sections published on their site. If you didn't look closely you would think that this webmd.com/learning-manage-depression/ was editorial content. As many bad health practices as there are, it is quite scary to think of all the bad health practices still practiced, and how filtered public health information is.
Shady pharmaceutical advertising is getting so bad that the FDA is warning about it.
SEO Manipulates the Media for Profit
SEO = Dark Arts
From the Forbes.com article that forced me to write this entry:
Sites like WSJ.com rely on Google to send them readers, working hard to game how they appear on Google through the dark arts of search engine optimization
If the media is employing the tactics and seeing results then why are they still using that stupid dark arts lens to describe SEO? Even Forbes.com is selling text links to pass PageRank (example pictured below).

Forbes.com = the Darth Vader of SEO
Forbes has worked with at least 3 different SEO firms, has hosted many high profit doorway pages, blatantly violate search engine guidelines by selling links to drive PageRank, and yet they still call SEO "dark arts" as though it is some type of voodoo.
How ignorant can a reporter be of why his job is going away and why their employer can not compete? If you were a reporter by trade, wouldn't there be a mite of curiosity that causes you to actually research what you are writing about, especially if it involved your own job security?
What can we do to cure reporters of their SEO ignorance?