The Wikipedia ranks for a lot of competitive keywords because they are cited everywhere while acquiring the back links to be envious of. They also keep most of their link juice by linking to their internal pages and placing no-follows on external links.
I found out recently that they rank for competitive key phrases on Google such as:
Loan - #1 and 2
Mortgage - #3
Insurance - #4 and #5
The chart below is from the RankPulse list of top websites ranking in the top ten results for their 1,000 keywords sample database.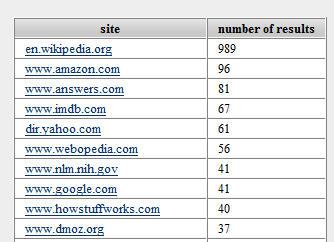 But when I added high traffic classifiers to the phrases above, Wikipedia's rankings dropped significantly.
Insurance Quotes – Not found in top 1000 Google results
Mortgage Rates – Not found in top 1000 Google results
Loan Consolidation - #36
My explanations for the results are:
Although Wikipedia ranks well for competitive phrases, they don't belong to the associated topical communities. They rank primarily on site authority.
While they have enough content to rank for said terms, they don't have pages targeting those terms. In many cases the relevant content for the phrase is compressed as part of a broader related page.
Their title tags target core keywords and lacks modifiers needed to rank well for popular terms that Wikipedia did not dedicate unique pages to.
By fixing the above issues, they may very well rank for the remaining 11 keywords.