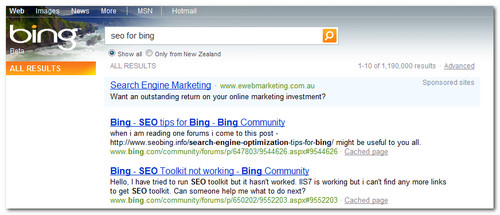 How are your referral stats looking? Noticed more traffic from Bing lately?
According to a Nielsen report last month, Bing is growing faster than any other search engine. It was reported Bing had 10.7% of the total search market, up 2% from the month before. Yesterdays report from Hitwise suggests Bing has since dropped to around 8.96 percent.
So, somewhere around 8-10% perhaps.
The new statistics, from internet research firm Hitwise, will make disappointing reading for Mr Ballmer, who has said he is willing to spend as much as $11bn on search. Earlier this week he told The Daily Telegraph: "We're trying to give Google a little competition in the search business
Microsoft have struggled for along time to make a dent in Google's share of the search market, so it looks like they are beginning to make inroads, albeit slowly. Microsoft have done a ton of marketing to promote Bing. They've introduced cutting edge features like visual search and voice support.
This is not a battle Microsoft can afford to lose, and for search marketers, competition between engines can only be a good thing.
Is Your Site Optimized For Bing?
The thought of adopting different optimization strategies for different engines feels so antiquated now.
Years ago, there used to be a lot of talk about how to optimize for the different engines. Some webmasters would go so far as to serve differently optimized pages to each major engine.
In the past few years, SEO has been about all-Google, all the time, so the rule of thumb is to optimize for Google, and the rest pretty much takes care of itself.
This advice still stands.
Keeping Up With Bing
Google has Google Guy (Matt Cutts). Likewise, the Bing search team regularly reaches out to the SEO community. SEOs should bookmark the Bing Webmaster Centre announcements.
In particular:
NB: You need a Live Id to see those links.
Microsoft released a comprehensive document for Webmasters. Check out page 23 where they address SEO specifically.
Like Google Guy advice, it tends towards the general and is ultimately self serving, but interesting to be aware of, nontheless.
The Bing Difference: Why Bother?
In terms of search engine results pages, the two engines do produce different results. Here's a nifty tool for side-by-side comparisons.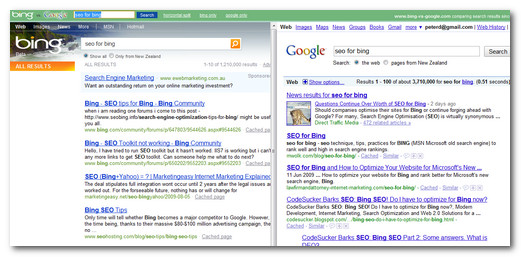 Why should you be interested in Bing at all?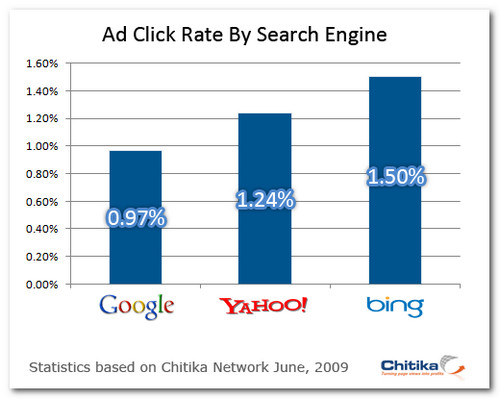 Even though usage is lower, the user demographic for Bing is different to that of Google. Ask search marketers and you'll get anecdotal evidence that Bing/Yahoo users don't tend to be as web savvy as Google users, use the web less often, are more likely to click on ads, and are more likely to be involved in online shopping, whilst Google appeals more to researchers, webheads and geeks. If you're engaged in web commerce, you need to be thinking about Bing.
Bing Ranking Tips
From the Bing Features For Webmasters document:
Because of this new way of thinking about search, some webmasters might initially be concerned that the shortened primary organic listing in the new Bing SERP might render their SEO efforts as less effective. Instead, Bing makes it easier to compete for broad terms because it surfaces more categories automatically, increasing the number of results on the page and generating more relevant content.
In reality, the same SEO strategies you use for Google apply to Bing.
1. Get Your On-Page SEO Right
Nail the basics.
Make sure your content is unique, use H tags for titles, use alt tags for images, use unique page titles and description meta tags, one topic per page and ensure your copy is free from spelling and gramatical errors. Like Google, you can sign up for MS Webmaster Center which will help you spot and troubleshoot problems.
2. Quality Inbound Linking
Bing appears to favour linking from pages that share a similar topic area.
Is Bing a theme-based engine? Think of a theme as a topic pyramind. A themed site would have the topic "cars at the top. The level beneath that would be makes of cars i.e. Ford, Ferrari, Lotus, then below then models, then components, etc. The theory goes that a site should be all on the same topic to rank well, and links should come from sites on the same topic. Themes used to get discussed a lot, but fell out of fashion when people realised Google didn't use themes.
Is Bing using themes? I don't think so. Like Google, the algorithms appear to be largely page based, as opposed to site based. Bing looks at the topic of the page linking to you. If the linking page is on a similar topic, the target page receives a boost. Have a play around with the title tag on the linking page. Try to ensure the title tag keyword on the linking page is the same as the keyword you're targetting on your optimized page.
3. Domain Age
Domain age seems to be an important factor in Bing - the older, the better. Like Google, Bing tries to establish authority, and domain age is one way it does this.
Got any tips for optimizing for Bing? Any patterns you've noticed, particularly in respect to how Bing differs from Google?
Published: October 8, 2009 by
A Reader
in
seo tips