Seth Godin explained that the most reliable and highest converting SEO strategy is that of the white page variety. Build a brand and own a unique word. But at the same time he dismissed the concept of most other SEO strategies
The problem: how to be the first listing, because being the 40th listing is fairly worthless.

The answer: You probably won't be. There are 14 million matches for Plumber, and no, you won't be #1 or #2. You lost. In fact, in just about every keyword worth owning, your chances are winning are small.
Most people do not want to rank for something as generic as plumber. If they want to rank for that broad of a keyword for a local service they should
optimize for local search inclusion (see image below)
consider building their regular SEO strategy around more specific keywords
None of those require luck. Just patience, effort, and investment.
When I searched Google for plumber I saw this in the search results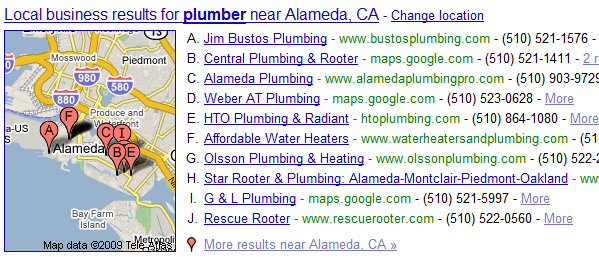 It looks like some of the local players have a good chance at ranking if they believe the relevancy algorithms to be more than luck, particularly if they read this document and local search blogs like this one.
There is little point in trying to rank for a big money keyword right out of the gate. Smart SEOs generally insist on ensuring you use relevant keyword modifiers and alternative word forms. Why? Longtail keywords have less competition, are easier to rank for, rank quicker, and are more likely to convert (since they are more targeted).
Rather than making the page title plumber you could make it something like Oakland Plumbers - 24 Hour Local Plumbing Repair in Oakland, CA. That type of page title helps make the page relevant for a wide array of relevant keywords like
oakland plumbers
oakland plumbing repair
oakland, ca plumbers
plumbers in oakland
etc.
Google claims that from 20% to 25% of search queries are unique.


Some of our pages rank for hundreds of unique keyword phrases because we employed in-depth keyword research, appealing page titles, and strong on page optimization strategies. Even when we rank #1 for link building, that page still gets way more traffic for related longtail keywords.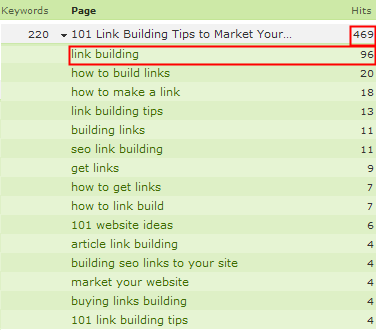 Once you begin to profit from the long tail keywords then you can reinvest in going after some of the more competitive and broader related keywords. And you can use your AdWords data, search analytics data, and organic ranking data to help you figure out what keywords to focus on next.
When I have a great idea do I try to turn it into a home run? Yes. But it is doing all the other things that makes the occasional home run so powerful. A strong foundation increases the value of everything you do.
Creating content that is well optimized not only helps you rank for a wide array of relevant keywords, but it also makes your content easier to find down the road. Generally I am a big fan of Seth, and I cite him often. I am a rather sophisticated searcher, but sometimes it can take me 15 minutes to find one of his posts because Seth is so dismissive of some SEO best practices...which is a bit unfortunate for the thousands of people who are not finding his blog ranked as well as it could, and are instead landing on inferior content that was published using better SEO strategies.
It perplexes me how Seth can be so forward thinking and brilliant with so many marketing concepts, and then not really see SEO as a viable channel.
If your SEO strategy is reliant on some misconceived notion of the natural order then you are losing money. Hope is not a business strategy. Neither is content without promotion, particularly in markets saturated with similar competing products. And that is why SEO is important.