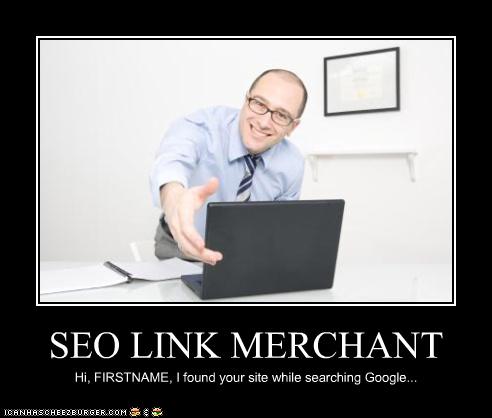 Link paranoia is off the scale. As the "unnatural link notifications" fly, the normally jittery SEO industry has moved deep into new territory, of late.
I have started to wonder if some of these links (there are hundreds since the site is large) may be hurting my site in the Google Algo. I am considering changing most of my outbound links to rel="nofollow". It is not something I want to do but ... "
We've got site owners falling to their knees, confessing to be link spammers, and begging for forgiveness. Even when they do, many sites don't return. Some sites have been returned, but their rankings, and traffic, haven't recovered. Many sites carry similar links, but get a free pass.
That's the downside of letting Google dictate the game, I guess.
Link Removal
When site owners are being told by Google that their linking is "a problem," they tend to hit the forums and spread the message, so the effect is multiplied.
Why does Google bother with the charade of "unnatural link notifications," anyway?
If Google has found a problem with links to a site, then they can simply ignore or discount them, rather than send reports prompting webmasters to remove them. Alternatively, they could send a report saying they've already discounted them.
So one assumes Google's strategy is a PR - as in public relations - exercise to plant a bomb between link buyers and link sellers. Why do that? Well, a link is a link, and one could conclude that Google must still have problems nailing down the links they don't like.
So they get some help.
The disavow links tool, combined with a re-inclusion request, is pretty clever. If you wanted a way to get site owners to admit to being link buyers, and to point out the places from which they buy links, or you want to build a database of low quality links, for no money down, then you could hardly imagine a better system of outsourced labour.
If you're a site owner, getting hundreds, if not thousands, of links removed is hardly straightforward. It's difficult, takes a long time, and is ultimately futile.
Many site owners inundated with link removal requests have moved to charging removal fees, which in many cases is understandable, given it takes some time and effort to verify the true owner of a link, locate the link, remove it, and update the site.
As one rather fed-up sounding directory owner put it:
Blackmail? Google's blackmailing you, not some company you paid to be listed forever. And here's a newsflash for you. If you ask me to do work, then I demand to be paid. If the work's not worth anything to you, then screw off and quit emailing me asking me to do it for free.

Find your link, remove it, confirm it's removed, email you a confirmation, that's 5 minutes. And that's $29US. Don't like it? Then don't email me. I have no obligation to work for you for free, not even for a minute. …. I think the best email I got was someone telling me that $29 was extortion. I then had to explain that $29 wasn't extortion - but his new price of $109 to have the link removed, see, now THAT'S extortion.

if it makes you sleep at night, you might realize that you paid to get in the directory to screw with your Google rankings, now you get to pay to get out of the directory, again to screw your Google rankings. That's your decision, quit complaining about it like it's someone else's fault. Not everyone has to run around in circles because you're cleaning up the very mess that you made
Heh.
In any case, if these links really did harm a site - which is arguable - then it doesn't take a rocket scientist to guess the next step. Site owners would be submitting their competitors links to directories thick and fast.
Cue Matt Cutts on negative SEO....
Recovery Not Guaranteed
Many sites don't recover from Google penalties, no matter what they do.
It's conceivable that a site could have a permanent flag against it no matter what penance has been paid. Google takes into account your history in Adwords, so it's not a stretch to imagine similar flags may continue to exist against domains in their organic results.
The most common reason is not what they're promoting now, its what they've promoted in the past.
Why would Google hold that against them? It's probably because of the way affiliates used to churn and burn domains they were promoting in years gone by...
This may be the reason why some recovered sites just don't rank like they used to after they've returned. They may carry permanent negative flags.
However, the reduced rankings and traffic when/if a site does return may have nothing to do with low-quality links or previous behaviour. There are many other factors involved in ranking and Google's algorithm updates aren't sitting still, so it's always difficult to pin down.
Which is why the SEO environment can be a paranoid place.
Do Brands Escape?
Matt Cutts is on record discussing big brands, saying they get punished, too. You may recall the case of Interflora UK.
Google may well punish big brands, but the punishment might be quite different to the punishment handed out to a no-brand site. It will be easier for a big brand to return, because if Google don't show what Google users expect to see in the SERPs then Google looks deficient.
Take, for example, this report received - amusingly - by the BBC:
I am a representative of the BBC site and on Saturday we got a 'notice of detected unnatural links'. Given the BBC site is so huge, with so many independently run sub sections, with literally thousands or agents and authors, can you give us a little clue as to where we might look for these 'unnatural links
If I was the BBC webmaster, I wouldn't bother. Google isn't going to dump the BBC sites as Google would look deficient. If Google has problems with some of the links pointing to the BBC, then perhaps Google should sort it out.
Take It On The Chin, Move On
Many of those who engaged in aggressive link tactics knew the deal. They went looking for an artificial boost in relevancy, and as a result of link building, they achieved a boost in the SERPs.
That is playing the game that Google, a search engine that factors in backlinks, "designed". By design, Google rewards well-linked sites by ranking them above others.
The site owners enjoyed the pay-off at the expense of their less aggressive competitors. The downside - there's always a downside - is that Google may spot the artificial boost in relevancy, now or in the future, and and may slam the domain as a result.
That's part of the game, too.
Some cry about it, but Google doesn't care about crying site owners, so site owners should build that risk into their business case from the get go.
Strategically, there are two main ways of looking at "the game":
Whack A Mole: Use aggressive linking for domains you're prepared to lose. If you get burned, then that's a cost of playing the game. Run multiple domains using different link graphs for each and hope that a few survive at any one time, thus keeping you in the game. If some domains get taken out, then take it on the chin. Try to get reinstated, and if you can't, then torch them and move on.
Ignore Google: If you operate like Google doesn't exist, then it's pretty unlikely Google will slam you, although there are no guarantees. In any case, a penalty and a low ranking are the same thing in terms of outcome.
Take one step back. If your business relies on Google rankings, then that's a business risk. If you rely entirely on Google rankings, then that's a big business risk. I'm not suggesting it's not a risk worth taking, but only you can answer that what risks make sense for your business.
If the whack a mole strategy is not for you, and you want to lower the business risk of Google's whims, then it makes sense to diversify the ways in which you get traffic so that if one traffic stream fails, then all is not lost. If you're playing for the long term, then establishing brand, diversifying traffic, and treating organic SEO traffic as a bonus should be considerations. You then don't need to worry about what Google may or may not do as Google aren't fueling your engine.
Some people run both these strategies simultaneously, which is an understandable way of managing risk. Most people probably sit somewhere in the middle and hope for the best.
Link Building Going Forward
The effect of Google's fear, uncertainty and doubt strategy is that a lot of site owners are going to be running scared or confused, or both.
Just what is acceptable?
Trouble is, what is deemed acceptable today might be unacceptable next week. It's pretty difficult, if not impossible, for a site owner to wind the clock back once they undertake a link strategy, and who knows what will be deemed unacceptable in a years time.
Of course, Google doesn't want site owners to think in terms of a "link strategy", if the aim of said link strategy is to "inflate rankings". That maxim has remained constant.
If you want to take a low-risk approach, then it pays to think of Google traffic as a bonus. Brett Tabke, founder of WebmasterWorld, used to keep a sticker on his monitor that said "Pretend The Search Engines Don't Exist", or words to that effect. I'm reminded of how useful that message still is today, as it's a prompt to think strategically beyond SEO. If you disappeared from Google today, would your business survive? If the answer is no, then you should revise your strategy.
Is there a middle ground?
Here are a few approaches to link building that will likely stand the test of time, and incorporate strategy that provides resilience from Google's whims. The key is having links for reasons besides SEO, even if you part of their value is higher rankings.
1. Publisher
Publish relevant, valuable content, as determined by your audience.
It's no longer enough to publish pages of information on a topic, the information must have demonstrable utility i.e. other people need to deem it valuable, reference it, visit it, and talk about it. Instead of putting your money into buying links, you put your money into content development and then marketing it to people. The links will likely follow. This is passive link acquisition.
It's unlikely these types of links will ever be a problem, as the link graph is not going to look contrived. If any poor quality links slip into this link graph, then they're not going to be the dominant feature. The other signals will likely trump them and therefore diminish their impact.
Build brand based on unique, high quality information, and then market it to people by via multiple channels, and the links tend to follow, which then boost your ranking in Google. Provide a high degree of utility, first and foremost.
One problem with this model is that it's easy for other people to steal your utility. This is a big problem and prevents investment in quality content. One way of getting around this is to use some content as loss-leader and lock the rest away behind pay-walls. You give the outside world, and Google, just enough, but if they want the rest, then they're going to need to sign up.
Think carefully about the return on giving the whole farm away to a crawler. Think about providing utility, not "content".
2. Differentiation
There is huge first mover advantage when it comes to getting links.
If a new field opens up, and you get there first, or early, then it's relatively easy to build a credible link graph. As a field expands, the next layer involves a lot of meta activity i.e. bloggers, media and other information curators writing about that activity. At the start of any niche, there aren't many players to talk about, so the early movers get all the links.
As a field matures, you get a phenomenon Mike Grehan aptly characterised as "filthy linking rich"
The law of "preferential attachment" as it is also known, wherein new links on the web are more likely to go to sites that already have many links, proves that the scheme is inherently biased against new and unknown pages. When search engines constantly return popular pages at the top of the pile, more web users discover those pages and more web users are likely to link to them
Those who got all those links early on will receive more and more links over time because they are top of the results. They just need to keep doing what they're doing. It becomes very difficult for late entrants to beat them unless they do something extraordinary. By definition, that probably means shifting the niche to a new niche.
If you're late to a crowded field, then you need to think in terms of differentiation. What can you offer the rest do not? New content in such fields must be remarkable i.e worth remarking upon.
Is that field moving in a new direction? If so, can you pivot in that direction and be first mover in that direction? Look not where a niche currently is, but where it's going, then position ahead of it.
"Same old, same old content" doesn't get linked to, engaged with, ranked, or remarked upon - and why should it? The web is not short of content. The web has so much content that companies like Google have made billions trying to reduce it to a manageable set of ten links
3. Brand
Brand is the ultimate Google-protection tactic.
It's not that brands don't get hammered by Google occasionally, because they do. But what tends to differ is the sentence handed down. The bigger the brand, the lighter the sentence, or the shorter the sentence, because no matter how much WalMart or The Office Of The President Of The United States Of America spams Google, Google must show such sites. I'm not suggesting these sites engage in aggressive SEO tactics, or need to, but we know they'll always be in Google.
You don't have to be a big brand. You do need search volume on your distinctive brand name. If you're well known enough in your niche i.e. you attract significant type-in search volume, Google must show you or appear deficient.
This is not to say having a brand means you can get away with poor behavior. But the more type-in traffic for your brand, the more pressure there is on Google to rank you.
Links to a brand name will almost never look forced in the same way a link in a footer to "cheap online pharmacy" looks forced. People know your name, and they link to you by name , they talk about you by name - naturally.
The more generic your site, the more vulnerable you are, as it's very difficult to own a space when you're aligning with generic keyword terms. The links are always going to look a little - or a lot - forced.
This is not to say you shouldn't get links with keywords in them, but build a distinctive brand, too. The link graph will appear mostly natural - because it is. A few low quality links won't trump the good signals created by a lot of natural brand links.
4. Engagement
The web is a place.
This placed is filled with people. There are relationships between people. Relationships between people on the web, are almost always expressed as a link. It might be a Facebook link, a Twitter link, a comment link, a blog link, but they're all links. It doesn't matter if they're crawlable or not, or if they're no-followed, or not, it still indicates a relationship.
If Google is to survive, it must figure out these relationships.
That's why all links - apart from negative SEO - are good links. The more signals of a real relationship, the better you *should* be ranked, because you are more relevant, in an objective sense.
So look for ways to foster relationships and engagement. It might be guest posting. It might be commenting on someone elses site. It might be contributing to forums. It might be interviewing people. It might be accepting interviews. It might be forging relationships with the press. It might be forging relationships with business organisations. It might be contributing to charity. It might be running competitions. It might be attending conferences. It might be linking out to influential people.
It's all networking.
And wherever you network, you should be getting links as a byproduct.
Provide long - well, longer than 400 words - unique, editorial articles. Articles also need get linked to, and engaged with. Articles need to be placed on sites they'll be seen, as opposed to content farms.
Ask yourself "am I providing genuine utility?"
5. Fill A Need
This is similar to differentiation, but a little more focused.
Think about the problems people have in a niche. The really hard problems to solve. "How to", "tips", "advice", and so on.
Solving a genuine problem for people tends to make people feel a sense of obligation, especially if they would otherwise have to pay for that help. If you can twist that obligation towards getting a link, all the better. For example, "if this article/video/whatever helped you, no payment necessary! But it would be great if you link to us/follow us on Twitter/" and so on. It doesn't need to be that overt, although sometimes overt is what is required. It fosters engagement. It builds your network. And it builds links.
Think about ways you can integrate a call-to-action that results in a link of some kind.
Coda
In other news, Caesars Palace bans Google :)
Published: May 14, 2013 by
A Reader
in
google