Oct 8th
Marketers often rely on a facade. If marketing and advertising were truly transparent few marketers would ever be seen as heroes ;)
When information didn't spread as widely it was easy for one public relations hero to scam one country into bombing and destroying another for the benefit of their client.
Distortions and misinformation can work in the short run, but with the web people are connected all the time and the memory is deep.
What is risky about the gap in the narratives is that it gets harder to cover over as time passes. And if you are aggressive + swim with sharks eventually one of them will get mad at you...so your inside voice goes public.
This sort of parallel is almost everywhere in business. Google's Eric Schmidt highlighted how amazed he was at how lobbyists write legislation. In the same way, Google writes their guidelines for webmasters to follow. Follow them or accept great risks.
How do you know a person is a big link buyer? If they tell you not to buy links and that they don't buy links then they are probably lying. It is a lie you are *expected* to spread to minimize the risks of Google coming down and crushing you.
Some of the most profitable businesses rely on having multiple business models and multiple brands that monetize markets in different ways. To the person who is afraid of risk you sell the fear - don't buy links. To the person who wants the juice you sell the juice. Then you use the data from their link purchases to figure out what keywords you should be targeting and what domain names you should be buying.
When DIY SEO launched one of their "advanced" tips was to ensure you were not buying or selling any links. And that is from a person who sold a text link network for north of $30 million & is rumored to be associated with yet another text link network. If a person tells you that the links they are selling you are giving them the information needed to figure out what domains to buy then they lose the data source.
But if the person comes out and tells you that you should buy links then that puts all their other publishing enterprises at risk. For me to even write about this weird dichotomy would make some people think "well that person is black hat" when in reality simply observing and stating truth is as white hat as you can possibly be. So as an SEO you either have to lie, or absorb additional business risks for being stupid or naive enough to be honest in a market dictated by a monopoly which preaches the value of openness.
The weird thing about that appreciation for openness is that (beyond a marketing & public relations angle) it never applies to anything core to their own market position, but rather to competing business models. With their own business they don't have the time of day for their paying customers.
It is hard to beat someone by following their lead. As a new business with limited leverage & capital you must create your own value systems if you want to find opportunity & create a lasting business. This is especially true because many value systems are arbitrary.
Early Google research highlighted how they hated ad based business models and how they felt that having a pure search service was crucial. After they gained market leverage they also gained amnesia. Now on some searches half of web users see nothing but paid ads above the fold. :D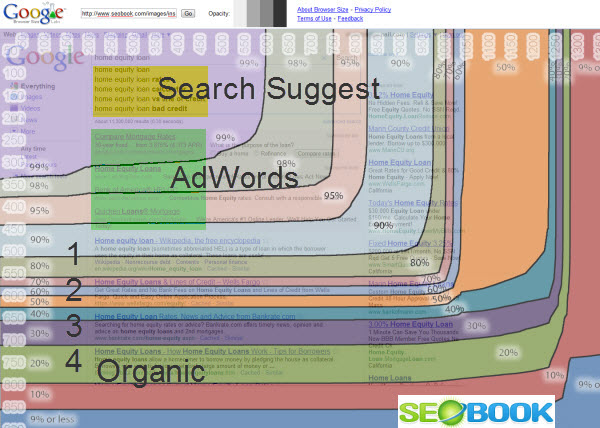 Certain markets & certain business models rely on using a key piece of misinformation to dupe consumers (even Google highlights how searchers do not realize AdWords ads are paid placements). If you are new to market and you have nothing to lose then one of the easiest ways to cause a stir and get noticed is to highlight those types of issues and/or cannibalize those business models.
There is a bit of a water cycle to businesses and business models. Notice how Blekko is pushing hard on openness and sharing data? Great market entry strategy.
Once you are more established the risk/reward ratio is significantly different. Which is precisely why you rarely read a blog post like this one. By the time a site is as wide read as this one is there should either be a bit of common sense or an investor who has me on a short leash. :)
I should be telling you to not buy links and stay away from the types of folks who have ever even considered thinking about it. :D
The point of this post isn't really about link buying, but rather that you need to consider risk and reward with anything, and do so using your own value systems if you want to compete. Most media has some fibs in it, as concision requires reductionism & it is rarely profitable to give away the farm.
We promote how fair society is and how important meritocracy is. But the conclusion I have come to is that the concepts are largely a farce. Your job as an entrepreneur is to succeed *in spite of* the lack of meritocracy, the extreme corruption, and the debt slavery that are core to modern living. And the first few years are the hardest part!
And I am convinced that this sort of dichotomy isn't unique to the field of SEO, but is rather well ingrained in every large highly-profitable market. It is core to capitalism. After all, there is the a reason the banking class can get away with repeatedly systemic violation of the rule of law and you can't: lobbyists write the laws.
Published: October 8, 2010
New to the site? Join for Free and get over $300 of free SEO software.



Once you set up your free account you can comment on our blog, and you are eligible to receive our search engine success SEO newsletter.
Already have an account? Login to share your opinions.
New to the site? Join for Free and get over $300 of free SEO software.



Once you set up your free account you can comment on our blog, and you are eligible to receive our search engine success SEO newsletter.
Already have an account? Login to share your opinions.
Over 100 training modules, covering topics like: keyword research, link building, site architecture, website monetization, pay per click ads, tracking results, and more.
An exclusive interactive community forum
Members only videos and tools
Additional bonuses - like data spreadsheets, and money saving tips