Recently on Twitter a couple people mentioned that we should create tools similar to our Firefox extensions for Google Chrome. Then on TechCrunch there was a comment "As soon as I see the SEO Book toolbar for Chrome, I'll be glad to uninstall Firefox." I read that and thought news to me.
First of all I think it is a bad idea because if Google owns the search engine and the browser then maybe that is not the best spot to have your SEO research stuff hooked up, but even beyond that I don't think we would make $1 more by creating those tools. Why? Because the people who use Google Chrome for SEO research are not the type of people who want to pay for anything related to SEO (outside of buying links perhaps).
My buddy Patrick from BlogStorm mentioned 'Imagine all the links you would get from people writing about the "Top 10 Chrome Extensions for SEO"' but when you think about it, what kinds of "customers" would those links bring? Entitled demanding and rude non-customers who pollute our sales funnel and waste our time. Eh...not really worth it.
Today a person running a COMMERCIAL SEO company told me "One of my employees loves the hubfinder and is now distraught that it's not free anymore. What would it take to get access to that tool?" And I responded with "if they are distraught over $300 then frankly they are quite pathetic, IMHO." He wants to CHARGE his clients, PAYS his employees, and then wants my time FOR FREE to ask how he could get FREE access to the fruits of our labor.
Distraught? Really? I couldn't imagine having the audacity to send that message.
And the truth is...that is 99%+ of the SEO market...everything should be free except whatever they sell. But we have to PAY $1,000+ a month for a web host, PAY for our vBulletin license, PAY for our SupportSuite license, PAY to license data from other sources, PAY to create tools to collect data, PAY to create new tools, PAY to maintain tools, PAY to advertise, PAY for a design + redesign, PAY for additional servers working creatively on future projects, PAY for the risks associated with being a well known public SEO, PAY to fly out to speak at SEO conferences & share information, PAY for upgrades to the site, SPEND lots of time on creating content for the blog, PAY PAY PAY etc etc etc
We have subscriptions with services like Compete.com and WordTracker because to us they are worth it.Which is why we buy AdWords ads, certain links, access to other sites and services, desktop software like AdvancedWebranking, etc. I have easily spent $100,000's on consulting, tools, and info-products. Was every purchase profitable? No. But in aggregate, there was plenty of profit to be had.
The people who are selling stuff but who are afraid to spend any money themselves often sell trash. They are not convinced in the value of what they sell (often because it is lacking). Or as Seth puts it...
Money is more than a transfer of value. It's a statement of belief. An ad agency that won't buy ads, a consultant who won't buy consulting, and a waiter who doesn't tip big—it's a sign, and not a good one.
You don't create a real business by being the free infrastructure for someone else's business while giving it away AND providing 1:1 support. That is why open source works so well...give away the software, but if they want 1:1 support from the source they pay for it. $$$
Yes we could use more links, but that is not a weakness in our business right now...we have something like a quarter million people using our stuff. If anything, I would love to donate some of this site's links to a few of our affiliate websites. ;)
Imagine having a quarter million+ non-customers. If you are at that scale your problem is not finding a way to get more people at the top of the funnel. At that scale the issue more becomes filtering out the bottom portion of the market without offending the people who might potentially become customers. Assume 5% of the 250,000 people are entitled ___holes. Assume another 5% of them are great people who just happened to have a minor issues in the conversion process (forgot their username, picked the wrong username, registered under the wrong email address, didn't get the welcome email, etc.). Could you imagine handling 25,000+ personal emails a year? Add in paying customers & media inqueries and now your up above 30,000. And that doesn't even include making close to 1,000 posts a month in our member forums and reading the nearly 100,000 posts that have been made there! I love the work I do (and love helping people), but I think this really expresses the sentiment nicely.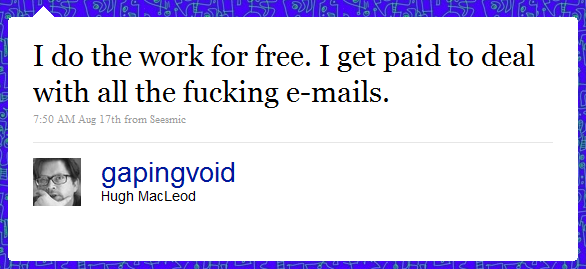 I had to add the following to our support feedback section to help make the pollution from non-customers more manageable
Free SEO Tool Issues?
A Polite Warning for Non-customers

We run the best SEO website with the deepest and richest customer engagement. But our resources are finite and our time is valuable.

We Give Away Lots of Value, But Our Company is Small

At the same time we have given away some of our free SEO tools to over 100,000 webmasters. We can not provide 1 to 1 support to an audience that large while still providing the amazing customer experience that our paying customers have grown to appreciate and expect. If you are not a PAYING member then we expect you to read the installation and usage documentation before filing a ticket.

Did You Read The Usage Instructions?

Please note that if you are not a PAYING customer AND your issue is with our free SEO tools then we will NOT respond to ANY requests where you have not read the installation and operating instructions from the associated download pages.
SEO Tool Usage + Configuration Instructions

For your convenience here are links to the official resource centers for SEO 4 Firefox, Rank Checker, the SEO Toolber, & the download page. (The download page requires you set up a free account and login to it).

Need to Uninstall a Tool?

If you would like to uninstall something here are 2 ways to do that.
In his book Here Comes Everybody, Clay Shirky stated something along the lines of popularity being an imbalance between supply and demand of attention. Which is precisely why filtering is so important. If you don't filter out the laggards and freetards you are only holding back your own potential while giving your paying customers an inferior service to what they deserve.
Eventually it gets to where filtering through that noise becomes nearly a full time job. (Lucky for me I work twice as long as just about anyone I know), but anything that makes the sign up process more complex creates more noise (which potentially eats your time + harms your brand while creating 0 income). Plus the above quoted piece from our support section might turn off some potential clients...but it is always a game of filtering...help as many people as you can and hopefully try not to offend many people.
What we are scarce on is time. And that is also what many people new to SEO are scarce on. And what people who are willing to pay for correct information with rich context are short on.
Working through all the hype and misinformation and scammy offers can be a bit overwhelming. To a person who is new to SEO, it is already confusing enough to decide...
which tools offer real value
if they should use any software
if they should use free or paid tools
what combination of software to use
And if we duplicate our tools for many different browsers then that ends up increasing the maintenance cost WHILE harming conversion rates (because people don't know what they should chose, or why you have so many tools doing the same thing).
The capital and efforts spent creating (and maintaining) a second or third set of duplicative free SEO tools would be better spent creating more paid tool & content for our paying subscribers.
Updated on November 7th, 2013: years later Google decided to block the ability to deliver plugins from outside their store. read some of the below comments from years ago to see what's up next...
Update #2, September 8, 2016: After a developer was arbitrarily banned from the Google extension store, he found there was literally no customer support:
"I don't think I will ever develop anything for the Google ecosystem again. ... I went on to search for a Developer Support page, but after half an hour of searching I found out that there is none. There is no support whatsoever for the developer besides Google's own documentation. ... I just want you to think twice before creating a revenue stream based on the Chrome Web Store." - Zeno Popovici
Google typically offers no customer support for their products. the Larry Page philosophy is "the whole idea of customer support was ridiculous." That is their approach unless/until the customer support expense is required by challenge by a strong competitor.
Meanwhile, they are buying up more internet plumbing by buying an API management company, hosting third party content via Google AMP & warning they will soon label HTTP websites as insecure.
I'll pass on creating a Chrome extension. And I'll pass on using Chrome. If you are an actual practicing SEO & have an IQ above 70, you'd skip both as well.