Local citations are a critical part of a local SEO campaign. In looking at David Mihm's Local Search Ranking Factors you can see that a majority of the top 10 factors focus on business information structure and links. Half of the top ten factors relate to items which local citations can help with:
Physical Address in City of Search
Crawlable Address Matching Place Page Address
Volume of Traditional Structured Citations (IYPs, Data Aggregators)
Quality of Inbound Links to Website
Crawlable Phone Number Matching Place Page Phone Number
Making local citation building a part of your local SEO campaign has more benefits than simply "building citations". Think of all the ways it can help with both local search (see factors above) and web search in general:
Many of the better citation sources are actually good links (for your domain in general), from diverse domains
A good amount of folks searching locally are likely to use apps for searches in addition to Google (you want to make sure you are listed in as many places as possible)
Ensuring that your business data is structured in a similar way across the web helps with client communication and Google Places
Building citations naturally leads to other business enhancing activities you can offer your clients; things like helping them get their clients to leave positive reviews and provide helpful feedback to the company post-sale
A potential client is likely to do research on your or your client's business before they buy. Being represented, in a good way, across the web helps the company's reputation and clout with potential customers
Citation building can be tedious on multiple fronts. Finding quality citations that you do not currently have, comparing citation profiles (yours and your competitor's), and actually building the citations as well as following up on them.
Whitespark takes care of the first two, searching and comparing, quite well and provides the framework for building citations efficiently. Whitespark can also rerun your search queries to check on whether your citation has been completed or not.
Whitespark Pricing
Whitespark has 5 plans:
Free
20$ per month - 20 searches per day, 5 projects, unlimited citations per search, comparison tool, monitoring tool, CSV export options
30$ per month - 30 searches per day, 10 projects, and all the features of the 20$ plan
40$ per month - 40 searches per day, 20 projects, same features as above
100$ per month, 100 searches per day, unlimited projects, same features as above
I like how the pricing scales with projects and searches. The pricing is a great value for anyone doing local SEO at scale and there are options to support any size agency.
Setting Up a Project
When you first get inside the tool you'll be able to set up a search straight away. You'll be able to select the following:
Country (Whitespark supports over 30)
State/Province
City or Town (they pull from a database, when you start typing you'll be able to select your desired location)
Keyphrase (just the keyword)
A drop down to select your preferred search phrase
Project Assignment or Creation
Here, I've started a query for insurance quotes in Providence, Rhode Island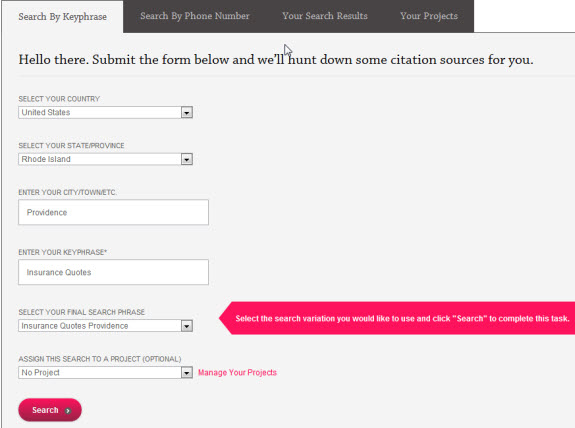 When you select state and city/town it sets the location inside of Google. However, sometimes you do need to add the state or state abbreviation to the query to get the best results (in my experience).
You have options on the final keyphrase. The dropdown, seen below, gives you the option to broaden the area, rearrange the order of the query, or create a custom query:

Once you click on that, you can add whatever query you want. In this case, based on my experience, I just added "RI" to the end of the query to help with hyper-local targeting.
Next up is the project creation (or addition). I haven't created a project to store this query in, but it's super easy to do from this page. Click on "Manage Projects" and you'll be able to create a new one: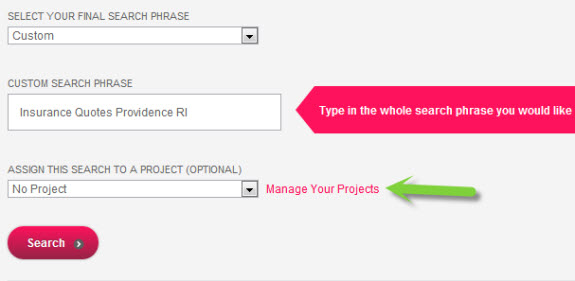 You are then brought to the create project page. You can name your project and add your phone number (I added one for an agency ranking organically for the term) to check current citations.
*Important* - The formatting of the number is important. You should use (401) 438-8345 or 401-438-8345 as 4014388345 results in far fewer results than properly formatted numbers.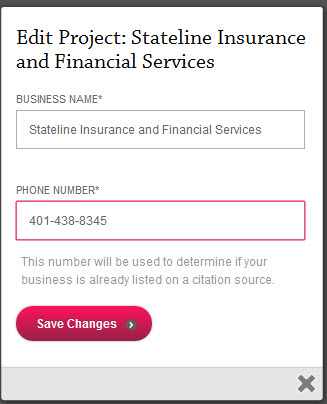 You should add the business name (yours or your client's) as the project name for more accurate citation mapping.
Now just go back and add that query to that particular project on the Search by Keyphrase Page and you are good to go. The tool will email you when the results are ready.
Ideally, you'll want to have a seed list of terms to start out with so you can check your results versus your competitions across your most important local terms. So for an insurance agency I might go with:
Auto Insurance Providence RI
Life Insurance Providence RI
Insurance Agent in Providence Ri
In a perfect world you'd want to do some keyword research on these terms, look at keywords your competition might be ranking for, look at the site's current analytics and PPC data (if available), and so on in order to find the best keywords to target.
Search by Phone Number
While we are waiting for those results to come back, let's talk about the search by phone number option. This is a great way of checking your own citations or that of a competitor, or even a prospective client (especially if their citations are a mess or missing).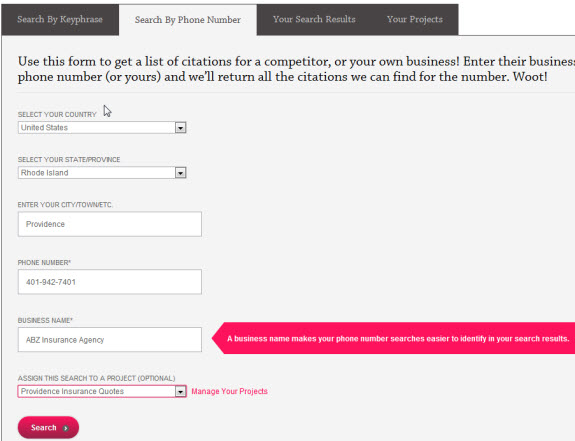 So I added a competitor, their phone number and saved it to my project. Very simple, very straightforward. We'll let that run and circle back to it once the report is ready.
Working with the Data
It took about 3 minutes for our first query to complete :)
You can go back to your project and view all the searches assigned to it:

From here you can edit the name and phone number of the project, view the searches (I have the 1 keyword phrase search and the competitor phone number search) assigned to the project, and just view the citation opportunities for the business without the competitor information.
There are 2 components to a keywords search report. The first piece displays the top ranking (in places/maps) sites for the query. It allows you to see the total citations for each site and offers links to view specific sources for each site as well as a comparison of those sites:

You can view sources for each competitor or compare them against each other for total citation counts.
The second piece of the report are the actual citation sources. The citation sources have the following data points:
Site (the citation url)
Link to the submission page, if available
OC - number of times the citation source appeared in the SERP during the searches (higher counts are good indicators of domain authority)
Discovery - date the citation source was discovered
Site Type - the type of site (still in beta), could be social, directory, news, etc
AC - Majestic SEO's AC Rank
DA - SeoMoz's Domain Authority
Got It (checkbox) - used for when a citation is acquired
Useless - used when a citation source is not applicable or undesired
All columns are sortable, making it easy to manipulate the data however you'd like to spot the best opportunities.
When you view the report that includes the competition, you can click the plus sign to expand the URL of the citation source for more specific data: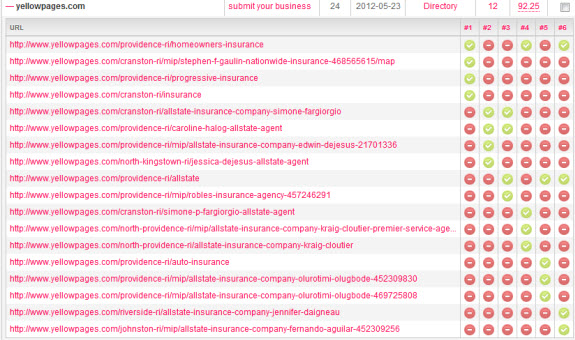 You'll be able to see a spread of co-occurring citations on specific pages. This can be useful in spotting category listing opportunities on specific citation sources (for example, being listed on YellowPages.Com/Providence-RI/Homeowners-Insurance as well as your own listing).
If you have associated the search with a project, then for citations that already were acquired before the search was run, you'll see them as highlighted in green with the "got it" check box already checked:

When you check off one as "useless" it simply gets grayed out.
A cool feature here is that already acquired (citations found by Whitespark and citations checked off by you) carry across other searches in your project. At any point you can come back to the search and re-run it (after a citation building campaign is always a good time) to see the status of your citation profile.
Also, when you export the list it exports (2 options) the following criteria:
(Choosing Export as CSV)
Root Citation URL
SERP Appearance Count
AC Rank
Domain Authority
Submission URL (if available)
Got It and Useless check marks
If you choose "Export CSV (w/URLs) you get all of the above plus the url's of the actual citations.
Choosing the first option makes it incredible easy to hand off to a citation builder.
Darren's Pro Tips
I always like to go directly to the creator of a tool to get their thoughts and tips. Darren was gracious enough to provide his insights for us (see below):
The local citation finder has two main citation search capabilities:
Search by keyword and the tool will find all the top ranking businesses, then find their citations, and present them in a big list for you.
Search by phone number, and the tool will find the list of citations for that particular business. Use this to find your own citations, or a specific competitor's citations.
We use the data in three ways:
Use it to find places where your competitors are listed, but you're not, and then get listed in those places.
Use it as a competitive analysis tool to identify where the competition is getting citations. This extends beyond basic business directories as the tool will reveal competitor's citations from local blogs, newspapers, event listings, job sites, business partners, etc. Looking at their strategies will give you ideas for creative citation building tactics you can employ in your practice.
Use it to find citation sources focused on the city, or the industry
I think the best way to look at the tool is as competitive analysis. You run a keyword search, see who's rankings, then get a big list of all the citations they collectively have. You can click the "compare citations for this business" link to see who's listed where.
A great little hidden feature of the tool is to do a phone number search for your business, plus a keyword search, then in the Your Search Results section, check off the two searches and choose "compare" from the dropdown at the top of the table. This will show you all the places where the competition is listed and you're not.
I also like to use the tool to find hyper-local citation opportunities. Here's how:
Run a LOT of KW queries on the local citation finder in the city/niche and associate them all with a project. So, for a lawyer in chicago: chicago lawyer, lawyers, attorneys, dui lawyer, robbery lawyer, criminal lawyer, etc.
Go under "Your Projects" and ALL the citation sources from all the queries will be listed under "view sources". Ctrl-f in your browser for "law", "legal", "chicago", "illinois", etc.
Any niche or location related terms. Copy all the domains that match the Ctrl-f searches into a spreadsheet. These are your hyper local citations.
We found that getting listed on sites that had the city or keyword in the domain provided a big boost in the local rankings. The more you can find, the better. You'll have to pick through the list to pull out actual directories, as many of the results will be businesses with the city or keyword in the domain, but it's worth it.
Thanks to Darren for the insight and for making Local SEO a bit easier :) Give Whitespark a try for your local SEO campaigns, I think you'll like it :)