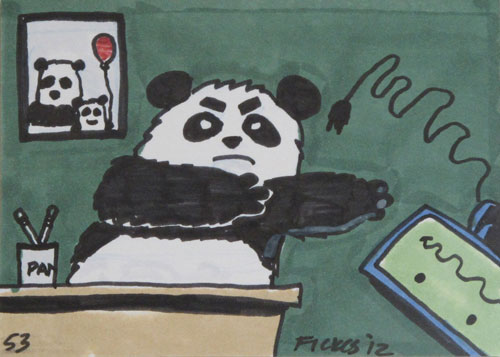 Shadows are the color of the sky.
It's one of those truths that is difficult to see, until you look closely at what's really there.
To see something as it really is, we should try to identify our own bias, and then let it go.
"Unnatural" Links
This article tries to make sense of Google's latest moves regarding links.
It's a reaction to Google's update of their Link Schemes policy. Google's policy states "Any links intended to manipulate PageRank or a site's ranking in Google search results may be considered part of a link scheme and a violation of Google's Webmaster Guidelines." I wrote on this topic, too.
Those with a vested interest in the link building industry - which is pretty much all of us - might spot the problem.
Google's negative emphasis, of late, has been about links. Their message is not new, just the emphasis. The new emphasis could pretty much be summarized thus:"any link you build for the purpose of manipulating rank is outside the guidelines." Google have never encouraged activity that could manipulate rankings, which is precisely what those link building, for the purpose of SEO, attempt to do. Building links for the purposes of higher rank AND staying within Google's guidelines will not be easy.
Some SEOs may kid themselves that they are link building "for the traffic", but if that were the case, they'd have no problem insisting those links were scripted so they could monitor traffic statistics, or at very least, no-followed, so there could be no confusion about intent.
How many do?
Think Like Google
Ralph Tegtmeier: In response to Eric's assertion "I applaud Google for being more and more transparent with their guidelines", Ralph writes- "man, Eric: isn't the whole point of your piece that this is exactly what they're NOT doing, becoming "more transparent"?
Indeed.
In order to understand what Google is doing, it can be useful to downplay any SEO bias i.e. what we may like to see from an SEO standpoint, rather try to look at the world from Google's point of view.
I ask myself "if I were Google, what would I do?"
Clearly I'm not Google, so these are just my guesses, but if I were Google, I'd see all SEO as a potential competitive threat to my click advertising business. The more effective the SEO, the more of a threat it is. SEOs can't be eliminated, but they can been corralled and managed in order to reduce the level of competitive threat. Partly, this is achieved by algorithmic means. Partly, this is achieved using public relations. If I were Google, I would think SEOs are potentially useful if they could be encouraged to provide high quality content and make sites easier to crawl, as this suits my business case.
I'd want commercial webmasters paying me for click traffic. I'd want users to be happy with the results they are getting, so they keep using my search engine. I'd consider webmasters to be unpaid content providers.
Do I (Google) need content? Yes, I do. Do I need any content? No, I don't. If anything, there is too much content, and lot of it is junk. In fact, I'm getting more and more selective about the content I do show. So selective, in fact, that a lot of what I show above the fold content is controlled and "published", in the broadest sense of the word, by me (Google) in the form of the Knowledge Graph.
It is useful to put ourselves in someone else's position to understand their truth. If you do, you'll soon realise that Google aren't the webmasters friend if your aim, as a webmaster, is to do anything that "artificially" enhances your rank.
So why are so many SEOs listening to Google's directives?
Rewind
A year or two ago, it would be madness to suggest webmasters would pay to remove links, but that's exactly what's happening. Not only that, webmasters are doing Google link quality control. For free. They're pointing out the links they see as being "bad" - links Google's algorithms may have missed.
Check out this discussion. One exasperated SEO tells Google that she tries hard to get links removed, but doesn't hear back from site owners. The few who do respond want money to take the links down.
It is understandable site owners don't spend much time removing links. From a site owners perspective, taking links down involves a time cost, so there is no benefit to the site owner in doing so, especially if they receive numerous requests. Secondly, taking down links may be perceived as being an admission of guilt. Why would a webmaster admit their links are "bad"?
The answer to this problem, from Google's John Mueller is telling.
A shrug of the shoulders.
It's a non-problem. For Google. If you were Google, would you care if a site you may have relegated for ranking manipulation gets to rank again in future? Plenty more where they came from, as there are thousands more sites just like it, and many of them owned by people who don't engage in ranking manipulation.
Does anyone really think their rankings are going to return once they've been flagged?
Jenny Halasz then hinted at the root of the problem. Why can't Google simply not count the links they don't like? Why make webmasters jump through arbitrary hoops? The question was side-stepped.
If you were Google, why would you make webmasters jump through hoops? Is it because you want to make webmasters lives easier? Well, that obviously isn't the case. Removing links is a tedious, futile process. Google suggest using the disavow links tool, but the twist is you can't just put up a list of links you want to disavow.
Say what?
No, you need to show you've made some effort to remove them.
Why?
If I were Google, I'd see this information supplied by webmasters as being potentially useful. They provide me with a list of links that the algorithm missed, or considered borderline, but the webmaster has reviewed and thinks look bad enough to affect their ranking. If the webmaster simply provided a list of links dumped from a link tool, it's probably not telling Google much Google doesn't already know. There's been no manual link review.
So, what webmasters are doing is helping Google by manually reviewing links and reporting bad links. How does this help webmasters?
It doesn't.
It just increases the temperature of the water in the pot. Is the SEO frog just going to stay there, or is he going to jump?
A Better Use Of Your Time
Does anyone believe rankings are going to return to their previous positions after such an exercise? A lot of webmasters aren't seeing changes. Will you?
Maybe.
But I think it's the wrong question.
It's the wrong question because it's just another example of letting Google define the game. What are you going to do when Google define you right out of the game? If your service or strategy involves links right now, then in order to remain snow white, any links you place, for the purposes of achieving higher rank, are going to need to be no-followed in order to be clear about intent. Extreme? What's going to be the emphasis in six months time? Next year? How do you know what you're doing now is not going to be frowned upon, then need to be undone, next year?
A couple of years ago it would be unthinkable that webmasters would report and remove their own links, even paying for them to be removed, but that's exactly what's happening. So, what is next year's unthinkable scenario?
You could re-examine the relationship and figure what you do on your site is absolutely none of Google's business. They can issue as many guidelines as they like, but they do not own your website, or the link graph, and therefore don't have authority over you unless you allow it. Can they ban your site because you're not compliant with their guidelines? Sure, they can. It's their index. That is the risk. How do you choose to manage this risk?
It strikes me you can lose your rankings at anytime whether you follow the current guidelines or not, especially when the goal-posts keep moving. So, the risk of not following the guidelines, and following the guidelines but not ranking well is pretty much the same - no traffic. Do you have a plan to address the "no traffic from Google" risk, however that may come about?
Your plan might involve advertising on other sites that do rank well. It might involve, in part, a move to PPC. It might be to run multiple domains, some well within the guidelines, and some way outside them. Test, see what happens. It might involve beefing up other marketing channels. It might be to buy competitor sites. Your plan could be to jump through Google's hoops if you do receive a penalty, see if your site returns, and if it does - great - until next time, that is.
What's your long term "traffic from Google" strategy?
If all you do is "follow Google's Guidelines", I'd say that's now a high risk SEO strategy.
Published: August 27, 2013 by
A Reader
in
google