I think the biggest form of spam to hit the web in the next year or so is going to be heavy social spam. Not just the stuff Seth mentioned here (where is appears that LookSmart is leading the charge to irrelevancy on yet another front) but lots of other stuff too.
A while ago I mentioned a few tips for getting quick and easy co-citation data, and I have also mentioned shopping comparison pages and writing natural content but I think many new traffic sources are easy to manipulate right now. Since they are all rapidly evolving and fighting for marketshare they are going to leave many algorithmic holes open along the way.
On many sites I have seen people upload images for related products or companies using their company or URL as their username or tag name. Google, Yahoo!, Amazon, AOL, and eBay are all experimenting with tagging. You can tag something that gets millions of pageviews from predefined relevant traffic source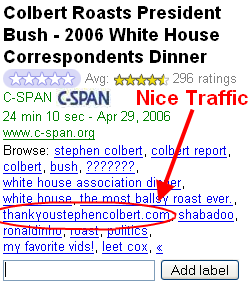 if you are a musician and friends tell you that you sound like an established star and you submit your song to YouTube or Google Video do you label it to include a similar star's name in the title or have a friend tag it with someone else's name? Dare you cover old songs you like and submit those? If related content is already listed does it hurt to vote for it / list it as one of your favorites / tag it with your URL?
Get in early on market edges and get exposure in the new verticals. Depending on your vertical and brand investment some techniques may provide different risk / reward ratios.