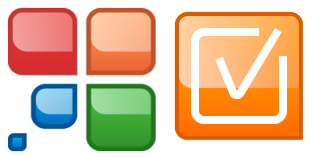 Website Auditor is one of the 4 tools found in Link-Assistant's SEO Power Suite. Website Auditor is Link-Assistant's on-page optimization tool.
We recently reviewed 2 of their other tools, SEO Spyglass and Rank Tracker. You can check out the review of SEO Spyglass here and Rank Tracker here.
Update: Please note that in spite of us doing free non-affiliate reviews of their software, someone spammed the crap out of our blog promoting this company's tools, which is at best uninspiring.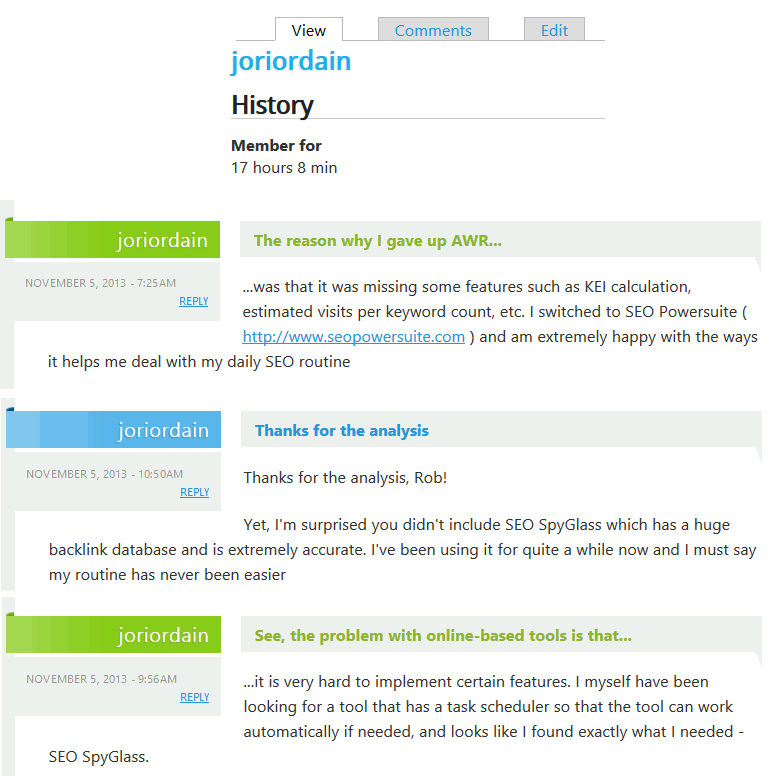 What Does Website Auditor Do?
Website Auditor crawls your entire site (or any site you want to research) and gives you a variety of on-page SEO data points to help you analyze the site you are researching.
We are reviewing the Enterprise version here, some options may not be available if you are using the Professional version.
In order to give you a thorough overview of a tool we think it's best to look at all the options available. You can compare versions here.
Getting Started with Website Auditor
To get started, just enter the URL of the site you want to research: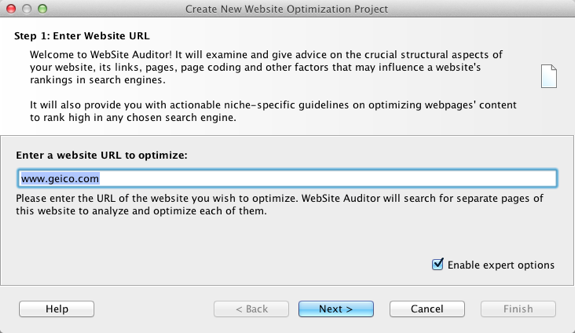 I always like to enable the expert options so I can see everything available to me. Next step is to select the "page ranking factors: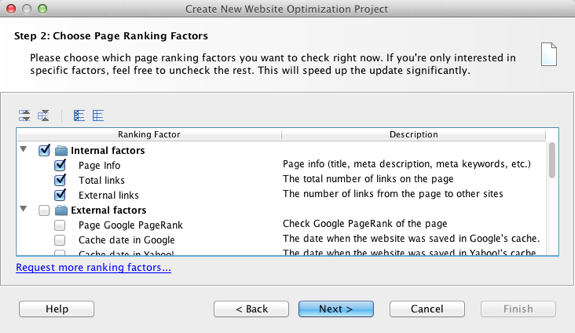 Here, you have the ability to get the following data points from the tool on a per-page basis:
HTTP status codes
Page titles, meta descriptions, meta keywords
Total links on the page
Links on the page to external sites
Robots.Txt instructions
W3C validation errors
CSS validation errors
Any canonical URL's associated with the page
HTML Code Size
Links on the page with the no-follow attribute
Your next option is to select the crawl depth. For deep analysis you can certainly select no crawl limit and click the option to find unlinked to pages in the index.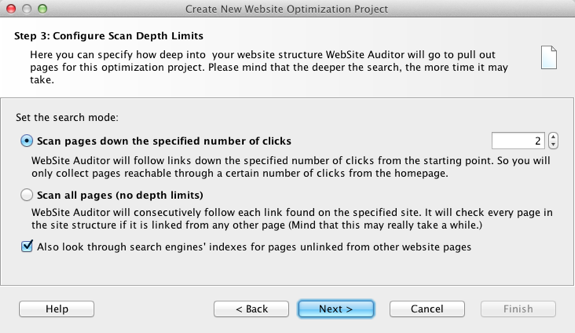 If you want to go nuts with the crawl depth frequently, I'd suggest looking into a VPS to house the application so you can run it remotely. Deep, deep crawls can take quite awhile.
I know HostGator's VPS's as well as a Rackspace Cloud Server can be used with this and I'm sure most VPS hosting options will allow for this as well.
I'm just going to run 2 clicks deep here for demonstration purposes.
Next up is filtering options. Maybe you only want to crawl a certain section or sections of a site. For example, maybe I'm just interested in the auto insurance section of the Geico site for competitive research purposes.
Also, for E-commerce sites you may want to exclude certain parameters in the URL to avoid mucked up results (or any site for that matter). Though there is an option (see below) where you can have Website Auditor treat pages that are similar but might have odd parameters as the same page.
Another option I like to use is pulling up just the blog section of a site to look for popular posts link-wise and social media wise. Whatever you want to do in this respect, you do it here: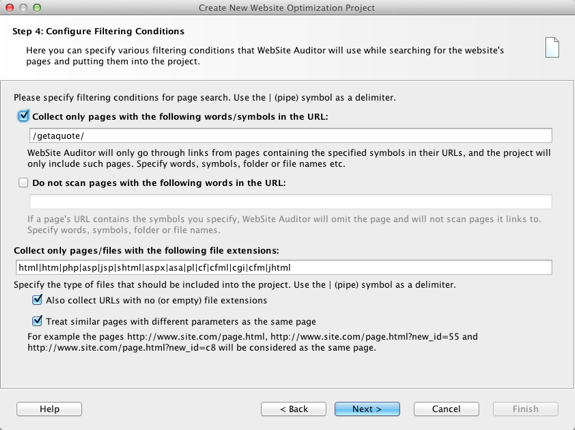 So here, I'm included all the normal file extensions and extension-less files to include in the report and I'm looking for all the stuff under their quote section (as I'm researching the insurance quote market).
The upfront filtering is one of my favorite features because I exclude unnecessary pages from the crawl and only get exactly what I'm looking for, quickly. Now, click next and the report starts: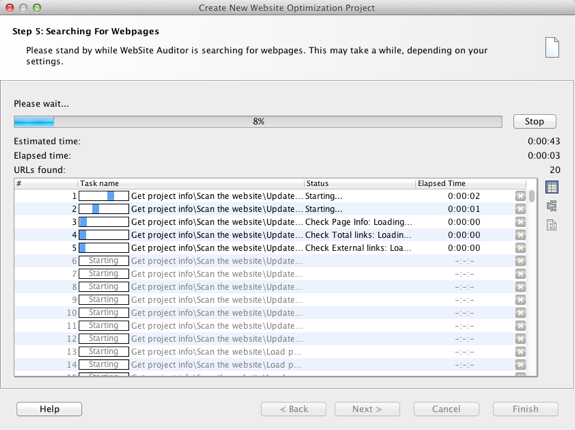 Working With the Results
Another thing I like about Link-Assistant Products is the familiar interface between all 4 of their products. If you saw are other reviews, you are familiar with the results pane below.
Before that, Website Auditor will ask you about getting more factors. When I do the initial crawl I do not include stuff that will cause captchas or require proxies, like cache dates and PR. But here, you can update and add more factors if you wish:

Once you click that, you are brought to the settings page and give the option to add more factors, I've specifically highlighted the social ones: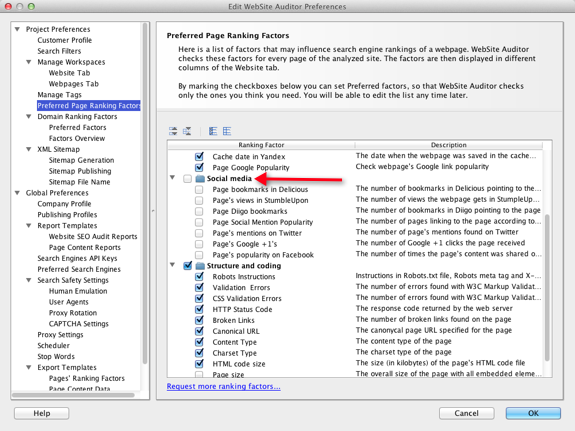 I'll skip these for now and go back to the initial results section. This displays your initial results and I've also highlighted all the available options with colored arrows: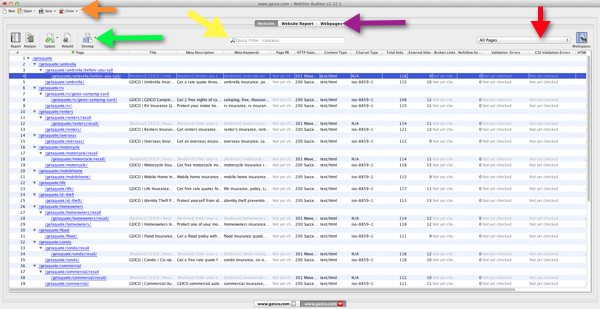 Your arrow legend is as follows:)
Orange - You can save the current project or all projects, start a new project, close the project, or open another project
Green - you can build an white-labeled Optimization report (with crawl, domain, link, and popularity metrics plugged in), Analyze a single page for on-page optimization, Update a workspace or selected pages or the entire project for selected factors, Rebuild the report with the same pages but different factors, or create an XML sitemap for selected webpages.
Yellow - Search for specific words inside the report (I use this for narrowing down to a topic)
Red - Create and update Workspaces to customize the results view
Purple - Flip between the results pane, the white-label report, or with specific webpages for metric updates
Workspaces for Customizing Results
The Workspaces tab allows you to edit current Workspaces (add/remove metrics) or create new ones that you can rename whatever you want and which will show up in the Workspaces drop-down:

Simply click on the Workspaces icon to get to the Workspaces preference option: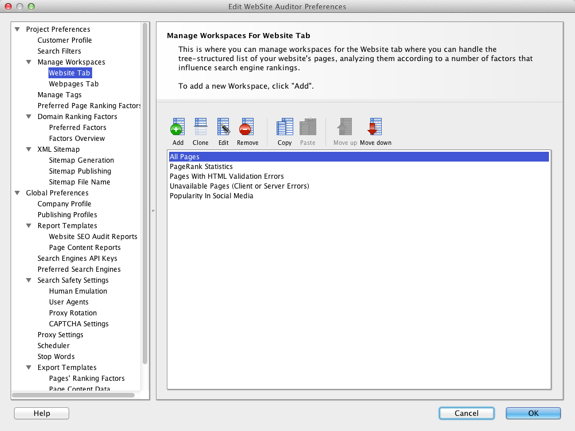 You can create new workspaces, edit or remove old ones, and also set specific filtering conditions relative to the metrics available to you: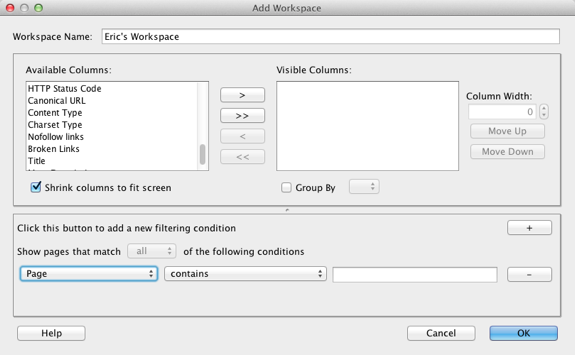 Spending some time upfront playing around with the Workspace options can save you loads of time on the backend with respect to drilling down to either specific page types, specific metrics, or a combination of both.
Analyzing a Page
When you go to export a Website Auditor file (you can also just control/command + a to select everything in the results pane and copy/paste to a spreadsheet) you'll see 2 options:
Page Ranking Factors (the data in the results pane)
Page Content Data
You can analyze a page's content (or multiple pages at once) for on-page optimization factors relative to a keyword you select.
There are 2 ways you can do this. You can highlight a page in the Workspace, right click and select analyze page content. Or, you can click on the Webpages button above the filter box then click the Analyze button in the upper left. Here is the dialog box for the second option: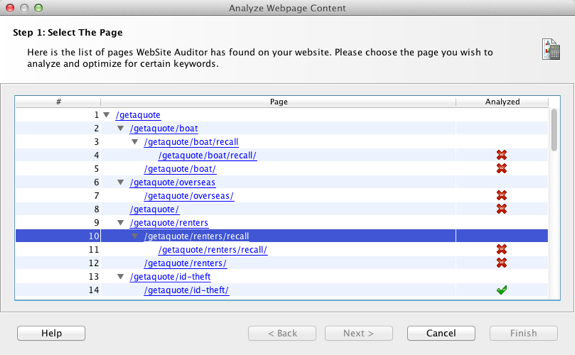 The items with the red X's next to them denote which pages can be analyzed (the pages just need to have content, often you see duplicates for /page and /page/)
So I want to see how the boat page looks, highlight it and click next to get to the area where you can enter your keywords: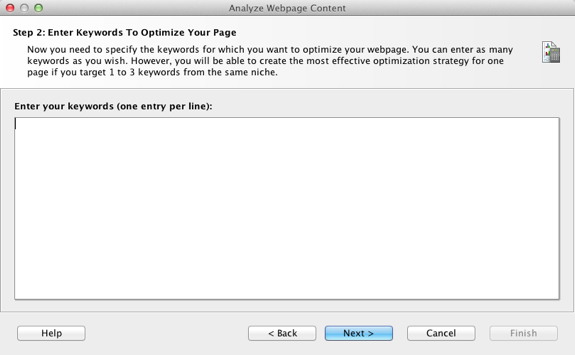 Enter the keywords you want to evaluate the page against (I entered boat insurance and boat insurance quotes) then select what engine you want to evaluate the page against (this pulls competition data in from the selected engine).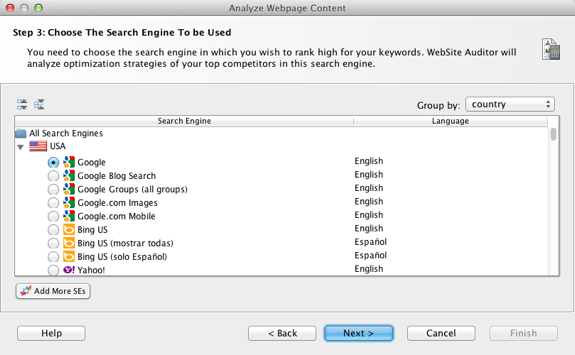 The results pane here shows you a variety of options related to the keywords you entered and the page you selected: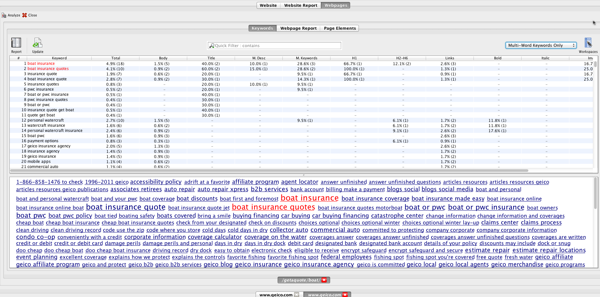 You have the option to view the results by a single keyword (insurance) or multi-word keywords (boat insurance) or both. Usually I'm looking at multi-word keyphrases so that's what I typically select and the report tells you the percentage the keyword makes up of a specific on-page factor.
The on-page factors are:
Total page copy
Body
Title tag, meta description, and meta keywords
H1 and H2-H6 (H2-H6 are grouped)
Link anchor text
% in bold and in italics
Image text
Website Auditor takes all that to spit out a custom Score metric which is mean to illustrate what keyword is most prominent, on average, across the board.
You can create a white-label report off of this as well, in addition to being able to export the data the same way as the Page Factor data described above (CSV, HTML, XML, SQL, Cut and Paste).
Custom Settings and Reports
You have the option to set both global and per project preferences inside of Website Auditor.
Per Project Preferences:
Customer information for the reports
Search filters (extensions, words/characters in the URL, etc)
Customizing Workspace defaults for the Website reports and the Web page report
Setting up custom tags
Selecting default Page Ranking Factors
Setting up Domain factors (which appear on the report) like social metrics, traffic metrics from Compete and Alexa, age and ip, and factors similar to the Page Factors but for the domain)
XML publishing information
Your Global preferences cover all the application specific stuff like:
Proxy settings
Emulation settings and Captcha settings
Company information for reports
Preferred search engines and API keys
Scheduling
Publishing options (ftp, email, html, etc)
Website Auditor also offers detailed reporting options (all of which can be customized in the Preferences area of the application). You can get customized reports for both Page Factor metrics and Page Content Metrics.
I would like to see them improve the reporting access a bit. The reports look nice and are helpful but customizing the text, or inputting your own narratives is accessed via a somewhat arcane dialog blog, where it makes it hard to fix if you screw up the code.
Give Website Auditor a Try
There are other desktop on-page/crawling tools on the market and some of them are quite good. I like some of the features inside of Website Auditor (report outputting, custom crawl parameters, social aspects) enough to continue using it in 2012.
I've asked for clarification on this but I believe their Live Plan (which you get free for the first 6 months) must be renewed in order for the application to interact with a search engine.
I do hope they consider changing that. I understand that some features won't work once a search engine changes something, and that is worthy of a charge, but tasks like pulling a ranking report or executing a site crawl shouldn't be lumped in with that.
Nonetheless, I would still recommend the product as it's a good product and the support is solid but I think it's important to understand the pricing upfront. You can find pricing details here for both their product fees and their Live Plan fees.