Hello,
Please Check Your Registration Email
You should have received an email from us about 0.237925 seconds ago. Please check your inbox and click the confirm link in the email. We regularly delete inactive accounts to keep our database size manageable.
Popular Webmail Services

For your convenience, here are links to some popular webmail service providers: Outlook.com, iCloud, Gmail, Yahoo! Mail, Aol Mail, GMX, ProtonMail, Fastmail, Hushmail, Mail.com, Mail.ru, Yandex Mail, Tutanota.
If you did not receive a welcome email from us, your account will not be activated. If you receive the email but do not confirm it by clicking the link in it, the account will be swiftly deleted.
Remedies for Email or Registration Issues

If you have ad blockers on, Javascript disabled, autofilled the forms, etc. ... then you might want to go back to the registration page and re-register either with those features turned off or using a different web browser. We've had millions of spam accounts registered on our site over the years and regularly change the registration form to prevent bot attacks.

Some people also do crappy stuff like register an account and then promptly flag the welcome email as spam. Some ISPs are hyper responsive to complaints & quickly flag all emails from a sender as spam. If your current email provider does not show you emails from us, check the spam bin. If the email doesn't show there, then try using a different email address from a different provider.

I realize we can spend say $10,000 a month on email delivery to ensure all the emails get delivered to all ISPs, but as this site offers free tools & I shut down the paid membership area of the site, I can't justify spending 6 figures a year to deliver emails for a site where the primary revenue engine behind it no longer exists. At that point I would rather just put the tools behind a paywall or just use them myself without worrying about crappy issues like DDoS attempts, mass scraping, email delivery issues, etc.
Save Time And Money
Free VPN Service
If you want to see what search results look like in other countries without having to pay for a VPN, check out the Opera web browser as it comes with a free VPN service baked into the web browser & access points in about a half-dozen different countries including the US, UK, Canada, Germany, Netherlands & Singapore. They also have nice plugins to manage different sets of tabs.
Free Bing Ads & Google AdWords Coupons
Build your SEO strategy on a foundation of real market data using paid search. The following coupons allow you to claim over $100 of free search clicks in 5 minutes.

Bing Ads: get a free Bing coupon today.

Google AdWords:

You can get a free $75 AdWords coupon here (or here or here or here) ... many options linked, as some of their coupon offers expire over time & we update this page periodically. The Google Partners Program also offers coupons to consultants managing AdWords accounts.
The Engage program offers internet marketers 20 $100 coupons for their clients.
Amazon Product Ads
If you sell products online you might want to try selling them on Amazon.com or at least running product ads on Amazon. You can use the following coupon to get $75 worth of free ad clicks from Amazon.com.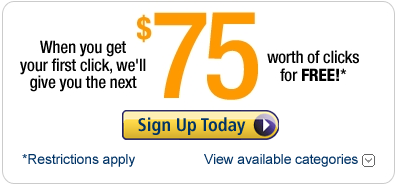 Installing Your Free Firefox SEO Extensions
After installing Firefox, please visit this page using Firefox and you can install the free Firefox extensions here & read our beginner's guide to SEO here.
Did You Like Us Yet?
We are on Twitter and Google+. Please follow us if you would like to keep up with industry news & get free SEO tips.
You can also click below to like us on Facebook.
Free SEO Book Keyword Research Tool

In addition to giving you access to our suite of Firefox extensions, logging in will also allow you to access some exclusive tools like our keyword research tool, which offers free data for 1,000 keywords at a time and a quick and handy CSV export option. :)
Spy on Competitors for Free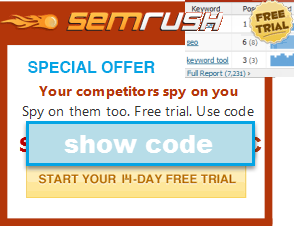 Want to know the top keywords your competitors are ranking for? SEM Rush (in-depth review here) lets you look at what keywords competitors are ranking for, estimates how much traffic those keywords sends, and provides estimated click values.
If you have a brand new site then researching the competition early can be a great way to see some great keywords you should target as well.
We worked with SEM Rush to offer our users a free 2-week trial, with no credit card required to sign up.
Free SEO Tips Via Email
If you subscribed to our 7-day autoresponder series, you should have received the first one already as well. If Comcast is your ISP they may block emails from us. If that happens please feel free to complain to Comcast. If you are not getting your emails for some reason you can set up a second account using a different email service. Either way you can still access all the free daily SEO tips online here.
Many people who get our free tools also sign up to get our free 7-days to SEO success series. This originally started out as a 7-part series, and over the years we have added about a dozen bonus tips covering a wide array of related business topics. We sorta started out as SEOs who primarily only knew SEO, but learned a boatload about business and human nature in the process of applying SEO to growing our business & our client's businesses.
Day 9 is the one in the series I am most proud of, but we get a lot of feedback from readers who have different ones as their favorites, which helps inspire us to share more. If you ever miss a day, you can use the navigation in the lower right of the daily tips to catch up (or get ahead). And here is the overview page, which lists the entire series. Hopefully sharing that link didn't kill anticipation. ;)
Thanks Again!
Welcome aboard and here is to wishing you the luck and the hard work needed to dominate Google and your market!
Sincerely,
Aaron & the SEO Book team. :)