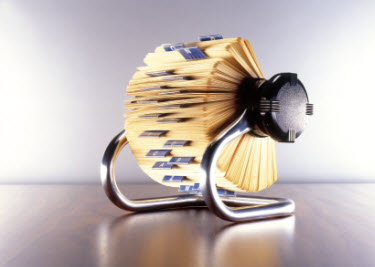 Sometimes it's the little things in life....Boomerang for Gmail (and Outlook) is an incredibly useful, lightweight, powerful link outreach app.
Link building has a special place in the SEO industry. Beyond being one of the harder skill-sets to master and acquire, link building is likely the most important element of an SEO campaign.
Link building can also be the most difficult job to:
Scale internally and externally
Train someone to do efficiently
Outsource
Hire someone for
How to hire link builders and how to train them are certainly worthy of their own (upcoming) blog posts but this post is going to sing the praises of a Gmail and Outlook plugin that is essential for my link building workflow.
Boomerang for Gmail (and Outlook)
Outside of the really cool name this plugin makes my workflow much more streamlined and efficient.
I don't use Outlook so I'll be focusing on the Gmail plug-in here. The Outlook plugin has most of the functionality of the Gmail edition (minus the Send On options) and you can check out the Outlook version here.
The key benefits to using Boomerang (referencing the Gmail app going forward) are:
Schedule emails to be sent at a later date/time
Set reminders on emails so they pop back up at a specified time
Set email reminders from your smartphone
Send Emails Later
You can install Boomerang for Gmail here. You can use this for Gmail and Google apps and you'll need to use Firefox or Chrome.
You'll manage Boomerang in two places; you can get to it in your Gmail toolbar:

From here you can access your scheduled messages to make any changes and access various help and how-to's.
The other area where you access Boomerang is in the email dialogue box. When you go to compose a new message or click to reply to one you'll see the Boomerang button and see all the options available for sending the message: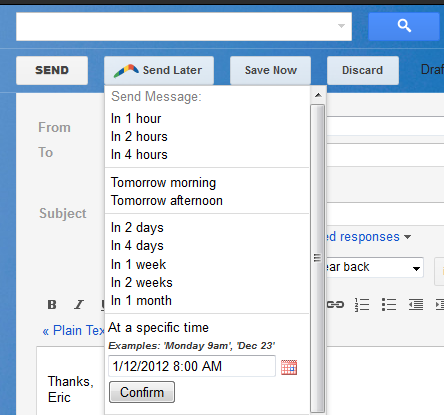 If you click on anything other than the specific time option at the bottom, the message is scheduled straight away.
If you need to access your Boomerang-ed messages, just go back to the top Gmail toolbar, click Boomerang, and click access Scheduled messages.
The other cool option when composing a new message is listed right below the subject line. From here you can have Boomerang return the message to your Inbox if no one replies or even if they do (marked as unread, starred, etc; these options can be changed in the "access scheduled messages" option on the top Gmail/Boomerang toolbar option):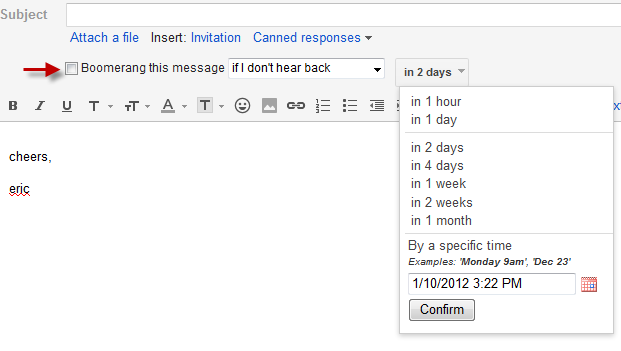 You have the exact same option when replying to messages as well.
This is incredibly useful for a variety of link building actions such as:
Tracking the effectiveness of email pitches
Scheduling a bunch of pitches to line up with various promotions and outreach campaigns, in one shot
Using in conjunction with Gmail's canned responses for scalable link outreach and management
Never forget about a link prospect
Make Gmail a self-contained link outreach system for staff members
Avoid awkward time zone issues on email deliveries if you have staff outside your targeted market's location
Email Reminders
While the Send On features are the most useful for link outreach, the Reminder functions can be useful as well.
Boomerang has Gmail-like functionality in the way it auto-offers a solution. Here you can see I've got a Staples coupon that expires on January 16th. Boomerang is asking me if I'd like to return this to my inbox on that date: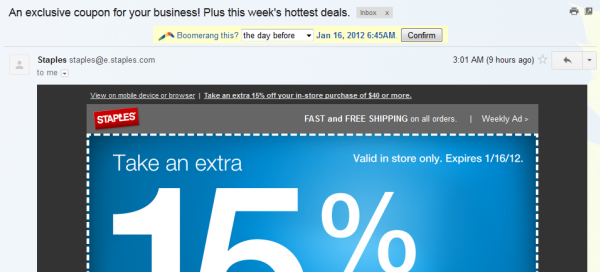 Outside of that functionality you can click the Boomerang reminder icon in the toolbar to get the reminder options available to you: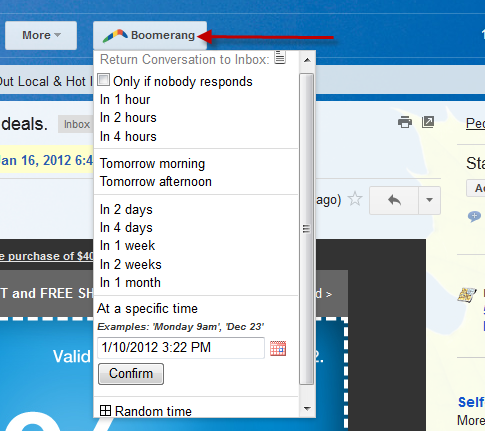 So rather than setting something in your calendar or in your task management application, you can use Boomerang to re-populate the email when needed.
You can add a condition to this and say that you only want to be reminded of the message at the selected time "IF" no one responds, simply by checking that option above. Otherwise, it will come back whether someone responds or not.
You can also use your iPhone, Blackberry, or Android to set up a message for yourself to arrive in your inbox at a certain time with their mobile option.
Privacy Concerns
Letting an app access your data on mail.google.com shouldn't be taken lightly. Here is what they say about privacy:
Why does Boomerang for Gmail need access to my email account?

Like most other Gmail plugins, we need access to the full email data to be able to move and send messages. In our queries, we only store the headers of the message (subject, sender, time) so that we can uniquely ID the message you want to schedule. We don't store any message text.
Does it mean you have my Gmail password?

No, we don't have access to your Gmail password. You are authorizing through Google's official OpenID system.
Sign Up for Boomerang
You can get a full-featured pro account trial for free, for 30 days here. I am anxious for them to release the open/click tracking for even deeper link outreach analysis.
If you are looking for a more enterprise level solution, with team-wide tracking and monitoring, please check out our reviews of Buzzstream and Raven Tools.