The #1 SEO Community
Since the end of last year (when we started working with Conversion Rate Experts) we went from sorta not caring too much about conversion rates to making it a priority. Part of the reason we originally did not worry about it was just because I wanted to keep adding value to the service and make sure that the quality of the site was far better than any competing site. That goal has been achieved, and recognized by our customers and in the marketplace amongst SEO experts. Today I just saw Wiep Knol write this, and it motivated me to write this post.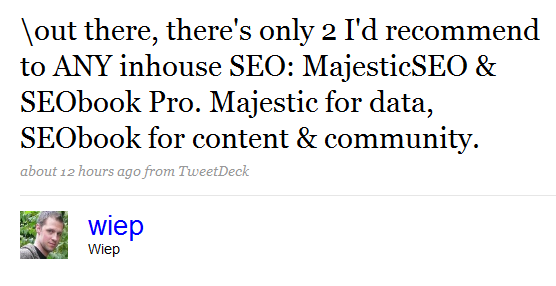 Small & Tight Knit > Big & Bloated
After improving conversion rates we started growing briskly, and we are getting close to our upper limit of 1,000 subscribers. Since we are a small(ish) company we don't want to grow too quickly, or get bloated to the point it harms the quality of our customer experience.
Many competing services want to act like a Wal-Mart or McDonalds, and have 10,000's of customers that they quick serve. But I like to keep things small and cozy. We want maintain the current atmosphere where we have established a more limited and higher value site where we have the ability to interact directly with our customers every day to create a deeper, richer, and more valuable experience.
Our Customers Love the Site
Last week one of our customers made this video, which helped up realize that our customers are seeing the site the way we hoped.
Under-pricing
Originally we under-priced the site to ensure we could get enough people through the door to build a strong and sustainable community. If you fail the launch its hard to get a second try. But given that we have one of the 5 strongest brands in the space and that we work directly with our customers it does not make a lot of sense to be priced as a value play, especially after our membership has been growing so rapidly.
Most SEO firms take $10,000 (or more) and then do virtually nothing with the money. There are some good ones on the market, but very few of them are looking for customers. Almost every week I hear another story about $10K or $15K down the drain and it only further reminds me how little we charge for the value we offer.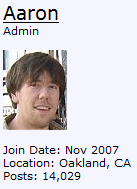 Our site educates webmasters and is interactive to ensure returns. When customers participate on the forums the value they get will exceed what most get for $10,000 at the average SEO firm.
Unlike most large SEO firms, we do not have 1 person working the conference scene to generate leads and send them back to interns and fresh college graduates. When you join our site you interact ***directly*** with us. In a little over a year I have made over 10,000 posts in the forums.
"You saved my site, seriously, I don't know if this ever would have been solved otherwise - every SEO company I have been in touch with (50+) over the past six months was unable to identify the problem and you picked it apart in five seconds.

I'll be recommending your site to everyone I know in this business! Thanks so much again Aaron, you saved my site"
- Daniel E. from Toronto
On the value for money scale this site is just the opposite of most SEO firms...we pour our hearts and souls into it and go out of our way to be helpful. And many of our members are amazing SEOs who are gracious & share a lot of great tips & strategies.
"I wanted to learn, so I could see what they were doing, having spent over a grand!! I can now see they have really done very little.

In a couple weeks with your training program I'm actually starting to see results, and I've not even started the link building side. It makes me wonder what on Earth my SEO company have been doing for the last 6months!!! I'm going to go it alone and just use the seobook.

So thanks for producing such a great site to help people like me : ) " - Michelle
Price as a Signal of Value
There are a lot of $1,000 and $2,000 info-products on the market that are watered down re-hashes of what we offer, and most of them come with no customer support and no interactivity. Given that price acts as a signal of value and quality, currently we are way under-priced, particularly for the level of customer service we offer. Inside the forums when asked if we should increase our prices 100% of the responses were yes.
The good thing about increasing price is that the more something costs the more people respect it and act on it since the opportunity cost is higher. And when people listen to our advice they get a strong ROI.
"Everyone knows I love to razzz the black magic snake oil SEO industry but honestly out of the very small handful of guys that give a lot of value Aaron is at the top.

I HIGHLY recommend you check out his SEO training program."
- Jeremy Shoemaker
Aren't You Being Greedy? We Are in the Worst Recession Since the 1930's
Publishing a network of sites is a competitive strength we have over most SEO websites. We have real market data from a number of sites in many competitive markets, keep launching new sites, and have many commercial successes - driven through a wide array of strategies. This makes our understanding of the web far richer than a company which only runs a site about SEO.
Running this site is part of our competitive advantage for our other sites (because SEO is core to many of our marketing ideas), but when you adjust this site's returns for opportunity cost, this site's earnings are far below our other top websites. And sometimes the magnitude of difference is almost unbelievable. Sites we started many years after this site make similar amounts on far less effort with far less maintenance cost. This site is over 90% of my work time, but at most about 1/3 of our profits.
Higher Prices Increase Customer Quality
When I sold the ebook by itself the $79 price point was high enough to filter out pikers while still being accessible to many people. But when the get rich quick and make money online email list spamming internet marketers started hyping SEO it polluted the customer pool and was a big part of why we had to change our business model to deeper relationships with our customers at a higher price-point.
When we shifted our business model from ebook to a membership site our average customer quality increased sharply. We already have great customers, but figure that the best way to slow down & manage growth is to increase price. In August we will increase our prices to $150 a month. Search is a market worth $10's of billions of dollars a year, and SEO can provide amazing returns. But if this site is to keep consuming most of my work time then I need to increase its earnings.
We plan on adding lots of new content features and tools to the site throughout the remainder of the year. Current customers keep their current subscription rates, but subscribers after the August 1st date will have to pay 50% more than our current rate.