Older Marketing Techniques
When the Google Florida update happened in 2003 I read about 5,000 forum posts, tested a few of my sites, and wrote an article based on what I saw. That article got to be quite popular, but that popularity faded over a month or so, but I wanted my 15 seconds of fame to last.
When that article started spreading I went around asking high authority sites which linked to competing sites if they would be willing to link to my site. Some of the most effective techniques used were
using hub finder to find sites linking at multiple competing websites, and suggesting listing a few more sites (in a list including my site)
contacting people who were still linking at a competing site that was moved, letting them know that the site had moved
Site's like the HTML Writer's Guild would generally say no to a link request from a guy like me back then, but because of that surge in popularity they were like "oh you are that Aaron...we will get you link up today". As soon as that happened once I decided to go on a link request binge. The great links rolled in and I was like SWEET.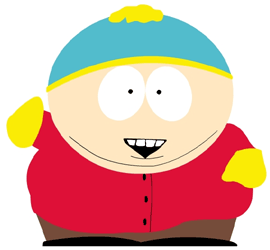 Image from southpark-world.net
While some SEO sites never recovered, mine grew in authority due to the flood of high quality links, and within a few months my rankings were better than ever, and I had high authority recommendations from trusted organizations.
Ageless Marketing Techniques
If you are featured on Oprah or have the chance to interview Oprah make sure that is featured on your site. The same is true if you are featured in the mainstream media.
Newer Marketing Techniques
When I recently published the Blogger's Guide to SEO I launched a multi-pronged marketing campaign.
The idea was tailored to a specific audience.
I created a custom logo for it so it was easier for people to have something to share and to make dedicated posts about it.
I blogged about it on SEO Book and asked about a half dozen friends if they could mention it on their blogs.
I linked out to Lee Odden's list of blogs. Without even asking him for a link, he decided to reference it on his blog and spread it to his network of over 400 Facebook users.
I had a ready made AdWords campaign set to target blog related stuff. The same day the article was released someone searched Google for blog, clicked on my ad, read the article, then bought SEO Book. And that ad campaign is also seen on many blogs.
I guest blogged on Compete.com about making money from blogs.
A great friend of mine submitted the story to StumbleUpon. Social media is no longer an every man for himself game.
What you really want to do when launching a good idea is to saturate the market with your idea as fast and hard as you possibly can such that it looks organic, yet gains the benefits of push marketing from years past. The story got to #1 on the Del.icio.us popular list, made the Sphinn homepage, and had Digg not deleted it the story would have made the Digg homepage. Hundreds of links are still rolling in.
Marketing Deficiencies
What could I have done better?
I did not make the idea community oriented enough by asking x bloggers to give their top tip for doing SEO for blogs. Asking for data from a bunch of people to help them feel affinity toward and ownership of the idea to make them more likely to help market it.
I could have done a few more guest posts on other sites.
I could have built up the launch by writing relevant related entries on SEO Book asking for what people wanted.
I could have embedded a bit of controversy in it.
I forgot to email people subscribed to my old newsletter. Sending those thousands of people that update could have helped get it a bit more of a bump in traffic.
I could have participated on some well known forums to have them help market the site.