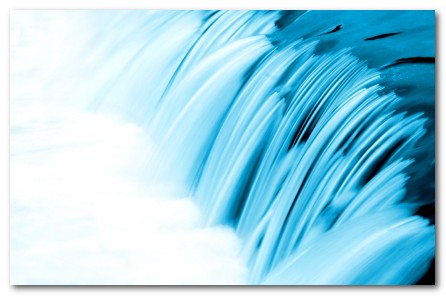 There was an article on TechCrunch entitled "Jump Into The Stream"
In short, the article is about how the internet appears to be going through its next big shift. It is moving towards becoming a stream of immediate information. The web is being organized by "nowness"
This real-time stream has been building for a while. It began with RSS, but is now so much stronger and swifter, encompassing not just periodic news and musings but constant communication, status updates, instantly shared thoughts, photos, and videos.
I thought the article gives us a compelling way to think about this shift:
First and foremost what emerges out of this is a new metaphor — think streams vs. pages. In the initial design of the web reading and writing (editing) were given equal consideration - yet for fifteen years the primary metaphor of the web has been pages and reading. The metaphors we used to circumscribe this possibility set were mostly drawn from books and architecture (pages, browser, sites etc.). Most of these metaphors were static and one way. The steam metaphor is fundamentally different. It's dynamic, it doesn't live very well within a page and still very much evolving. A stream. A real time, flowing, dynamic stream of information — that we as users and participants can dip in and out of and whether we participate in them or simply observe we are a part of this flow.
But isn't this just social media marketing? We've known about that for a long time now. Yes. But the concept of "nowness" and immediacy give us a great way to make sense of it, and a better understanding of how to make it work for us.
One of the criticisms we often hear about search engines is that a lot of the information is dated. Google has tried to address this problem by focusing on sources such as Wikipedia, that have a community of updaters, or pointing you towards news content, if your search is time dependent, or allowing you to sort by date. Search is also rather anonymous, as opposed to personal.
The appeal of Facebook/Twitter is that they provide an immediacy of information. There is a constant flow, updated often. They also provide this information in the context of a trusted filter i.e. your friend network. That's a big shift in how information will be accessed, especially as more and more people come to view the web from this perspective.
If the web is indeed a place, it is starting to look less like a library, and more like a river.

What Does This All Mean For The SEO?
It means SEOs will need to think more about what traffic is, where it comes from, and how to hook it.
Look at where people are spending their time. Increasingly, it isn't on web pages or sites. It's within a trusted channel that provides a flow of information. So a site owner needs to think about how to direct these streams towards a site, and make sure people hang around long enough to buy what the site owner is selling before they move on.
Obviously, search engines aren't going to disappear. Nor are people going to stop publishing web pages. Nor are they going to stop visiting web pages. But what are the characteristics of social media activity, and how does it differ from search visitor activity?
I think the main characteristics of this channel are immediacy, the fleeting visit, trust, relevancy, and remarkable-ness.
So:
Encourage user registration on your site to help lock people in
Offer time-limited membership deals
Offer forums, tools, multiple content formats, and other interactive elements that mimic the appealing aspects of social media
Be unique, memorable and remarkable so people talk about you to their friends
Go niche. Me-too and generalist is unremarkable
When going broad, leverage existing networks to facilitate faster growth
Focus on establishing trust
The Twitter/Facebook/Social Media streams are like the rest of the web in that most of it is junk. So how do people filter the noise and focus on the good bits? Trust is one aspect.
Do people say "Hey, look at this great secured loans site?". They don't. We'll, not unless they're pimping for said secured loans site. The stream is not going to favor the mee-too approach, either. It's going to favor the remarkable approach. Do people on social media sites point out the mundane?
So re-read Seth Godin, and think about "being remarkable", and how to apply it to your strategy.
Incidentally, when asked about Twitter today, Larry Page had this to say:
I have always thought we needed to index the web every second to allow real time search. At first, my team laughed and did not believe me. With Twitter, now they know they have to do it. Not everybody needs sub-second indexing but people are getting pretty excited about realtime
Google aren't asleep on this issue.
Published: May 20, 2009 by
A Reader
in
marketing