What Our Members Are Saying...
About the Ebook
Back before we offered a full blown online training program complete with forums we got so much positive customer feedback that we couldn't even keep up with it all. Here are of dozens of such testimonials.
Some additional testimonials for our SEO training program are located below.
29% Increase in Traffic After 1 Month
"Aaron - Its been roughly 1 month here. I had a pretty good understanding of the basics from reading your book over a year ago. The training video has been really helpful but more importantly being able to ask questions and get authoritative answers has been unbelievable. All the members of the community are super helpful and provide great insight.
Bottom line:
My website visits are up 29% and my blog visits up 345% month over month." - Howard
If the price was upped to $1000/month, I wouldn't think twice about staying.
This unsolicited testimonial was excepted from a forum thread that started sending lots of traffic into our site
"I save a couple hundred dollars a month by having taken advice to reduce some of my monthly business expenses...Phone.com rather than AT&T for instance.
I've gotten hundreds of "easy", good links based on tips shared in the forum, which are not shared outside of it...which have directly increased my rankings.
I've gotten specific advice on site changes and link building that have both saved me from tanking my site and helped me to rank a lot better.
I've learned a TON about how to build links, how to create unique content, what is and what isn't REALLY important for ranking, etc.
Forum members have given me custom code on many occasions to do everything from hiding affiliate links to fixing problems with my site.
There is so much quality information in the forums, and so many very high quality moderators and members, that you could literally spend all day, every day learning. The challenge is to actually choose what to do and do it.
The "local rank" tool will show you common links that the top XX sites in Google have, from the top XXX sites in Google for any given keyword. I've found plenty of links with that tool.
The "competitive research" tool will tell you what your competitors are ranking for, what % of traffic their terms are bringing them, what the monetary value of that traffic is, etc. I've discovered additional terms to target using this tool that I never would have found otherwise.
Because there are so many members with lots of high performing sites, you know right away when Google has made changes, how the changes are effecting the SERPs, and what you can do to stay on top.

At least a couple of times a month I learn something or find a "tip" that makes me say, damn, that's worth a year of the membership cost. If the price was upped to $1000/month, I wouldn't think twice about staying. It would be a no-brainer.

For someone without a website and with little time, it might not be that valuable. But if you're serious about your site, and especially if you're using it as your main source of income, it will be the best money you've ever spent." - source
Tenfold Return
"I wanted to offer a quick thanks for the continued ROI I am getting from being a member of your forum. I am an in-house SEO, and now even my boss knows to have me check the forum when we need some help. Our monthly membership has come back to us every month in some way, usually about tenfold - it has definitely paid for itself over and over again.
The community you have created is second to none, and I love the fact that my questions get attention from people that are patient with me. I have never had a question go unanswered, and I spend more time in there reading and learning than I do in any other forum. I have been a member of other SEO groups, but none gave me the value every month that I get from being a member of SEO Book.

You have created a fine little community there Aaron, and I am proud to be a part of it."
- Marty Lamers, Advanceme.com
Doubled My Income, Then Doubled it Again - During the "Great Recession"
"Hi Aaron,
I just wanted to thank you again for your stunning SEO support.
I was going to write this on the forum but thought that not many folks out of the top 20 posters would appreciate it :)
The reason I write is because I just saw a post about some people not taking action
So when you berated me some 18 months ago I ploughed in.
When I wrote before I said I had doubled my profits and now perhaps 6 months on I have doubled them again which is generating so much $$$$ that I have a sparking new BMW X6 being delivered tomorrow for me and the family.
If I wasn't on SEOBook I am sure I would have been one of the many millions moaning about the recession and that times are hard but really this year I have so much cash and it's all down to you.
If you ever do a small group of folks together let me know so I can fly over to the US and thank you personally.
All the best,
Pete"
Bookmark This Website
"This is one of my absolute favorite websites, because of the useful free tools and the outstanding blog. Aaron Wall is at the top of my list of industry leaders who give back to the community. I use a lot of his tools and ideas in my course. When you are getting into the SEO field, my first suggestions is to bookmark this website." - Jake Johnson
The "Secret Garden"
"Since joining SEOBook.com, I feel like I've entered the "secret garden" of online marketers. I was sick of filtering through all of the "noise" to find relevant, pertinent, factual search marketing information. Now that I've found SEOBook.com, I rarely look anywhere else." - Dallin Harris
Doubled My Conversions
"Conversions are up by at least fifty percent and I haven't even started asking about SEO and link building yet." - Duncan
Tripled My AdSense Income in 4 Months
"I just wanted to write to you to say thank you.  Since joining in April 2009 my Adsense income has trebled for one of my websites.  This has been largely due to your training materials and the invaluable support and advice provided by you and the other members of your community." - Tony 
Thank You
"Hi Aaron,
I thought I'd just drop you a line to say thank you for building such an informative and welcoming community. 
I have to say that at first I thought $300 was a steep monthly fee (but with so many people vouching for you – I thought I'd try it for myself)
However - Having experienced the forums and value of the content first hand – I think you have a level of customer service and 'customer content' that justify the fee.
Thanks again."
- Rob Maynard
Made The Difference
"Aaron, the mentoring you've provided through your blog and this forum has made the difference between me thinking I was going to beat the competition in 2008 by spending $80 on WickedFire 'directory submits,' and having the comprehension / income to spend $20k/month on real link building in 2012." - Sam

SEO Book has saved me around £10k in wasted SEO fees
"I wanted to say how impressed I have been with the SEO book service.  You probably have no shortage of testimonials but I wanted to add mine.  The information I have found on the forums would have cost me thousands if I had paid an SEO company.  The Firefox SEO tools have been invaluable in analysing my website.  As a small business owner without lots of money to spend on marketing, I rely on using my own recourses to try and gain an advantage in a very competitive market.  The SEO Book website has not only given me so much information, it has saved me around £10k in wasted SEO fees to companies for "consultation".  Having said all that, the thing that made me write this note is not the money, it is the service.  The speed, efficiency, courtesy and straightforward honesty with which you run your company is a rare commodity and I will recommend you to anyone who asks me about SEO.

Thanks again,"
- Dan
Doubled My Income
"May I pass on my heartfelt thanks to you personally for your efforts and help you provided to me a few months back.
I admit back then when we swapped emails I was looking for shortcuts and made a couple of errors but your simple advice to leverage what I already had has really changed both how I view my own online businesses and the actual work I undertake.
Because of this I really have managed to double my income each day :)
Previously I was looking for easy ways (for some reason I didn't really understand I needed to work harder and smarted) but now I really do know how to work the SEO world and I am really glad you gave me the kick up the backside I needed.

So thanks once again as you have really changed my life." - Peter
The best ROI I've Got
"I recently asked where Aaron would take a domain of mine, and I'm taking his suggestions to heart. I dumped the content there and am charging forward with a new plan. Add the recommendations I'll be asking for for other domains and this is the best ROI I've got going so far. I would much rather pay for specific advice relating to my online-ventures, than for _____ or ________. And the fee for the forum is significantly less than I would pay for an hour of Aaron's time." - Daniel Durick
Astronomical ROI
"The ROI on your membership was simply astronomical.  It allowed me to bypass all the hucksters hawking SEO to attorneys and do it myself." - David Braun
the single most helpful thing that I've come across
"I want to thank you for your wonderful work in putting together the SEO Book. It is really the single most helpful thing that I've come across in this area and I got a lot out of it. Very well done. I will highly recomend the site to others.

I started my company a couple of years ago and I've been rather reluctant to learn this, but I feel like I'm getting taken advantage of every time I turn around so I decided to take your course and I'm very glad that I did." - Chris Wilson
I wish I'd come across this years ago!
"I can summarize how I feel about this site and what it's helped me with in terms of search engine optimization in one short sentence: I wish I'd come across this years ago!
Aaron is extremely personable and I have been impressed with his writing skills, his teaching abilities and most of all, his personalized service in terms of answering forum posts and general or specific queries. I'm not sure how many other sites out there boast a forum that has the host as the most frequent poster, particularly an SEO forum.
For me as a small business owner (I own my own photography company), finding this site has been invaluable. I began watching my site drop in rankings on the search engines about three years ago when I did a complete redesign and in the past year started an earnest search for ways to re-improve my rankings. I looked at all kinds of forums and seo sites and even seo companies. But spending $1500-2000 for a startup fee followed by $100-300 a month in upkeep fees just didn't seem feasible for the size of my business and for the effort I wanted to put into seo. I was worried that I would be putting my business' web fate in the hands of people that didn't know my business like I do.
About forty days ago I came across Aaron's site again (I had bookmarked it three or four months ago) and decided to take the plunge and become a member.
After forty days of online training poring over Aaron's e-book, I can say without hesitation that this is the best money I have ever spent in terms of marketing my own business. I recently told a friend that there are nuggets of information in here that stand alone in making the price I've paid worthwhile. To have literally tens and hundreds of these nuggets just makes it all the more worth the money.
Other than the savings I've reaped versus hiring an seo firm here in Canada to manage my seo campaign, I think the next biggest advantages to signing on at seobook.com is that I can manage my own seo and spend as much or as little time as I want on it. I'm the one who's the most intimate with my own business, so it makes sense that I also have a strong knowledge of seo and of my keyword campaigns.
I would highly recommend seobook.com if you are a small business owner and are looking for an inexpensive yet effective way to gain an advantage over your competition in the search engines and on the web."
John
Alberta, Canada
Empirical Proof of Value
Here is a revenue chart from Shane Pike, one of my past students, who I helped at a conference in late December 2006. Notice his income quickly doubled after we talked.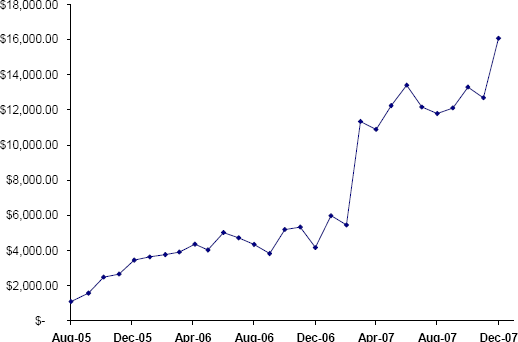 Gain Immediate Access to Over a Year's Worth of Value the Day You Join!
Steve, Global, Will and Aaron thank you and I have absolutely no doubt that I am going to thrive in this industry with good support like yours. To be honest it's almost too good to be true, I know it's costing me a C-note per month, but please, I have already received an entire years worth of info in 3 weeks. Seriously, if you guys have a convention in Frisco, I can't see myself not making it. - Zeus Rodriguez
Join the SEO Book Training Program Today!
If I can double a person's income from a 15 minute chat, imagine how I can help you grow your business with this training program and daily interaction in our community forum.
With a subscription you get direct access to me, over 100 training modules, dozens of SEO videos, and access to our exclusive member forums. The SEO Book training program and community subscription costs $300 a month.
Join our exclusive community & training program today
Join today, as our community is limited to the first 1,000 members, which ensures I can spend adequate time helping each and every member.
In our first three days, nearly 200 members signed up.
Once we are full we will likely close to new members for at least a couple months, as we did from August to November of 2009.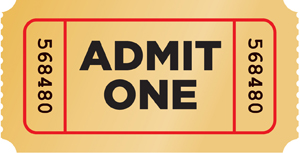 How Much is a #1 Google Ranking Worth to Your Business?