Sorry I haven't made any posts in a while...as we recently took on a big project AND moved hosts on SEO Book (currently on a speedy quad core), and I wanted to have minimal activity around the time of the move.
Google recently announced adding breadcrumbs to the search results for some sites which offer hierarchical breadcrumbs in their navigation. The display looks likeso:

Each breadcrumb is a clickable link to the associated page (which could increase traffic to the target site in some cases), but the initial implementation is a bit sloppy for a couple reasons
Google initial implementation shows the hierarchy (and places more emphasis on hierarchy) rather than listing the current page...this has a net effect of making the result look less relevant UNLESS the breadcrumbs are really tightly associated with each other and/or the site covers a small tight niche
when people look at the search results they scan them and match patterns. the lack of showing the current page hurts perceived relevancy, and even when a search keyword is in the breadcrumb it is not highlighted
As an example of how far astray the above 2 points can go, check out the following listing for Joost's great Wordpress SEO guide.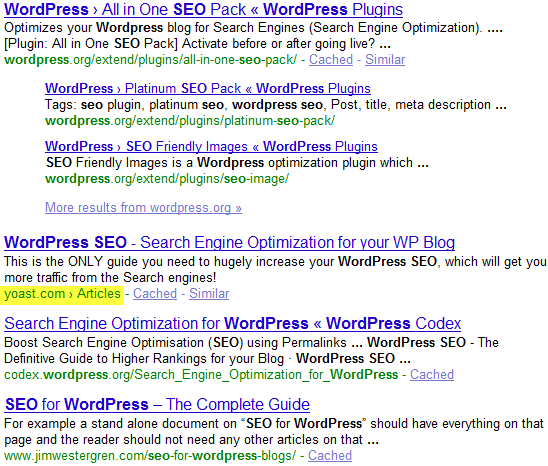 While seeing the site structure might be nice...the exact reason people are using search is because they don't want to have to drill down through someone's site structure...they want the most relevant thing shown in the search results.
So did Google do this for relevancy? It is hard to believe they did given that they don't list the current page and employ no bolding.
Perhaps they want to make the results harder to scrape? Or they wanted to give advertisers even more options with the ads (many new ad formats hit the organic search results first)? Or maybe, as John Andrews mentioned, "Google would LOVE to eliminate the URL altogether. Just another try..."
Do I recommend using breadcrumbs? Historically I have, but if Google does not fix the above issues it will likely end up costing publishers some perceived relevancy, and in some cases I might not recommend using them except for on small sites or those with tight and descriptive breadcrumb structures. And on larger sites they might make more sense on category listing pages rather than on item detail pages.